Affiliate Disclosure: Some of the links in this post may be affiliate links. As an Amazon Associate, we earn from qualifying purchases. Learn more here.
---
If you are looking for the best camping cooler, then you are in the right place – in this post, we will introduce you to what we think are the perfect coolers for camping needs.
More precisely, we've picked coolers to showcase in three categories: high performing bear-proof coolers, pocket-friendly coolers, and soft coolers/backpacks for those who are intending to camp on the go.
But before we jump into camp cooler reviews, let us provide you with some valuable insights on how you pick the best camping cooler possible.
Ps. if you're in a hurry, and don't time to read the whole post, here's the quick summary with our top picks:
---
Best Camping Cooler Picks
Best Overall: YETI Tundra
bear-proof certified, heavy-duty, rotomolded, plenty of sizes and colors
Best Value: Cordova Cooler
excellent price-per-quart value, US-made, lifetime warranty, bear-resistant
Best for camping on the go: RTIC Back Pack cooler
large capacity (35qt), good ice retention, comfy to wear, very affordable
---
What Makes A Cooler The Best Cooler for Camping?
To get started, let's first try to understand what makes the best camping cooler. The key things to look at are the following:
---
Long Ice Retention
Camping often takes a week or more, and there are often no stores near the camping locations where you can buy ice. With that in mind, good insulation is a must.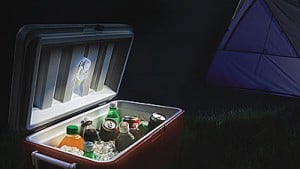 We've covered the key features that you should be looking for in thermally-efficient coolers in our post about best ice retention coolers, but in a nutshell:
Pressure-injected closed-cell polyurethane (PU) foam insulation, preferably 2-3 inches thick – this is the best insulation found in coolers today.
Insulation throughout the entire body of the cooler, including the walls, lid, and the bottom.
Freezer-grade gaskets.
Airtight or even insulated drain plugs.
Elevated feet or rubber bottom to block heat transfer from the ground.
Brighter colors – white/tan don't absorb as much heat as dark/black colors.
You should also know how to pack your cooler properly and how to use it during the trip to maximize ice retention.
NOTE: The coolers we've chosen to showcase have ice retention of 7-10 days and perhaps even more with large-capacity coolers (since ice retention is better in large coolers).
---
Bear-Resistance
Secondly, your camping should be bear-proof. Out in the wild, you will likely encounter bears or other similarly menacing creatures that may get interested in what's inside your ice chest.
A bear-proof cooler should:
Have a rotomolded construction since best rotomolded coolers are extremely durable and virtually indestructible.
Be lockable with padlocks. No matter whether certified or not (more on certifications below), coolers are truly bear-proof only when used with locks on each side of the lid. Not everybody realizes this.
Cheap coolers typically don't have IGBC certification, possibly to keep their prices low – certification costs money.
NOTE: All hard-sided coolers on our list are bear-proof, and most are IGBC-certified.
---
Size / Storage Space
The right cooler size will depend on the number of people camping with you, as well as on the duration of your trip.
For weekend camping trips with 3 people, 60-75-quart coolers work fine for most cases. As for week-long trips, you'd probably want at least 100 quarts – and the more people, the bigger you should go.
For added convenience, also consider getting a cooler with accessories like dividers, bottle openers, LED lights, dry item baskets, and other similar features.
---
Durability
Needless to say, the best camping cooler should be extremely durable as well to be able to take the hardships of outdoor travel.
Rotomolded coolers are ideal for camping – as mentioned earlier, they are extremely durable, and the challenges of your camping trip are very unlikely to severely damage them. Even the cheap rotomolded coolers are weather-proof and can be used as a bench.
Next, check out the handles. Ideally, a camping cooler will have molded-in handles – these handles are convenient and very durable. As an alternative, solid metal handles can work well too.
Small hardware like latches, the drain plug, or the hinges should be heavy-duty as well. No matter how tough your cooler is, if something small breaks, then you can forget about ice retention.
Finally, consider UV resistance – sunlight causes color fading and degradation in plastics, so a UV-resistant cooler will look and stay as durable as new after years of use.
---
Portability
Lastly, consider portability.
Your cooler should at least have molded, metal, or rope handles. A combo of molded/metal handles and rope handles is optimal for carrying convenience.
Consider wheeled coolers as well – you'll especially appreciate the wheels when moving large, fully-packed, heavy rotomolded coolers (which are rather heavy by themselves).
NOTE: Our cooler picks have convenient handles, and most models also have oversized, all-terrain wheels.
---
Best Bear Proof Coolers
Onto the meat of our discussion let's review some of the best camping coolers that you can choose from.
If you need a cooler that is certified by the Interagency Grizzly Bear Committee (IGBC), then have a look in this next section as all the coolers below have been IGBC approved.
---
YETI Tundra – Best Overall, Great Performance, and Variety
YETI is perhaps the best-known manufacturer on the cooler market. As a premium brand, it's now a more lifestyle choice, though YETI Tundra coolers offer a bunch of great features as well.
YETI coolers have been field-tested by millions of users (YETI calls them YETI-NATION) throughout the years, and they make some of the best coolers for camping out there.
Today, we have the YETI Tundra line. The Tundra series incorporates coolers of various sizes – 13 sizes if you count in the new Roadie 24 cooler.
All sizes have great ice retention thanks to the freezer-grade gasket, interlocking hinges, and the 2-inch Permafrost PU foam in the walls and lid.
The mid-sized coolers (40-65 quarts) retain ice for about a week, bigger ones for roughly 10 days, while XXL models (like Tundra 250 or 350) may even reach 12-14 days.
Tundra coolers boast perhaps the most durable construction on the market thanks to their rotomolded bodies, IGBC bear certification, a tough hinge system, molded grips, and military-grade rope handles.
Notably, YETI also offers a wide range of handy accessories for Tundra coolers, including a seat cushion, dividers, bear-proof locks (a must-have), or tie-down kits.
The Tundra series has one wheeled cooler model called the Tundra Haul (our review here) too that's between Tundra 65 and 75 in terms of size and capacity. This is our favorite camping cooler from the bunch thanks to its convenience in transport.
---
RovR Wheeled Camping Cooler – Best Features
ROVR offers the most feature-rich cooler in this category. We've been blown away by this cooler when doing our own RovR cooler review.
First up, ROVR coolers have 9-inch all-terrain tires with 5-spoke aluminum hubs. Thanks to the oversized wheels, ROVR models should be able to smoothly traverse any terrain – ROVR particularly notes that the wheels are awesome in sand.
Another notable feature is the BikR kit. With this piece of equipment, you can attach the cooler to your bike and haul it with even more convenience.
Storage is very nice in ROVR coolers as well – you are getting ample space along with impressive organization capabilities with the dedicated dry bin. At the top, you also have a collapsible wagon bin that can hold items like tents, blankets, or bags.
The 6 tie-down points will also help you secure the cooler while it's in your pickup or boat.
There also are dual cup holders and a prepping board available, but they are sold separately.
In terms of build and insulation, ROVR coolers are comparable with YETI Tundra – you are again getting a rotomolded, IGBC-certified body along with 10 days of ice retention. However, there are only 4 size options and 4 colors available.
ROVR coolers are rather expensive, but they are totally worth it. Plus, made in Colorado, US, ROVR is a nice brand to consider for those who absolutely don't want an overseas-made cooler.
It should be a great value for your money so don't think twice and get yours now!
---
Watch the RovR Cooler in action:
---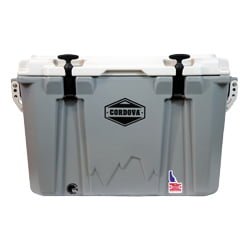 Cordova Coolers – Best Value
Among our bear-proof coolers, Cordova models offer the best value. They probably aren't the most rugged coolers on the market, but for the money Cordova asks, they are a steal.
It's also notable that Cordova coolers are 100% US-made and are covered by a lifetime warranty, which is rather surprising for their not so steep price.
When it comes to features, Cordova ice chests are pretty interesting as well. Their highlight is the top-facing latch – this latch can be easily accessed in tight spaces and opened without any need to move the cooler.
Next, Cordova coolers have anodized aluminum handles with integrated bottle openers. The handles protrude to the sides a bit and aren't as space-efficient as molded-in handles in other coolers are, but they boast great longevity and convenience.
Among our favorite things with Cordova coolers is that they are available in various colors – about a dozen for each size option. There also are 5 sizes to choose from – 20QT (Side Kick coolers), 32QT (Companion), 48QT (Adventurer), 88QT (Journey), and Excursion (128QT).
The build in Cordova coolers is comparable with that of ROVR and YETI models – you are again getting rotomolded construction along with IGBC certification. The same can't be said about insulation– Cordova coolers keep ice for about 5-10 days depending on the size you choose (though the insulation is interestingly eco-friendly).
Check the current prices at Cordova Coolers' store >>
---
Best Coolers for Camping – More Pocket-Friendly Options
These are some of the more budget-friendly models that you can get without compromising much quality.
---
Best Pick: RTIC – Cheaper YETI Tundra Alternative
RTIC is the best-known competitor of YETI in the cooler industry. The fame of RTIC is mainly built on their extremely competitive pricing ("overbuilt, not overpriced", as RTIC advertises).
Unlike Cordova or RovR, RTIC coolers are made overseas, but this hasn't been a big obstacle for the brand's success. In fact, this is why they've been able to price them so attractively.
RTIC models have been field-tested by hundreds of thousands of satisfied users, so RTIC is a pretty trusted brand. If US manufacturing isn't a showstopper for you, then the RTIC cooler may be that best cooler for camping out there.
RTIC coolers are virtually the same as YETI Tundras except for one big thing – they aren't IGBC-certified (likely to keep the price low), though the lid is still lockable.
The feature set of the two coolers is very similar as well, including rubber T-latches, the rotomolded construction, excellent insulation (up to 10 days), molded tie-down slots, and a few other things. RTIC also boasts about a grippy lid that can be used as support when casting.
RTIC coolers, unfortunately, are only available in 5 sizes, and there are no wheeled options available. What we like about RTIC's sizing though is that it's indicated in the product name – the RTIC 65 cooler, for example, is a 65-quart model.
This is in contrast with the naming scheme of YETI where the numbers in the model names don't indicate the capacity in quarts. This is a rather big con for YETI coolers since it may lead to confused buyers and disappointment.
Check out current prices at RTIC's store >>
---
Runner Up 2 – Igloo Trailmate – Cheaper Alternative to RovR
Igloo Trailmate is an inexpensive alternative to the ROVR wheeled cooler from the previous section. This cooler is similarly feature-filled to ROVR models, but it is inferior in durability and insulation. With that, Trailmate would probably be the best ice chest for camping if you want a weekend cooler.
Trailmate is available in two variants (both 70-quart) – Marine and Journey. Marine is the more advanced cooler – in fact, it has more stuff to offer than ROVR coolers!
Apart from that, Marine has UV inhibitors for added durability, and its wheels also are anti-skid (Journey doesn't have these things).
Among the highlights of Trailmate Marine are the antimicrobial liner for food safety, dry storage compartment, food basket, cup holders, bottle openers, a mesh storage pocket in the front, the so-called butler tray, and even a mobile device stand!
Trailmate Journey lacks some of these features, but it retains the basics like the food basket, dry storage, or bottle holders.
Interestingly, Trailmate coolers are rather light as well – 34.7 pounds, while the smaller Tundra Haul wheeled cooler, for example, weighs 37 pounds.
However, the lighter weight is a double-edged sword here – it's great by itself, but it's largely possible because the body in Trailmate isn't rotomolded.
The insulation is relatively weak as well – Trailmate coolers only keep ice for 3 to 4 days. With all this in mind, these coolers are a nice option for weekend trips when you need to haul your cooler.
Find out more at Igloo website >>
---
Runner Up 3 – Cascade Mountain Tech
Cascade Mountain Tech coolers are similar to YETI and RTIC models in build and performance. With that said, while the RTIC cooler is a lookalike of YETI models, Cascade Mountain Tech has gone a different route.
Their coolers look rougher and perhaps more futuristic. This is in contrast to many YETI knockoffs & lookalikes that try to copy the sleek YETI design. While these clone coolers do look pretty good, they are very similar to each other and frankly boring.
The second advantage of Cascade Mountain Tech coolers over YETI clones (RTIC included) is that they are IGBC-certified. Again, this isn't a huge deal, but if you want to be sure in bear safety, Cascade Mountain Tech coolers will probably be a better buy than RTIC models.
You also have 2 built-in bottle openers, which is a small yet notable benefit over YETI and RTIC coolers. The 80-quart cooler also comes with a cup holder and a dry good basket.
However, know that Cascade Mountain Tech coolers have no tie-down slots (which RTIC and YETI coolers do have). Besides, there are only 2 sizes available – 45 and 80 quarts.
As for durability and insulation, Cascade coolers have comparable performance than YETI or RTIC coolers – the rotomolded body is rugged and durable, while the 2-3″ inch thick insulation retains ice for up to 7 days.
All in all, if you want a RTIC- or YETI-like cooler with distinct design, then the Cascade Mountain Tech cooler may be the best camping ice chest for your needs.
---
Best Soft Cooler For Camping – Bag & Backpack Picks
Camping cooler bag and backpacks anyone?
---
RTIC Back Pack Cooler
If you are intending to camp on the go, then cooler bags or backpacks are ideal – they are lighter, more portable, and also often cheaper than hard coolers. And one notable backpack cooler is RTIC's Back Pack.
The recently released RTIC Back Pack cooler is the highly-anticipated competitor to YETI's Hopper BackFlip 24 backpack cooler that had been released 2 years earlier. For 2 years, you only had the pricey BackFlip 24 – now, RTIC is in the game with its cheaper yet very similar cooler.
Interestingly, although half the price of BackFlip, Back Pack offers larger interior space – about 35 quarts. Not only that, but the Back Pack cooler has the excellent build quality and insulation – in our tests, we got 3 days of ice retention out of this model.
With proper chilling, you should be able to achieve 3 days as well, maybe even more.
RTIC Back Pack is also leakproof, as well as is capable of floating – a nice safety feature in the event of losing the backpack.
In terms of comfort, Back Pack may be better than YETI's BackFlip as well – it has wider shoulder straps and more padding in the back. This is pretty expectable given the larger size of the RTIC cooler.
Get it now at RTIC's store here >>
PRO TIP: For a deeper overview and comparison with YETI BackFlip, read our RTIC Back Pack review
---
TOURIT Cooler Bag
This cooler bag from TOURIT is similar to RTIC Back Pack in design, quality, and insulation, but it is more compact and isn't a backpack cooler. It's also available in two sizes – about 24.6 and 17.33 quarts (calculated based on provided interior dimensions).
The construction in TOURIT cooler bags seems pretty durable – the shell is made waterproof, as well as UV- and puncture-resistant. It's also BPA-free. Insulation is rather good as well, capable of retaining ice for 2 days or maybe even more with proper chilling and packing.
Interestingly, TOURIT coolers have 3 ways for carrying – via the detachable shoulder strap, reinforced side handles, or the top handles. It's nice to see so many carrying options in a cooler so small.
TOURIT coolers also have integrated bottle openers on the side, as well as a few tie-down points for secure transport.
The pricing of this cooler bag model is very attractive too. TOURIT cooler bags are by no means cheap, but you're paying much less than for the similar YETI Hopper coolers, for example.
One tip to note – make sure to treat the zipper with the included lubricant for smoother opening and closure.
---
ENGEL HD35 – Best Soft Cooler for Keeping Ice
Finally, we have the ENGEL HD30 cooler, which has the best insulation you can get in a soft non-backpack cooler. With its advanced insulation and vacuum-sealed valve, this thing can retain ice for 3 days (according to our own tests).
The insulation of HD30 is worth a deeper look. At its heart is closed-cell foam covered by a durable fabric shell with fully welded seams. The welded seams make this cooler bag waterproof, as well as improve its ice retention ability. For added durability, HD30 also has a puncture-resistant TPU film on the outer shell.
Size-wise, ENGEL HD30 is pretty nice – you can choose between the bulkier but more capacious 32-quart bag or the smaller 21-quart model (called the HD20). Both sizes come with a shoulder strap, zipper lube, and a bottle opener for added convenience.
We also love the design of HD30 – though it doesn't really matter for performance, if you want a unique cooler, then the futuristic-looking HD30 may be a great buy.
Check out the HD30 cooler in Engel's Store >>
---
Camping Cooler FAQ
Some nice to know stuff that may come in handy on your camping trip!
---
Is it really possible to get 10+ day ice retention?
Yes, but with larger coolers – size matters since big coolers perform better than small ones (smaller coolers get saturated with heat faster due to their small size).
What is the best camping cooler for the money?
If we had to choose, we'd go for the Cordova models as the best non-wheeled camping coolers and RovR coolers as the best wheeled pick (it's pricey but has accessories and features galore).
Why are rotomolded coolers for camping so heavy?
This is because they have:
Typically denser and heavier PU foam insulation.
Thick plastic with consistent thickness throughout the entire body.
If you want the best performance, you just have to live with the heaviness. But if you want lighter coolers, check injection-molded models (30-40% yet similarly insulated) – we have a dedicated post for those.
What's the best way to pack a cooler for camping?
Check out our packing guide – there, you'll learn why proper packing is important and how to do it the right way.
What kind of ice to use for max ice retention?
Cube ice (melts quickly but chills faster) + block ice (melts slower and you can make it at home).
Dry ice (low freezing point). This would be the best for camping, but it shouldn't be put into soft coolers and requires cautious use (more info in our guide).
What are your top 3 favorite cooler hacks for camping?
Shield the cooler with thermal heat-reflecting cover when not in use.
Use either Cooler Shock ice packs or the Koolergel ice extender (or both) for better chilling.
Put some rock salt on the ice (lowers ice's freezing/melting point).
---
Best Camping Cooler – The Bottom Line
That's it for our camp cooler reviews! Hopefully, you've learned something new and have come a step closer to finding the best camping cooler for your needs.
No matter what kind of coolers you want – bear-proof coolers, wheeled coolers, or soft coolers – be sure to look within your budget and consider your needs!
Now all that's left is to pack up and enjoy the outdoors!
---
References & Images:
---
Last update on 2023-09-26 / Affiliate links / Images from Amazon Product Advertising API
Disclaimers
All product names, logos, and brands are property of their respective owners. All company, product and service names used in this website are for identification purposes only. Use of these names, logos, and brands does not imply endorsement.
It is our policy to make every effort to respect the copyrights of outside parties. If you believe that your copyright has been misused, please provide us with a message stating your position and we will endeavor to correct any misuse immediately.
Some of the links in this post are affiliate links. As an Amazon Associate, we earn from qualifying purchases. This means if you click on the link and purchase the item, we may receive an affiliate commission, at no extra cost to you. This helps us keep this website alive. Learn more here.