Affiliate Disclosure: Some of the links in this post may be affiliate links. As an Amazon Associate, we earn from qualifying purchases. Learn more here.
---
If you are looking for the best large cooler for your next camping, hunting, or angling trip, then we can help – below, we'll introduce you to 6 excellent large ice chests that are likely to meet your needs.
With their high capacity, large ice coolers are versatile and thus highly popular. However, shopping for a cooler isn't the easiest of tasks.
Furthermore, if you aren't looking for anything specific and just want a large-sized cooler, then you may wonder – what's a large cooler, and how large should your cooler be?
Well, let's begin our post by giving answers to these questions.
---
Best Large Cooler – Our Top Picks
Let's start our large size cooler reviews by comparing them head-to-head:
editors-choice

Editor's Choice

to-middle

No products found.

No products found.

No products found.

item-title
Yeti Tundra 110
Orion 85
Igloo Leeward 124
Grizzly 100
RTIC 110
Coleman Xtreme
to-top
Made in
PH & USA
Made in
USA
Made in
USA
Made in
USA
Made in
China
Made in
USA
to-top
Capacity (real qt)
89
Capacity (real qt)
85
Capacity (real qt)
124
Capacity (real qt)
100
Capacity (real qt)
110
Capacity (real qt)
100
to-top
Ice Retention
8-10 days**
Ice Retention
7-9 Days**
Ice Retention
Up to 8 days**
Ice Retention
8-10 days**
Ice Retention
7-9 days**
Ice Retention
4-5 days**
to-top
Insulation
3" PermaFrost
Insulation
2" Insulation
Insulation
Ultratherm® Technology
Insulation
2" Foam
Insulation
3" Walls
Insulation
Insulation
to-top
Features:
• Roto-molded
• T-Rex™ Lid Latches
• Coldlock™ Gasket
• Neverfail™ Hinge System
• Vortex™ Drain System
Features:
• Roto-molded
• 4 Bottle openers
• 6 Tie-down points
• Padded Top
• Low Profile Cam Latches
• Gear Track Integration
Features:
• 2-way tie down points
• Oversized latches
• Dual drain
• Fish ruler
• Body brackets
• Wire basket and cutting board
Features:
• Roto-molded
• 3 BearClaw latches
• Dual 2 inch drain plug
• Non-slip non-marking rubber feet
Features:
• Roto-molded
• Integrated Locking System
• Rapid V-Drain System
• Traction Lid
• Bear Resistant
• Cool-Lift Design
Features:
• Roto-molded
• Heavy-Duty Wheels
• Tow handle
• Molded cup holders
• Have-a-Seat Lid
• Leak-resistant channel drain
td-btn-amz
Check Price
in YETI store
Check Price
at Amazon
Check Price
in IGLOO store
Check Price
at Amazon
Check Price
in RTIC store
Check Price
at Amazon
editors-choice

Editor's Choice
* According to our test results.
** According to the manufacturer's data.
---
What Is A Large Cooler And How We Define It
As you may know, cooler size is typically measured in quarts, and trying whether a cooler is small, medium or large comes down for personal preference. 50 quarts is going to be huge for some people, while others will want at least 100 quarts.
Large Size Cooler Definition
Still, to give you recommendations, we need to have a basis for cooler size categorization.
At bestcooler.reviews we define that coolers in the 65-150-quart range are large ice chests. Coolers over 100 quarts may also be considered extra-large coolers.

We define a large size cooler as the one in 65-100 quart size range and extra large as the one above 100qt.
Best Large-Sized Coolers – How We Chose Them
Now that we know what large ice chests are, let us explain the logic behind our top picks below.
There are numerous options out there to consider – to make your research easier, we want to introduce you to just a few coolers that we think are worth your attention and money.
When recommending coolers, we prefer established, reputable brands (ideally US-based). Big coolers offered by such manufacturers can be rather expensive, but they will bring their money back in the long term by serving you for years.
We avoid coolers from questionable or subpar brands, even if their coolers have received thousands of positive reviews. We know that our readers have high demands and strive to meet them with quality suggestions.
This doesn't mean, however, that our picks are only high-end coolers that will dig deep into your pocket.
We're familiar with a few solid budget options as well. These aren't as unique and remarkable as their pricey counterparts, but if your budget is limited or if you simply don't need anything fancy, they could work for you.
---
So What Makes The Best Large-Sized Cooler?
All coolers share some basic features – insulation, handles, latches, build quality, etc. Pay attention to all these when shopping for the best large ice chest.
However, there also are some things that are specific to large ice chests due to the nature of their use that you should know about.
More precisely, we think that large ice coolers should have the following features:
Durable components
Large ice chests are often used by anglers or medium/big game hunters. These coolers are also used for long-term camping, which is a strenuous activity both for the camper and their equipment. With this in mind, a large cooler should have durable latches, hinges, and ideally rotomolded construction, the latter being an especially important feature.
Strong, ideally molded handles
This is because large ice chests get heavy when loaded. The handles should be heavy-duty to ensure that they don't break off or crack when the cooler is loaded onto your boat or pickup.
Dependable locking system
Thief and bear resistance are desirable qualities since large ice chests are likely to be used in various environments throughout the years. Padlock compatibility is a welcome feature as well.
Wheels
Although this isn't a must-have, given how big and heavy 65-150-quart coolers can get, wheels may be a very handy feature to have. So there are some options that have wheels though.
---
Best Large Ice Chest – Reviews of Our Top 3 Picks
Now, let's have a look at what our Top 3 Picks have to offer, shall we?
First up, why did we pick these and not other coolers?
We feel that the large ice chests that we've chosen are the most balanced out there in terms of features and price. And although our top picks have similar sizes, they offer very distinct advantages that make them suitable for different categories of buyers.
With that, they are likely to meet the needs of our many readers.
---
YETI Tundra 110
Although not all YETI hard coolers are being manufactured in the US (some are in the Philippines), YETI is a hugely popular, premium brand. They've earned it, mostly thanks to the excellent quality and durability of their products.
The YETI Tundra 110 is no exception, although it's quite a pricey large cooler. Thanks to its exceptional durability, it's is a great cooler for heavy use.
The rotomolded polyethylene construction makes this large cooler tough and "virtually indestructible" (as per YETI's phrasing), while the thick FatWall design is certified to be IGBC bear-resistant when used with 2 padlocks on both front corners.
Small components in Tundra 110 are very durable as well, like the military-grade polyester DoubleHaul rope handles or the heavy-duty rubber latches.
And, what is important here, aside from rope handles, Tundra 110 has molded LIPGRIP™ handles to assist you with carrying.
Another highlight of Tundra 110 is the Vortex drain system – a standard feature for Tundra coolers. This drain system is durable, leakproof, and allows for quick & easy draining.
The housing of Tundra 110 is not only durable but also highly thermally insulative thanks to the up to 3-inch PermaFrost insulation, as well as the interlocking lid system along with a freezer-grade gasket. It's also compatible with dry ice, which provides about 3 times the cooling power of regular ice.
Interestingly, as YETI says, Tundra 110 is specifically designed with rafting in mind. Its size and shape allow it to easily fit common raft frames, while the molded tie-down slots will make sure that the cooler stays anchored to your raft or truck no matter what.
Although YETI doesn't advertise the max ice retention time in this cooler, but we've tested a number of different-sized Tundras many times before, and with the large size ones, such as this Tundra 110, you can easily get week-long ice retention.
In fact, due to the amount of space inside the cooler, it's possible to get the full 10 days (size impacts ice retention capabilities, small coolers do not keep the ice for as long as the large ones).
Since the Tundra 110 is able to keep ice for so long, it's an excellent choice whenever you're floating down a river, hunt a big game, or taking a long trip across the country.
All-in-all, the YETI Tundra 110 is an excellent large ice chest for heavy use. YETI coolers have been field-tested by hundreds of thousands of users with praise and great results.
Tundra coolers have been on the market for many years as well and have seen multiple iterations with both minor and major improvements.
There's one thing to keep in mind with the Tundra 110 cooler though – its actual capacity is about 92 quarts (+/- 3 qt, depending on how it's measured), contrary to what the product name may lead you to believe. The official spec is 74 cans of beer, using a 2:1 ice-to-can ratio by volume or 90 pounds of ice only.
Such a naming scheme isn't unique to YETI – many other cooler makers also use it, confusing and misleading some buyers.
Lastly, if the Tundra 110-qt isn't the right size for you, then you may want to check out other Tundra sizes. When it comes to large ice chests, they also have 105, 125 and 160 options available.
---
Why we like YETI Tundra 110
YETI Tundra 110 offers excellent durability and ice retention capabilities for any activity. Tundra 110 is definitely on the pricier side and isn't the largest cooler on our roundup, but it's one of the best large coolers out there if you are looking to use your cooler for the years to come.
---
Orion 85 Quart Cooler
The Orion 85 quart cooler is a 100% American made cooler made by Jackson Adventures – a US-based brand whose main focus is kayaks. This heavily implies that the Orion cooler is best for kayaking, and it does pair well with kayaks, but you could also purchase it for camping, hunting, or partying.
Although Jackson/Orion perhaps isn't the first brand to come to mind when talking about Premium coolers, the Orion cooler actually is no less rugged than the likes of Tundra 110.
Furthermore, the Orion 85qt has a few handy features to make your life easier.
Perhaps the biggest feature of the Orion cooler is the YakAttack/RAM Tracks on the sides that are compatible with a wide range of accessories like phone holders, fishing rod holders, cup holders, and others. The gear tracks reassert the suitability of this cooler for kayaking or other boating activities.
Next, you are getting a soft and grippy standing pad, which could serve as an excellent support surface for casting. The pad also looks pretty cool.
The number of tie-down slots in the Orion cooler is 6 as well, which should allow for superb flexibility and stability in a kayak or pickup. And inside, the Orion cooler features a simple yet functional tray system that allows you to keep your items organized.
Notably, the Orion 85-quart cooler also has recessed low-profile latches that do not increase the footprint of this cooler, unlike latches in many other large coolers on our list.
All the features listed above make Orion a pretty convenient choice for any outdoor activity, but kayaking maybe its forte.
Material- and durability-wise, the Orion cooler is similar to Tundra 110. The Orion 85qt cooler again has a rugged rotomolded body that is IGBC bearproof, and you are also getting durable and comfortable motorcycle grip handles.
Finally, in terms of insulation, this large ice chest is great as well – its over 2-inch thick insulation can keep ice cold for 7 and more days, which is generally on the same level as in Tundra 110 and still is impressive.
You can read our full Orion cooler review here.
---
Why we like Orion 85qt cooler
The Orion 85qt is the only truly kayaking-oriented cooler on our roundup, which makes it a unique option to consider. It's the priciest large ice chest on our list, but with its modularity and versatility, it has very few alternatives for those intending to take their cooler for fishing. It's also made here in the United States (another reason why it's slightly more expensive).
---
Here's how it looks like on video:
---
Igloo Leeward 124 Quart Cooler
Igloo's Leeward is the "Golden Mean" among our Top 3 large ice chest picks. Igloo isn't considered as premium as YETI, but it offers many noteworthy coolers as well, whether you want large or small options.
Igloo Leeward 124 is particularly notable after the previous 2 picks. It's relatively pocket-friendly, as well as boosts the largest capacity on this list – 124 quarts (198 12-oz cans, 117 liters).
With that said, the Leeward cooler isn't as good as the Orion and Tundra 110 coolers for specific, heavy use cases.
This is mainly because the body in Leeward isn't rotomolded, and it also isn't bear-resistant.
If you are expecting your cooler to take quite the beating, then the two previous picks are more reasonable options.
Still, the Igloo Leeward 124qt offers pretty solid durability and impact resistance thanks to corner brackets. For light to medium uses, this should be sufficient to ensure the integrity of the cooler.
The brackets also have an aesthetic value, making Leeward perhaps the most eye-catching cooler on our Top 3.
In terms of insulation, Leeward is good but certainly not as good as our previous picks. Igloo claims that their so-called 'Ultratherm® Technology' built into the body and lid provides for up to 8 days of ice retention, but in real life, you'd have do a lot to achieve this.
You would have to pre-chill the contents, use a mix of block ice with regular ice, keep the cooler in the shade (or under a thermal cover) and resist opening it often.
Thus, 5 to 6 days sounds more realistic for this cooler. We're still to confirm this in our full review which is yet to come, but we've seen so many coolers over the past 5 years that we feel pretty confident about this.
Moving forward, we wouldn't say that the Leeward large ice chest is great for any specific application, but it can work for a lot of things – the bottle openers make it a nice option for partying, while the fish ruler may come in handy while angling.
The 2 tie-down loops and anti-skid legs will keep the cooler stable while transporting as well.
Igloo also includes a cutting board and a wire basket with the Leeward cooler, which is very nice of them.
---
Why we like Leeward 124 cooler
The Leeward cooler is a nice all-purpose option whose price doesn't bite you too much. And although it probably won't excel in any specific activity, we think that it's balanced enough to meet the needs of most people.
---
3 More Large and Extra Large Coolers – Runner-Ups
We've decided to feature 3 more large ice chests on our list. These coolers perhaps aren't as good as our top picks overall, but they do offer a few interesting features that may be just what some of our readers need.
---
Grizzly 100 Quart Cooler
The Grizzly 100-quart cooler is a nice option not only for a long camping trip, but also for some serious heavy-duty tasks. It is a particularly interesting cooler for hunters – Grizzly is known to be a supporter of the National Rifle Associated and the Second Amendment of the US Constitution.
These don't make the cooler perform better, but they do add some sentimental value to it.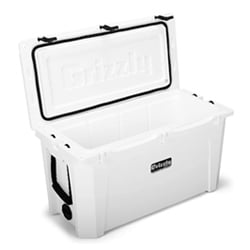 What's more, this cooler is entirely made in the USA, and this is another advantage that we respect a lot.
The highlight of the Grizzly 100-quart cooler is its rugged build. Well, that's what you'd expect from a cooler of such price. Needless to say, it's a bear-proof one, IGBC-approved.
The rotomolded construction of this cooler should be able to withstand any challenge you can throw at it, while the quality insulation achieved with a silicone rubber gasket and over 2-inch insulation made of dense foam will keep your ice cool for days.
Achieving week-plus-long ice retention should be no problem with this cooler as long as you put in some block ice in addition to regular cube ice.
Although this Grizzly cooler doesn't offer any special features like gear tracks or fish rulers, it comes with the basic stuff like tie-down slots, slip-resistant feet, molded handles, and durable latches.
The latches in the Grizzly cooler are particularly notable. Unlike other coolers where the latches get pinched in a groove for locking, the Grizzly latches (called BearClaw latches) hook onto plastic protrusions, which should ensure superior locking.
The number of latches here is 3 as well, which should more evenly distribute the load between the latches upon impact and prevent them from breaking.
Why we like Grizzly 100
We appreciate the rugged, simplistic design of the Grizzly cooler. We especially like the latch design of it. In fact, it is this large cooler's main differentiating point from other options on this list. For bumpy rides, thee BearClaw latches should be perfect since they are very unlikely to break.

With Grizzly Coolers, not only you're supporting products made on the US soil, but you can be confident the cooler you're getting is designed to last for years.
---
RTIC 110 Quart Cooler
RTIC is YETI's main competitor and thus offers many great options to pick from. For this post, we've chosen to showcase RTIC's 110-quart large cooler.
This one is much larger than Tundra 110 but has a similar set of features, and comparable quality – all at a much lower price!
With that said, made in China, this cooler won't be ideal for buyers who prefer to buy USA-manufactured coolers.
As a competitor to Tundra 110, this RTIC cooler offers a similar set of features.
Most importantly, the two coolers should be comparable in terms of durability – with RTIC, you are again getting a tough rotomolded construction that is bear-resistant and should effortlessly withstand heavy use. Just as the YETI.
For convenience, RTIC offers a set of features very similar to what Tundra 110 has – the Rapid V-Drain quick-draining system, molded tie-down slots, heavy-duty T-latches, and marine-grade ropes.
The RTIC cooler also has a grippy lid that provides support for easier casting.
In terms of insulation, the RTIC 110-quart cooler is solid as well – it's claimed to keep ice up to 10 days, though you'll really get closer to 7-8 days on average.
Still, 10 days is possible with this cooler if you're able to adhere to the ice retention tips we mentioned earlier in this post.
Why we like the RTIC 110qt cooler
RTIC's cooler doesn't offer anything outstanding or original – it's very similar to YETI Tundra 110. RTIC made that on purpose, and offers a nearly identical set of features. However, it's larger and cheaper, which makes it a great buy for the money.

There's also the brand thing. While early on RTIC has been considered as nothing else but a YETI knockoff, they've grown so much over the years that they've become a proven, trusted brand with tons of coolers sold to happy customers nationwide.
---
Coleman Xtreme 100 Quart Cooler with Wheels
Coleman Xtreme is a very inexpensive large ice chest option that will work for casual uses.
Although Xtreme is inferior to all other coolers on our top in terms of durability and longevity, we've included it because we know that not everyone needs a premium cooler.
For occasional family picnics or weekend camping trips, this 100-quart cooler ticks all the boxes and is sufficiently insulated to store your ice for 5 days (although it will be difficult, 3 or max. 4 days is more realistic).
Among the highlights of the Coleman Xtreme cooler are its tow handle and wheels, making transportation much easier. This is a pretty big cooler, so any bit of help with carrying is welcome.
Interestingly, the Xtreme cooler is also claimed to support up to 250 pounds, providing you with a place to sit on. However, this cooler definitely will not take bumpy rides or heavy use well – it has a relatively flimsy build and no latches to keep everything securely inside.
Why we like the Coleman Xtreme 100-quart cooler
For the price of a single YETI Tundra 110 cooler, you can have 8-9 Coleman Xtreme 100-quart coolers. It's a decent choice for casual use, and the fact that Coleman is a known US brand may be a big plus for some buyers as well. Some people like to think of this Coleman as a secondary large cooler.
---
Best Large Cooler – Final Words
We hope you like our large cooler picks. If you are still unsure which cooler to choose, then try to determine the use cases of your cooler.
Plus, we suggest that you give our cooler sizing guide a good read – it has many useful tips for you. With all that knowledge, selecting the best large cooler shouldn't be a big challenge for you.
Last update on 2023-11-30 / Affiliate links / Images from Amazon Product Advertising API
Disclaimers
All product names, logos, and brands are property of their respective owners. All company, product and service names used in this website are for identification purposes only. Use of these names, logos, and brands does not imply endorsement.
It is our policy to make every effort to respect the copyrights of outside parties. If you believe that your copyright has been misused, please provide us with a message stating your position and we will endeavor to correct any misuse immediately.
Some of the links in this post are affiliate links. As an Amazon Associate, we earn from qualifying purchases. This means if you click on the link and purchase the item, we may receive an affiliate commission, at no extra cost to you. This helps us keep this website alive. Learn more here.