Affiliate Disclosure: Some of the links in this post may be affiliate links. As an Amazon Associate, we earn from qualifying purchases. Learn more here.
---
In today's post, we are going to help you with picking the best small cooler.
Although having big and heavy coolers can certainly be nice if you want to keep a lot of stuff cool, such coolers are, well, big and heavy.
Not everybody has the space or the need for bulky coolers. When you are headed out for a few hours and just need something a little bigger than a lunch box to store some perishable food, what do you do?
Well, you could put it in a bag with a few good ice packs, but that won't hold. You can just take the food with you and hope it holds up, OR you can pick up a smaller cooler.
With that, if a small or tiny cooler is exactly what you are looking for, we have a few good options below!
---
---
Small Coolers & Mini Coolers – How We Define Them
Before we move on, let's understand what a small size cooler is exactly.
There are no strict definitions for small and mini coolers, but for the sake of this post, here's how we define them:
Mini coolers (or tiny coolers) are sized below 15 quarts.
Small coolers are sized from 16 to 34 quarts.
We'll start by briefly explaining our approach and methodology used for picking up coolers to feature in this post. Then, we'll introduce and review the top 5 best small cooler picks, followed by the top 5 best tiny coolers for those who need something even smaller. Here we go!
---
Small & Mini Coolers – How Did We Choose?
There are so many coolers out there, so it can be pretty difficult to pick the right small size cooler.
When shortlisting candidates for our small cooler reviews, we've focused on uniqueness most of all to help you differentiate between the coolers easier and to also meet the needs of as many readers as we can.
Next, we prefer to pick coolers from reputable, quality brands. We decided not to feature coolers that we consider subpar, even if they have lots of stars at Amazon or at other stores.
It's because we've seen seemingly highly-rated coolers perform badly, so when we picked small coolers for review, we relied on our expertise to make better suggestions.
Finally, in terms of price, we usually include both premium and inexpensive coolers.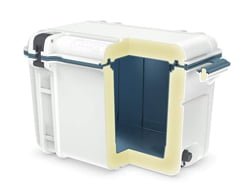 High-end coolers are typically the best all-around (quality-, durability-, and insulation-wise), but since not everyone needs "premium" features and because not everyone has the budget, we like to dilute our list with some cheaper picks.
By the way, when picking cheap coolers for review, we are a little pickier than with pricier models. Cheap coolers are more likely to perform not as good as the pricey ones (due to lower quality, inconsistent insulation, or whatnot), so typically we strive to be extra careful when dealing with budget options.
---
Best Small Coolers – Our Top Picks Compared
---
Small Size Cooler Reviews
---
---
---
---
---
---
Best Mini Coolers – Our Top Picks Compared
---
Mini Cooler Reviews
Everyone's needs vary, which is why you need to think about your specific situation before picking up any old small cooler. These are our top tiny cooler picks and we're sure you'll find one that will meet your requirements.
---
---
---
---
---
---
Best Small Ice Chest Cooler Guide
Smaller coolers are great for short day trips, if you want to keep items cold for several hours at a time or even to store a few meals. So how do you choose? Here are a few questions to consider.
---
---
---
RELATED: You may also want to check our post about best camping coolers.
---
Best Mini and Small Coolers – Bottom Line
When shopping for the best small cooler, remember to consider things other than size – build, quality, durability, or included accessories. No matter how limited your space might be, it would be great if you found a cooler that's not only space-efficient but also very convenient!
---
Last update on 2023-09-26 / Affiliate links / Images from Amazon Product Advertising API