Affiliate Disclosure: Some of the links in this post may be affiliate links. As an Amazon Associate, we earn from qualifying purchases. Learn more here.
---
In this post, we are going to help you with choosing the best ice retention cooler. More precisely, we want to showcase a few models that, in our opinion, have the best cooler insulation out there and can retain ice for many days.
Based on our tests, experience, and vast research, we've picked both hard and soft/backpack coolers for our post, so you'll have a good number of options to choose from.
And to help you better understand cooler insulation and hopefully allow you to effortlessly pick the best cooler for keeping ice, we'll also explain what makes for good insulation in coolers and what to look for.
---
Best Ice Retention Coolers – Our Top Picks
editors-choice

Editor's Choice

to-middle

No products found.

item-title
Pelican Elite
Cordova
Blue Coolers
Techni Ice Signature Series
YETI V Series™
to-top
Made in
USA
Made in
USA
Made in
China
Made in
Australia
Made in
US / Thailand
to-top
Capacity
20 - 250 QT
Capacity
20 - 128 QT
Capacity
30 - 100 QT
Capacity
37 - 111 QT
Capacity
45 QT
to-top
Ice Retention
up to 10 days*
Ice Retention
up to 10 days*
Ice Retention
up to 10 days*
Ice Retention
8-14 days*
Ice Retention
8-10 days**
to-top
Insulation
2"-2.5" PU foam
Insulation
2"-2.5" PU foam
Insulation
2"-2.5" PU foam
Insulation
2"-3" PU foam
Insulation
PU foam & Vacuum
to-top
Features:
• Injection and Roto-molded
• ~3" of PU foam insulation
• Press & Pull Latches
• Fish ruler
• Molded-In Tie Downs
Features:
• Roto-molded
• Eco Foam Insulation
• Quad-core rubber gasket
• Aluminum handles
• Top Mount Lid Latches
• Built-in Raised Tray
Features:
• Roto-molded
• 2" of insulation
• Non-skid feet
• Lockable lid
• Freezer style gasket
• Sure-grip handles
• Rapid drain system
Features:
• Roto-molded
• 2.9" walls & 3.1"lid high density multi compound PU insulation
• Dual seal airlock
• 2" diameter insulated drain plug

Features:
• PermaFrost™ insulation
• Vacuum-insulated panels
• Kitchen-grade stainless steel
• Single-center latch loop
td-btn-amz
Check Price
Pelican store
Check Price
Cordova store
Check Price
Blue Coolers store
Check Price
at Amazon
Check Price
YETI store
editors-choice

Editor's Choice
* Depending on the cooler size and external factors (outside temperature, ice type, ice-to-contents ratio etc.)
** Depending on the external factors.
---
What Makes The Best Cooler for Keeping Ice?
Before we jump into reviews of the above-listed coolers, let us give you some valuable insights on what to look for when shopping for the best cooler for ice retention.
---
Best Cooler Insulation
The all-around best insulation material in coolers these days is closed-cell polyurethane foam (PU foam). Closed-cell PU foam is very dense, which allows for increased insulation along with added strength. On the other hand, this foam also makes coolers rather heavy.
A few years ago, closed-cell PU foam was only used in high-end coolers from brands like YETI, Pelican, or Orca. Nowadays, you can find this material in most rotomolded coolers regardless of price.
Some cheaper coolers use polyethylene (PE) foam (e.g. the Igloo Quick and Cool cooler)– it's lighter than closed-cell PU foam and thus is good if portability is a big deal for you. But for insulation, PE foam isn't the best in hard coolers and should be avoided.
With that said, if you are looking for a soft cooler, then PE foam is an adequate choice since it provides decent insulation without making the cooler too heavy. Some soft coolers use closed-cell rubber foam instead.
For added insulation, some soft coolers use special features to improve insulation, e.g. a vacuum valve (like ENGEL HD30, one of our top picks).
Speaking of vacuum, it appears a promising technology in the world of coolers. So far, vacuum insulation has been extensively used in tumblers, but it hasn't been used in coolers up until just recently when YETI released its V-Series cooler (priced at $800!).
The YETI V-Series cooler features double-wall vacuum insulation combined with PU foam. We'll talk about this in more detail later because this cooler is one of our top picks.
---
Insulation Thickness & Distribution
The thickness and distribution of the insulation also play a major role in ice retention.
The best insulated ice chests typically use 2-3 inches of PU foam insulation (sometimes even thicker). These coolers also maintain a consistent thickness across their entire body, including the bottom and lid.
Cheaper ice chests may also use PU insulation, but they may have thinner foam in their lid or bottom or use a whole another material in these areas.
All coolers on our list – be they hard or soft – have the best possible ice retention with some of the thickest insulation out there.
---
Gasket / Sealing Quality
High-end coolers typically use freezer-grade gaskets for optimal sealing of the lid. Some cooler makers go even further – for example, Techni Ice coolers (among our top picks) have not one but two gaskets, as well as an insulated drain plug to eliminate any weak points through which heat may flow into the cooler.
Drain plugs, by the way, are a common weak point in cooler ice retention ability, so added insulation there is a big plus.
Apart from these, the latches are also important – they should be able to ensure tight lid closure so that the gaskets can effectively seal the cooler interior.
---
Cooler Construction Type
Rotomolded construction offers the best insulation for coolers. This is because rotomolded coolers are built in one piece, which allows for few to no weak points.
Additionally, since rotomolded coolers are very durable, they will retain the integrity of the insulation for years with no holes or breaks. Rotomolded coolers can typically take dry ice too, which allows you to somewhat increase ice storage duration.
A major con with rotomolded coolers is that they are pretty heavy. In this sense, a decent alternative would be injection-molded coolers (e.g. the new RTIC Ultra Light or some Pelican Elite coolers). These coolers are 30-40% lighter than rotomolded models yet have comparable insulation.
If the best possible ice retention is what matters to you the most, then avoid blow-molded coolers – these aren't very durable and have thin, lower-quality insulation (though they are also cheap). There are some exceptions, however, like the Igloo BMX which, despite of being a blow-molded cooler, is actually a pretty decent one.
---
Cooler Size Does Matter Too
Small coolers typically don't keep ice as long as large ones. For example, a 65-quart cooler will retain ice longer than a 20-quart one, all else equal.
This appears to be because larger coolers take heat leaks better because they have a higher amount of cold air inside.
---
Best Insulated Cooler For Keeping Ice – Our Top 5 Picks
---
Now, once we've discussed what makes the cooler the best cooler for ice retention, let's dive in into reviews. Let's start with the best-insulated ice chests, followed by the top 5 soft and back pack coolers.
Best Coolers for Ice Retention – Ice Chest Category
---
Pelican Elite – Best High-End Cooler
Pelican is a premium, 100% US-made cooler brand whose coolers are renowned for their great ice retention capability. And today, we are interested in their Elite-series coolers.
At the heart of Elite coolers is over a two inches thick layer of polyurethane foam insulation, which we've talked about earlier. The insulation here is consistent throughout the whole cooler body – there are no thin wall sections, cutouts, or other weak points that you should worry about.
As high-end coolers, Elite models also offer freezer-grade rubber gaskets for a better seal. And notably, they have press & pull latches instead of the rubber latches that you'd typically see in coolers. The press & pull latches should contribute to the insulation ability of Elite coolers by ensuring a more secure closure.
With all that, Pelican advertises ice retention of up to 10 days, though this probably will only be achievable either in larger sized coolers (above 60QT) or, in the case of the smaller ones, under ideal conditions (proper packing, pre-chilling contents, minimum 1:2 food to ice ratio, moderate heat, etc.)
The week-long ice retention is a realistic estimate that you will be able to get consistently if the cooler's packed right. Remember – the size of the cooler matters a lot. The small-sized coolers, won't be able to keep ice for a long as the larger ones. It's physics.
Insulation aside, what we like about Pelican coolers is that their naming is true to size (unlike YETI coolers, for example). Not only that, but Elite coolers are backed up by a lifetime warranty – a testimony to Pelican's confidence in their cooler quality.
Note that while most Elite coolers are rotomolded (including the wheeled ones), some are injection-molded (20QT, 30QT, 50QT, 70QT). Injection-molded coolers are 30% lighter, offer more colors, as well as boast comparable insulation with their rotomolded counterparts.
For more details and pictures check out the Pelican's website.
---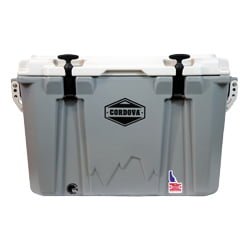 Cordova Coolers – Best 5-Day Cooler and Most Affordable US-Made one
The Cordova cooler line is our best 5 day cooler pick. Cordova might not be perceived as premium or renowned as Pelican, or YETI, but they make coolers of amazing quality – definitely on par with the former two brands. What makes them unique, however, is the pricing strategy, as Cordova coolers are priced very competitively.
Additionally, Cordova coolers are 100% manufactured in the US (more precisely, in Idaho) from US-sourced materials. So if you want an affordable US-manufactured cooler, Cordova is perhaps the go-to brand.
Insulation-wise, Cordova coolers are amongst the best ice retention coolers. They use a dense, closed-cell foam that not only has high R-values but is also environmentally-friendly.
Their medium-sized coolers easily get to 5 days and even 7 days with proper use. In the case of the two larger ones, 88qt and 128qt, you can expect ice to last about 8-9 and 10-11 days, respectively.
Another interesting feature is the top-facing latches – these latches can be easily opened even in tight spaces without moving the cooler. The oversized, leak-proof drain plug is something that also caught our attention.
Cordova coolers are available in 5 sizes – 20QT, 32QT, 48QT, 88QT, and 128QT, each size with various color options. All coolers are covered by a lifetime warranty as well, which is great given how pocket-friendly they are.
Perhaps the best thing about the brand and this product is that it's the most affordable US-made cooler in terms of price per quart (just $2.73 per quart for the largest XL Excursion cooler). That's great value if you need and are looking for 100% American made product.
Check all the sizes and colors at official Cordova website here >>
---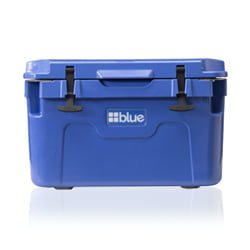 Blue Coolers – Best Value for the Money
Blue Coolers offer the best coolers in the value-for-money category. Their coolers are comparable to YETI Tundra models but are priced much lower. Furthermore, Blue Coolers actually have thicker insulation in their walls (see video below), so they will at least have same-level insulation, if not better.
Blue Coolers offer coolers in 4 styles and sizes – 30QT, 55QT (wheeled and non-wheeled), and 100QT. All of them can be seen right here.
Time-wise, Blue Coolers advertises that their coolers can store ice for up to 10 days, and given the thickness (over 2 inches) and consistency of the insulation in their models, this will be fully achievable in their larger-sized coolers.
That said, we think that 7-10 days is a more realistic period that most people will be able to achieve consistently with their medium, and large-sized ice chests. For the smallest one, expect ice to stay icy for about 5-6 days.
Like YETI Tundra coolers, Blue Coolers models feature a rotomolded construction and freezer-grade gaskets, which should allow their coolers to maintain their insulation ability for a long time. Among other similarities are the bear-resistant build (though not IGBC-certified), non-skid feet, as well as a combo of molded and rope handles.
With all that said, keep in mind that although Blue Coolers are based in the US and ship their products from Salt Lake City, their coolers are not US-made (unlike the Cordova, Pelican or some of the YETI Coolers). But if you care more about value than US manufacturing, Blue Coolers is a very nice brand to go with.
We recommend checking these coolers at the Blue Coolers' website right here >>
---
Take a look how does the Blue Cooler's insulation compare to the one used in YETI Tundra.
---
Techni Ice Signature – Best Extreme Cooler
The Signature Series cooler from Techni Ice is the best extreme cooler on this list.
First and foremost, this cooler offers the thickest insulation we've seen – up to 3.5 inches of multi-compound PU foam in the lid and 2.9 inches in the walls. As you can see, the lid is particularly reinforced here – and for a good reason since the lid is one of the main weak points in ice chests.
Next, Techni Ice equips their Signature Series coolers with not one but two freezer-grade gaskets, providing your ice and food items with a double line of defense. The drain plus in Signature Series coolers are additionally insulated.
Notably, this also is the only cooler model on this list with 3 latches, which should allow for better sealing and thus better ice retention.
The build of the Techni Ice Signature cooler is excellent as well – it's rotomolded, extremely tough, and also bear-proof (the 132qt and 37qt ice chests have IGBC certificates).
In terms of ice retention duration, Techni Ice advertises a broad range of 8-25 days. Getting 25 days will probably be a little bit challenging, especially for the smaller-sized ones, but judging by customer reviews on Amazon, 12-14 days isn't a big problem for the larger ones.
Note that the particular Signature cooler that we based our original Techni Ice review on was sized at 111 quarts.
Interestingly, Techni Ice is an Australian brand with a presence in the US. Techni Ice also claims that its products are being used in governmental agencies and organizations throughout the world, including the Australian Navy, US Air Force, McDonald's, Air France, and others.
---
YETI V Series – Best Vacuum Insulated Cooler
The Yeti V-Series cooler is perhaps the most unique cooler to be ever featured on our website. This is the first cooler to make use of vacuum insulation – the same kind of technology used in stainless steel double-walled YETI tumblers.
Vacuum insulation offers much higher R-values per inch than closed-cell PU foam – R20-25 vs R6-7, which essentially means that 1 inch of vacuum insulation is roughly equivalent to 3 inches of PU foam.
Unfortunately, YETI isn't very informative when it comes to the insulation profile of the V-Series cooler – they provide no thicknesses or ice retention estimates. Judging by the provided internal and external dimensions, this cooler has about 2 (maybe slightly more) inches of insulation in the walls, the lid, and the bottom.
However, this isn't 2 inches of pure vacuum insulation – we also know that the V-Series cooler has a tad of PermaFrost high-density PU pressure-injected foam. This is the same kind of foam used in Tundra coolers.
With that said, although we don't have as much info as we'd want, we know that YETI V-Series is still capable of outperforming Tundra models if used right (see our ice retention tips at the end of this post).
Apart from insulation, we also love the stainless steel build of the V-Series cooler – it's simply gorgeous and unlike anything else we've seen on the market.
However, when it comes to durability, this stainless steel won't compare with the tough, rotomolded Tundra. It's not going to be as tough, so we definitely wouldn't recommend it for heavy use.
The YETI V-Series cooler is very expensive as well, so it's certainly not the best option if you are value- and budget-driven.
For more details, check out the V-Series at the YETI's store.
---
Watch the new Yeti V Series ad:
---
Best Insulated Soft Cooler and Backpack Picks
editors-choice

Editor's Choice

to-middle
item-title
ENGEL HD30
RTIC Back Pack
YETI Hopper FLIP
to-top
Capacity
21, 32 QT
Capacity
35 QT
Capacity
8, 12, 18 QT
to-top
Ice Retention
3 days*
Ice Retention
2-3 days*
Ice Retention
2-3 days**
to-top
Insulation
Closed-cell Foam & Vacuum

Insulation
Closed-cell Foam
Insulation
Closed-cell Foam
to-top
Features:
• 100% Waterproof Compartment
• Vacuum Valve
• Padded Shoulder Strap
• Waterproof Zipper
• Integrated Bottle Opener
Features:
• Hold 30 cans and a bag of ice
• Ergonomic straps
• High-quality welded seams
Features:
• Closed-cell rubber foam
• High-density Dryhide Shell fabric
• Waterproof and leakproof Hydrolok Zipper
• 20 cans with a 2:1 ice-to-can ratio
td-btn-amz
Check Price
Engel Store
Check Price
Cordova store
Check Price
YETI store
editors-choice

Editor's Choice
* Our own test data (can vary based on the external factors, type of ice used, ice to drinks ratio etc.)
** Relates to medium and large-sized coolers.
---
Reviews
ENGEL HD30 / HD20 – Best Soft Cooler for Keeping Ice
ENGEL HD30 is unlike most other soft coolers you'll find on the market. As you might have guessed, this is largely thanks to its superior insulation.
The highlight of the HD30 soft cooler (and the smaller HD20), is its fully welded seams and zipper. Not only that, but the insulation on the inside is built with closed-cell foam.
The vacuum valve here is also an interesting one – it makes use of vacuum technology to provide an extra layer of insulation. The vacuum space, combined with the dense foam layer, make the HD20/30 cooler one of the best insulated soft coolers we've seen.
With these, heat leaks won't be as big of a problem as with the typical soft cooler. More importantly, you are getting up to 3-4 days of ice retention.
In our tests, we got a little bit over 3 days with this cooler, which is more than what the vast majority of soft coolers out there can offer.
The build quality and durability in HD30 are excellent as well – with the 840D fabric, puncture- and tear-resistant TPU film, and waterproofing, this cooler should withstand anything you throw at it. With the 2 available sizes – 21 or 32 quarts – the HD30 cooler will be able to take a good amount of ice and drinks as well.
Check out the HD series at Engel's store >>
---
RTIC Back Pack Cooler – Best Backpack Cooler for Ice Retention
RTIC Back Pack is one of the latest releases from RTIC. Most importantly, it's the long-awaited competitor to YETI's Hopper BackFlip 24 backpack cooler – an undeniably brilliant yet very expensive cooler.
In terms of insulation, we've got amazing results with the RTIC Back Pack cooler – it lasted for full 3 days when half-filled with cube ice and left outside. This is on par with the capabilities of YETI's BackFlip, and we are sure that Back Pack can do even better with proper packing.
The build quality is excellent in Back Pack as well – no complaints here. It's tough, water- and leak-resistant, and even capable of floating!
RTIC Back Pack is sized larger than BackFlip, so it may be a bit bulky for some users. On the other hand, it's got a higher capacity as well.
Check it now in RTIC store here >>
Refer to our full RTIC Back Pack cooler review for more information about the insulation, all the practical features, as well as the comparison with YETI BackFlip.
---
YETI Hopper FLIP
Finally, we have the YETI Hopper Flip cooler, which the aforementioned BackFlip is a part of. Hopper Flip coolers are available in various sizes and are known to be great performers, especially insulation-wise.
Note that the BackFlip is the only backpack cooler in the Hopper Flip lineup – the rest are tote coolers.
YETI Hopper Flip coolers make use of dense closed-cell foam for insulation. This isn't the same foam as in YETI Tundras since it's based on rubber foam rather than PU.
Closed-cell rubber foam may not be as good at thermal insulation as PU foam, but it's lighter and still has very solid performance. Plus, it doesn't absorb water, has a long service life, isn't easy to burn, and is safe.
Another important feature in YETI Hopper Flip coolers is the Hydrolok zipper – a tough, waterproof, and leakproof zipper that offers a sizable contribution to the thermal performance of this cooler.
Interesting things don't end with insulation in YETI Hopper coolers – they also boast a shell that is waterproof and resistant to UVs, mildew, and punctures. You also get the HitchPoint Grid that can be used for the attachment of bottle openers or other accessories.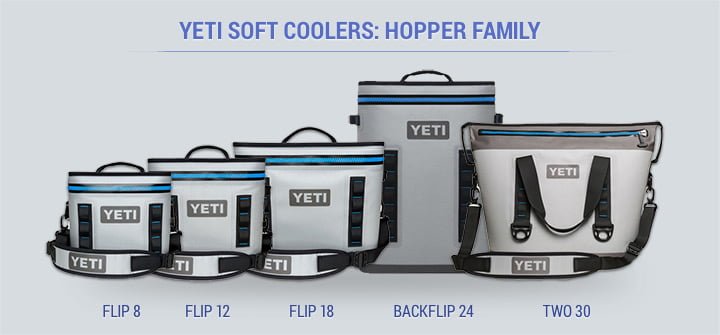 Hopper Flip coolers come in various sizes – starting from the small Hopper Flip 8 and ending with the large Hopper Flip 18, BackFlip 24, and M30. All the sizes feature a few color options as well.
It's cool, durable, and top-notch, something you'd want by your side.
---
How To Get the Most Out Of Your Cooler (Ice Retention Wise)
Now, a few tips to help you maximize cooler ice retention:
Pre-chill your cooler before the trip.
Pre-chill your drinks and food before putting them into the cooler – otherwise, the heat will flow from your items to the ice, melting it quicker.
In addition to regular cubed ice, use block ice (melts slower), KoolerGel, or high-quality ice packs (Cooler Shock are awesome ones) to chill your stuff faster.
Consider using dry ice (has lower temps than water ice), but be careful as not every cooler works with dry ice!
Ensure a 2:1 ice-to-contents ratio at least. 2/3 or 1/3 ratios are optimal for best cooler ice retention.
Keep your cooler away from direct sunlight.
Use a reflective thermic cover to protect the cooler from heat when it's not used (e.g. while camping).
Try to open the cooler as rarely as possible and only when absolutely necessary.
Finally, the "MacGyver tip" – put some rock salt on the ice. This will lower the ice's freezing/melting points.
For the full list of tips for maximizing ice retention in coolers,
read this post
.
---
Best Ice Retention Cooler – Final Thoughts
There you have our best ice retention cooler guide!
Although insulation in coolers is a key feature, you shouldn't be ignoring other things when shopping for the best cooler for keeping ice. Please also remember to consider smaller things such as accessories (bottle openers, fish rulers, etc.), build quality, construction method, and size – these matter a lot.
Don't forget to bookmark bestcooler.reviews and visit us regularly for more articles like this one! Till the next one, stay cool!
---
Last update on 2023-09-29 / Affiliate links / Images from Amazon Product Advertising API
Disclaimers
All product names, logos, and brands are property of their respective owners. All company, product and service names used in this website are for identification purposes only. Use of these names, logos, and brands does not imply endorsement.
It is our policy to make every effort to respect the copyrights of outside parties. If you believe that your copyright has been misused, please provide us with a message stating your position and we will endeavor to correct any misuse immediately.
Some of the links in this post are affiliate links. As an Amazon Associate, we earn from qualifying purchases. This means if you click on the link and purchase the item, we may receive an affiliate commission, at no extra cost to you. This helps us keep this website alive. Learn more here.