Affiliate Disclosure: Some of the links in this post may be affiliate links. As an Amazon Associate, we earn from qualifying purchases. Learn more here.
---
Welcome to our very own Igloo Trialmate cooler review. Igloo, the brand, has quite a reputation for being a great coolers manufacturer that goes above and beyond the expectations of the customer.
They have a long line of coolers to choose from, with models that fit just about every kind of cooler enthusiast. From the Sportsman to the Iceless Thermoelectric, there really is a cooler for everyone. Igloo seemed poised to take on brands like Yeti at an affordable price.
However, there was still something missing from Igloo, and that was the fact that they didn't have a proper wheeled cooler for those who just didn't like the idea of carrying a cooler. That problem was solved with the arrival of the Igloo Trailmate.
The Trailmate is meant to be the ultimate cooler for all terrains. It's supposed to be your one size fits all party kit that you can take with you wherever you want, with plenty of beer, of course! Whether you want a little soiree to happen on the grass in the park, or something a little more carefree at the beach, or something more rugged in the woods, the Trailmate is your friend; the kind that will take you anywhere.
As soon as bestcooler.reviews heard about this beauty from Igloo, we were excited to find out more about it. We did, of course, have certain high expectations going in since we have already reviewed other Igloo products and knew the kind of standards we hold the brand up to, but we tried to keep our minds as open as possible. I am proud to say that we were not disappointed, but let us not get ahead of ourselves.
---
Igloo Trailmate Cooler Review
---
Construction and Build
The first thing we always want to look at in a cooler is how well built it is. In this case, the Igloo Trailmate Cooler wasn't a disappoint because Igloo put a lot of thought into its construction, making sure it is made to be tough and durable.
Let's start with the metal parts of the cooler. They are made of marine grade strength aluminum, which means that you don't have to worry about these metal parts rusting, especially when you're out at sea. The metal is also extremely strong without having to be unbearably heavy.
The idea at the heart of the Trailmate is to make a cooler that has the utmost mobility. It is therefore important that it be kept as light as possible to make hauling it around an easy job.
The rest of hardware on the cooler, the parts inside, is made of stainless steel, which is also quite resistant to rust and not heavy at all, especially considering the fact that the internal hardware is small.
When it comes to the body of the cooler itself, the plastic is pretty tough. There is a setback here, however, in that the cooler is not rotomolded. It's not certified bear-resistant either. Ordinarily, that's the kind of thing that would make us turn our faces away in disgust.
You see, we love rotomolded coolers and consider them to be the pinnacle of cooler toughness. However, in this case, we will make an exception because this cooler would not have had all the features that we are soon going to talk about if it had been rotomolded. Besides, with all the great engineering that went into the design, Igloo Trailmate is quite capable in just about any situation it finds itself in.
One thing that certainly helps it remain tough, even though it isn't rotomolded, is the fact that it has a very thick layer of insulation around it. There is both Cool Riser Technology and Ultratherm insulation to ensure that the temperature inside remains just as cool as you want it.
One of the drawbacks of this cooler not being rotomolded is that all the extra insulation has made the cooler larger, heavier, and more expensive than it would be had it been rotomolded. However, we think it's still worth it. Whether you think it's worth it too is something you'll have to figure out.
---
Features
While Igloo Trailmate Cooler is not rotomolded, it more than makes up for that with all of the cool features it has. The features on the Trailmate are some of the best we have ever seen on a cooler. Well, perhaps with the exception of the Coolest, which actually comes to mind when you look at all those neat features!
The very first, and most prominent feature, is the set of large 10-inch wheels on this cooler. They have a very strong tread that makes them ideal for just about any kind of terrain. They also never go flat, which means you have a set of wheels you can take anywhere that is also going to last you a very long time.
Apart from the wheels, we have some stands for when your cooler is stationary. These stands are made of aluminum though they are wrapped in rubber grips for traction when you stand the cooler. They make the Igloo Trailmate Journey Cooler super stable when you want to lay it flat after hauling it around. The grip is no-slip, and the tread on the tires is very aggressive. You can actually place this cooler on a slope without having to worry about it rolling away or falling over.
Apart from the wheels, we have a telescopic handle that is just perfect. You don't just have a handle with which to haul your cooler around; you also have a butler tray on which you can place stuff from the cooler, letting it act like a small table when you're having a party. The design is so intuitive it leaves you wondering why other wheeled coolers never thought of it in the first place!
The purpose behind the glide handle is to make it easier to pull the cooler around. You can pull it out as far as you want to make the hauling of your cooler easier. At the most, it will make the cooler 50% lighter to carry due to the leverage that comes with having a long handle. Just pull the handle to the point where you want it, lock it in, and use it to haul your cooler.
The fact that it can also be used as a tray is the real stroke of genius, though. The butler tray is modular and can be fitted right onto the handle. It comes with cup holders built into it and has a rough surface to ensure whatever you place on top of it stays on top of it. When you're done with it, you can store it neatly under the lid of the cooler.
When it comes to the inside of the Igloo Trailmate 70 Quart Cooler, there is plenty of space. There is not only space for the stuff you want to keep cold, but also stuff you don't want so chilled. The dry storage bin, for example, is a great place to put your phone and wallet, among other things. If you have more stuff that is less sensitive to water, you can place them in the larger storage pocket right beneath the dry storage bin.
For the stuff you want to keep dry but cold, you can put it in the food basket that's right on top of the cold section. Think stuff like fruit and bread, among others.
It doesn't end there, though. There's a lot more, including bottle openers built into the cooler, cup holders, a stand for your mobile phone, tie-down loops, removable accessory holders, and much more.
When they made this cooler they envisioned it to be an all-around type of cooler and that's the sense you get when you explore the features.
The Liddup, for example, has LED lights inside for lighting up the cooler when you use it at night. The Marine has special inhibitors for UV rays in the wall that protect it from the sun's damaging rays. There's also an antimicrobial liner inside that prevents bacterial growth and makes it easier to clean the cooler. The base is anti-skid so the cooler doesn't damage the floor of your boat.
Check Igloo Trailmate cooler at Amazon
Igloo Trailmate Cooler
No products found.


Photos: igloocoolers.com
Igloo Trailmate Features
Oversized Wheels

Glide™ Handle

Butler Tray

Dry Storage

Storage Pocket

Mobile Device Stand

Bottle Openers

Food Basket

Cup Holders

Accessory Holders

Tie-Down Loops

Stainless Steel Parts

Aluminum Construction

Drain Plug

Cool Riser Technology™

Ultratherm

Ice Retention

---
Ice Retention
According to Igloo, this cooler will keep your ice icy for up to 4 days. That's where you really feel the pinch in the fact that this cooler is not rotomolded. A rotomolded cooler would keep things cold for longer. However, just like we said before, we think the features and the price make it worth it.
---
Colors and Sizes
The Igloo Trailmate Cooler comes with a capacity of 70 qt while the available colors are great but limited. If you go for the Liddup, you get a mix of gray/silver and red while if you go for the Marine, you get white/black. The Journey has three color options: the slate blue/agama teal, the neon charocal/acid green, and the canyon brown/riverbed tan mixes.
---
Igloo Trailmate Competitors
---
Yeti Tundra Haul
Yeti have their own wheeled cooler, and it is, of course, magnificent. Yeti Tundra Haul, the latest addition to Yeti Tundra family, will keep your ice icy for up to 10 days, has fairly large wheels, and has a capacity in the region of 45 cans. It's also rotomolded. It's pricey though.
Get Yeti Tundra Haul at Amazon
---
Pelican Wheeled Cooler
Pelican Wheeled Cooler is a tough guy built for tough tasks. It has a variety of capacities with the smallest being the 20 qt and the most being the 55 qt. It has an ice retention of 7 days and happens to be rotomolded. It's a highest-quality product, on par with the Yeti.
Get Pelican Wheeled Cooler at Amazon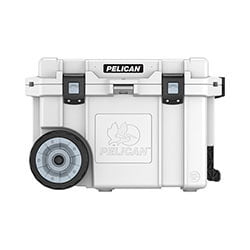 ---
Coolest Cooler
Perhaps the closest competitor to the Trailmate cooler would be.. the Coolest Cooler. As surprising as it may sound, the Coolest Cooler is the only one we recall which can actually rival Igloo Trailmate when it comes to all those neat, built-in features. The Coolest Cooler is not a rotomolded one too, so that's yet another similarity to Triailmate. For more information, check out our post about coolers with speakers where we featured the Coolest, or go to Amazon to read some in-depth user reviews.
Get Coolest Cooler at Amazon
---
Conclusion
The competition for the Trailmate consists of rotomolded coolers with superior ice retention. They also come from superior brands and cost significantly more. However, if you would love a cooler with the kind of features that you get on the Trailmate, then it is definitely worth buying.
---
A Sample Igloo Trailmate Cooler Video We Found Useful
---
Where to buy the Igloo Trailmate Cooler
The Trailmate can be bought on Igloo's website as well as lots of other places online. We, however, recommend that you make your purchase at Amazon. Not only will you be doing your shopping in the safest online marketplace, but you will also get lots of perks. You get to read real reviews from other customers just like you – including the first-hand Igloo Trailmate Cooler reviews here, you enjoy Buyer Protection, and you also get free shipping in some circumstances.
Check all Igloo Coolers at Amazon
---
Igloo Trailmate Cooler Review – The Bottom Line
Ice Retention

Quality

Features

Price
Summary
And with that, we wrap up our Igloo Trailmate Cooler review. This feature-packed cooler, while flawed in one key area, more than makes up for it in other areas. We love the aesthetics and the overall design of this cooler. It's the kind of ice chest that makes you feel like you're living in the future!
---
Last update on 2023-09-29 / Affiliate links / Images from Amazon Product Advertising API
Disclaimers
All product names, logos, and brands are property of their respective owners. All company, product and service names used in this website are for identification purposes only. Use of these names, logos, and brands does not imply endorsement.
It is our policy to make every effort to respect the copyrights of outside parties. If you believe that your copyright has been misused, please provide us with a message stating your position and we will endeavor to correct any misuse immediately.
Some of the links in this post are affiliate links. As an Amazon Associate, we earn from qualifying purchases. This means if you click on the link and purchase the item, we may receive an affiliate commission, at no extra cost to you. This helps us keep this website alive. Learn more here.