Affiliate Disclosure: Some of the links in this post may be affiliate links. As an Amazon Associate, we earn from qualifying purchases. Learn more here.
---
YETI are back, and this time, they have a cool new product for us! This YETI Roadie 24 review is an exciting one for us because the new, re-designed Roadie® is something that we've been wanting to see YETI release for quite a long time now.
When we learned that they finally did, we were so excited we just had to review it! We loved it. A lot! And I can confidently say that it lived up to our (very high) expectations.
Now, something we particularly regret is that, when the original Roadie® 20 came out, we were a little late in reviewing it, and so it was already stale news by the time we published our YETI Roadie 20 review.
This time, however, we won't let it happen again. We're going to be among the firsts to make the new Yeti Roadie 24 review.
Are you ready to explore it? Walk with me!
---
Yeti Roadie 24 Review
Perhaps it would be great to start off this Roadie 24 cooler review by talking a little about its predecessor: the Yeti Roadie 20.
Unquestionably, the Roadie 20, was a massive success for YETI, and it led to the company growing even more popular than it already was off of its Tundra line of coolers.
With the Roadie, it made a cooler for people who didn't want something as big as the Tundra, or as niche as a soft cooler.
Sometimes you want a hard cooler but you just don't want it so large. You want it to be easy to carry, more portable than all those bulky ice chests.
That's how the Roadie 20 was born. It did its job very well. However, there were a few complaints about it, which faithful Yeti customers wanted Yeti to do something about.
The capacity needed to be a little larger, they needed to work on the metal handle, and they had to do something about the overall height because it made it hard to store tall bottles in.
It seems Yeti was listening intently. They knew there were changes required, so they went out and built a new iteration of this cooler.
The New Yeti Roadie 24 is all about those changes, plus more!
---
Let's Talk Construction
The designers at Yeti's headquarters in Austin, Texas, decided to take much of their inspiration from the existing Yeti Roadie 20, which makes sense since the Roadie 24 is really more of a major upgrade than a totally new thing.
To start with, the new Roadie is rotomolded, just like its predecessor. It couldn't be the other way, of course, as roto-molding technology is the backbone of all YETI hard coolers.
Thanks to the technology in question, the ice chest becomes a single-piece mold that's virtually indestructible. Not to mention that it impacts the ice retention capability in nothing but a positive way.
Next, the Roadie 24 is taller than the Roadie 20. It's almost as if they took the Roadie 20 and stretched it along the height, making it taller.
Now, the overall result of this is the cooler has more capacity, is a little easier to handle, is actually lighter, and is better at keeping ice.
Also, because of its height, it can now hold upright wine bottles, as well as 2-liter bottles of coke, which is something we've all been wanting in a cooler for a while now.
In fact, if we're going to go into the numbers, the capacity on the Yeti Roadie 24 is almost 20% more than that of the Roadie 20.
This makes sense since the Roadie 20, as the name suggests, can hold about 20 pounds of ice alone, while the Roadie 24 can hold 24 pounds of ice. That's an increase of 4 pounds of ice, which translates to about a 20% increase on the original.
That's about enough for a camping weekend or a tailgating party, where you expect to drink a lot of beer.
And yet, even with that great capacity, it's small enough that you could just toss it in the back of your truck and use it as your glorified lunchbox while you were out working without a care in the world.
---
Roadie 24 Capacity
Even though we know the Roadie 24 can fit 18 cans of beer using 2:1 ice-to-can ratio, or 24 pounds of ice alone, there's one eternal question remaining when it comes to Yeti coolers:
What does that translate to in quarts?
As you probably know, Yeti doesn't list the capacity of their coolers in quarts. Many experts, ourselves included, think this is a clever marketing strategy. By making it hard to compare a Yeti cooler to another in terms of exact capacity, you make Yeti seem more unique and strengthen the brand name.
It's almost like Apple phones (our favorite comparison to Yeti since we think Yeti is the Apple of coolers and Apple is the Yeti of smartphones), which have different software and firmware, making it not entirely easy to compare them on an equal basis with other phones. It's like… Wait for it… Comparing Apples to Oranges!
Anyway, having a good idea why Yeti does what they do doesn't make it any less frustrating, of course.
Therefore, as many times before, we did the math to determine the Roadie 24's capacity in quarts based on the ice chest's internal dimensions.
As it turns out, the new Roadie 24 has a capacity of about 23.6 quarts, while the previous Roadie 20 has 19.9 quarts.
For one, the real numbers are pretty close to the figures used in the product names of these two coolers (which isn't the case in larger Tundras, unfortunately).
For another, that's reasonable, given how much these coolers can carry. And since they're mostly meant for short trips and tailgating parties, we don't expect them to be that much heavier.
Still, nearly 4 more quarts of space in the Roadie 24, as compared to its predecessor, is a noticeable difference, especially when combined with the cooler's new shape.
With all that said, what we would really love is that we didn't have to work out the capacity for Yeti coolers in roundabout ways while we can just read them off of the manufacturer's details of other cooler brands. I have a dream that one day…
…but until then, you can check out our YETI cooler sizes guide to check the real size in quarts of each and every YETI cooler.
---
Back to our Yeti, anyway.
Ice Retention
The Roadie 24 is meant to retain ice about 30% longer than the Roadie 20. Given the Roadie 20 could easily go up to 4 or even 5 days, that is some great news for the new one.
Now, to be honest, we haven't done any ice retention tests on the Roadie 24 yet, so the 30% improvement in ice retention remains a claim for now.
However, at the very least, we expect this cooler to last at least as long as the Roadie 20, and we never had an issue with the ice retention on that cooler. It was consistently able to keep ice for the full 4 days.
Needless to say, we'll update this post with the actual numbers once we have the results of our own ice retention test, which we're planning to do very soon.
---
Build, Design, and Features
Given that this cooler is taller than the Roadie 20, it also has more compact dimensions.
At only 16 and a half inches long by 14 and a half inches wide by 17 and a half inches high, it can fit very nicely on the floor behind the passenger or driver seat of all cars, ranging from SUVs to sedans. Tailgating can now happen even if you don't have a truck!
On the inside, you'll find the standard 2-inch thick PERMAFROST™ insulation, the same as in all Tundra coolers. So the inner dimensions are 12 and a half inches long by 13 and a half inches wide by 10 seven eighths of an inch high.
It might seem like a lot is being shaved off of the interior but remember that this cooler has a capacity of 18 cans of beer at a 2:1 ice to beer ratio, or 24 pounds of ice alone. That's pretty neat!
Quicklatch
Something we found particularly interesting was the new latch system on the lid. The Quicklatch is one-handed, allowing you to gain easy entry while leaving one hand free to rummage for the drinks.
The latches themselves are quite unique. They're T-latches at their core, of course, but they're not quite like the others we've seen on previous Yetis. They definitely look good and they function very well, leaving the cooler airtight and well secured.
The lid itself has the same old trusty food grade rubber gasket to keep everything airtight and aid insulation.
Heftyhauler Handle
Another great innovation on the new Roadie 24 is the Heftyhauler strap handle. The older Roadie had a metal handle, which was all good, but it was a little uncomfortable to use for hauling the Yeti over moderate to long distances.
It also had a way of interfering every time you opened the lid. It would just keep getting in the way.
The new Heftyhauler doesn't have those issues. The rubber handle in the middle makes for a comfortable grip while hauling the cooler.
The fact that it's a flexible strap means it's unlikely to get in the way when you're opening your cooler to grab a refreshing drink. The lack of a metal handle also makes the cooler much lighter!
Neverfail Hinge System
The lid has the same old tie-down slots as its predecessor to secure it for rocky rides. It also has the same Neverfail hinge system, which has managed to protect Yeti lids from coming off or breaking at the hinge; something many other cooler brands suffer from.
Something interesting to note about this new cooler is that there is no drain plug (the Roadie 20 had one).
This isn't actually bad news, since the convenient shape and light weight of 12.8 lbs (10% lighter than its predecessor in fact) make it easy to drain away all the water by flipping the cooler over.
We also noticed that Yeti is selling a dry goods basket and a seat cushion for back seat fitting separately, so it seems accessories are already pouring in for this cooler.
Colors
There are 4 available colors: the good old-fashioned White and Desert Tan, the newer Charcoal, and just released Navy blue. And since the first Roadie has also been available in the River Green and Seafoam, we wouldn't be surprised to see more color options for the Roadie 24 in the near future.
---
In this video, you can take a closer look at the Roadie 24.
---
YETI Roadie 24 vs Roadie 20: Head to Head Comparison
To wrap up the differences between the new Roadie 24 cooler and its predecessor, take a look at this comparison table:
item-title
YETI
Roadie® 24
Roadie® 20
Release Year
2020
2015
Capacity QT
Cans of Beer*
Pounds of Ice (only)
~24 quart
18
24
~20 quart
16
20
Construction
Rotomolded
Rotomolded
Ice Retention
up to 5 days**
up to 4 days**
Dimensions
(Exterior/Interior)
17 1/2" × 16 1/2" × 15 1/4"
12 1/2" × 13 1/4" × 10 7/8"
13 5/8" × 14 1/4" × 19 1/8"
8 3/8" × 9 7/8" × 13"
Empty Weight
12.8 lbs
15 lbs
Drain Plug
-
✓
Carrying
Heftyhauler Strap
Metal Handle
Retail price
$199.99
$199.99 $159.99
td-btn-amz
View at YETI.com
View at YETI.com
* Using a 2:1 ice-to-can ratio by volume; ** According to yeti.com
---
Same Size Roadie 24 Alternatives
Not convinced by the new Roadie but need a similar sized cooler? Here are some
you might like.
Igloo IMX – 24 QT
This Igloo model does not look nearly as slick as the Yeti Roadie 20. It has a more classical cooler shape. It's also not rotomolded.
That said, the performance is pretty decent and it is way cheaper than the Roadie 24. You can read the full review here.
You can get it at Igloo here.
---
Nash Sub-Z – 23 QT
Again, another cooler with a classic look. The good news is that this one is rotomolded. While it doesn't have the flair or brand recognition of the Yeti Roadie 24, it performs very well and is much cheaper. You can read the full review here.
Buy it at Amazon here.
---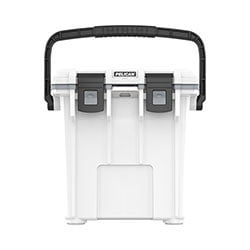 Pelican Elite – 20 QT
The most interesting thing about this cooler is that the shape is pretty similar to the one on the new Yeti Roadie 24. In fact, it's the only other cooler we know that has that shape.
You can consequently fit your wine bottles in an upright position, just like with the Yeti. It's also about 25% cheaper than the Roadie 24. More on Pelican coolers here.
---
YETI Roadie 24 Review and Rating – The Bottom Line
And with that, we come to the end of our Yeti Roadie 24 review.
"If it ain't broke, don't fix it" is an old adage one could apply to the YETI Roadie cooler. And yet, YETI decided to bring the brand new Roadie 24 nearly 5 years after the release of its predecessor.
We love the new Roadie 24 and we certainly love the direction Yeti is taking with it. It's a clear sign that Yeti listens to its customers, and that only adds to the value of their brand.
We're looking forward to seeing what they come up with in the future.
Until next time, stay cool!
---
Yeti Roadie 24 Review Summary
Ice Retention

Quality

Features

Price
YETI Roadie 24 Cooler Review
The New YETI Roadie 24 is better, lighter and more spacious than its legendary predecessor. We love it! But perhaps more importantly, YETI have once again shown they're actually listening to their customers. The only con of this cooler is its steep price, but this shouldn't be much of a problem for YETI's loyal and evergrowing fan base.
---
Pictures: YETI.com
Last update on 2022-12-05 / Affiliate links / Images from Amazon Product Advertising API
Disclaimers
All product names, logos, and brands are property of their respective owners. All company, product and service names used in this website are for identification purposes only. Use of these names, logos, and brands does not imply endorsement.
It is our policy to make every effort to respect the copyrights of outside parties. If you believe that your copyright has been misused, please provide us with a message stating your position and we will endeavor to correct any misuse immediately.
Some of the links in this post are affiliate links. As an Amazon Associate, we earn from qualifying purchases. This means if you click on the link and purchase the item, we may receive an affiliate commission, at no extra cost to you. This helps us keep this website alive. Learn more here.