Affiliate Disclosure: Some of the links in this post may be affiliate links. As an Amazon Associate, we earn from qualifying purchases. Learn more here.
---
Because of the growing popularity of patriotic coolers, we've decided to write our own Trump Cooler review to see what it's all about.
You've seen them before: bright red coolers with catchy slogans like "Make America Great Again" and "Keep America Great" clearly printed on top to show your love for our great nation.
These coolers are made by ULU Coolers, a relatively unknown brand, so we're here to see if it will live up to its competition, like YETI and other cooler brands.
We'll share every detail you need to know, give our honest opinion about this cooler without any political color, and determine if it's well worth the money.
Keep on reading to know if these coolers will truly make America great again.
---
Trump Cooler Review (a.k.a Maga Coolers)
Construction and Design
This Trump cooler review wouldn't be complete without talking about its construction. Thanks to its rotomolded construction, you can expect durability from these coolers. Additionally, it has a rugged design that pretty much guarantees heavy-duty performance. After all, a roto-molded cooler is a roto-molded cooler: molded as a one-piece body (plus the lid), thus very difficult to break down.
These Trump Coolers come in three sizes – 37, 48, and 68 quarts. While this allows you to choose between small, medium, and large coolers, we feel like this limited selection doesn't offer much variety.
While we're on the subject of limited variety, these Trump 'MAGA' Coolers only come in one color. It's a bright pinkish-red color that's not hard to miss, although it's not the bold red color we're used to.
To be honest, It would have been better if they offered it in other colors. Although it might be difficult to imagine the Trump cooler being offered in all blue, adding some other colors (say, more neutral) wouldn't be a bad idea.
These coolers do not have wheels, either. That means getting it from point A to point B requires a lot of effort from you.
PRO TIP: If you're looking for a rolling cooler, check out our wheeled cooler guide here.
And since these Trump Coolers are meant to give us a patriotic feel, it has a slogan printed on top of the cover. You can choose between "Make America Great Again" and "Keep America Great."
It also has an American flag emblem printed at the back, and nothing can get more patriotic than that.
---
Main Features
One of the main reasons why Trump Coolers instantly caught our eye was because they claim to be feature-packed. The thing is, however, that when we looked into all the features that it has, we found that it contains basically the same features as most other similar coolers in the market. It's a pretty basic cooler actually.
Just to give you one example, we were a little disappointed that it didn't contain a bottle-opener – a standard feature in most of today's coolers.
But let's talk the positives first. These Trump Coolers are lockable on both sides, which helps keep your food and drinks safe from bears. However, it is not IGBC-certified. We reckon that this is due to cost-saving reasons, but it doesn't mean that it doesn't live to its promise – because it likely does.
Nevertheless, the locks are common in most rotomolded coolers, so we weren't exactly overwhelmed by this feature.
As for its latches, these are made of standard rubber with designs we've already seen on YETI, RTIC, and Blue Coolers. But we must admit that we're impressed with its quality.
---
Some Other Features
To make sure that its contents remain cold, these Trump Coolers come with freezer-grade gaskets that are guaranteed to give you that air-tight seal.
Thanks to its drain plug, post-celebration cleaning up won't be such a problem. And finally, it has rubber feet to keep it firmly on the ground to prevent spills.
We find its rope handles of okay quality – we've definitely seen better, but it does the job anyway. The lid on these MAGA Coolers come with an engraved fish ruler and cup holders on each side.
Generally, while these features seem pretty decent, we weren't very impressed. We've already seen these features in other coolers, so we were expecting a bit more from this model. That said, the lid design has been the strongest point of this cooler, in our opinion.
---
Trump Coolers: Other Comments
Again, one of the features that were noticeably lacking was bottle openers. Coolers are meant to keep refreshments cold, so you would expect them to come with at least a bottle opener to keep you from bringing other accessories.
As for other accessories, Trump Coolers…. do not come with any. In fact, there's not even an option to get them separately. This means that you won't find dry baskets that are made to perfectly fit these coolers. Unless, of course, you find one from a third party manufacturer that could potentially fit in these coolers.
As to replacement parts, we couldn't find any data on their website to determine if they sell them. But, you can reach out to them and possibly make requests for replacement parts.
---
Trump Ice Chest: Does its Ice Retention Hold Up?
With that out of the way, we can proceed to one of the best features of these MAGA Coolers.
To give you an overview, these coolers use over 2 inches of insulation made of dense, closed-cell polyurethane foam.
While the PU foam is common insulation used on rotomolded coolers these days, and is considered as the standard, they could have opted for a less expensive insulation to save on the manufacturing costs.
They, however, chose not to go the cheaper route, inject some good quality foam in between the walls, and promise the Trump cooler will be able to retain the ice for up to four days.
But does it hold up that long? Well, pretty much, yes. Considering the materials used and the specific sizes of these coolers, it is possible to keep the ice from melting for up to 4 days. This is especially true for the two larger models, but the 37-quart model should also do the job.

To make you understand what we're trying to say, we believe it's best to try and paint a picture.
For example, you want to use your MAGA Coolers on a hot 90-degree Fahrenheit day. The 37-quart cooler can potentially keep the ice from melting for around 3 to 4 days, while the 48-quart cooler can do the same job for 4 to 5 days, and the 68-quart cooler can keep the ice for almost a week.
Larger ice chests are better at maintaining the internal temperature while being resilient against outside conditions, and this is why they can keep the ice for longer.
But again, our example is subject to other factors such as how frequently you open the lid, or how hot it is outside.
To make the most of your ice chest, we recommend the following best practices:
Pre-chilling the ice chest by keeping it in a cool, dark place helps it maintain your desired cool temperature;
While the Trump Coolers website recommends a ratio of 90 cans for every 20 pounds of ice, we recommend sticking to the standard 1:2 ratio to guarantee temperature maintenance;
We also suggest using ice blocks or ice packs in addition to ice cubes and ice flakes, since they have a lower freezing point – and that means they melt slower than average ice cubes;
Try to keep the ice chest under a shade or blanket, and try not to open it frequently; and
Use pre-chilled contents because retaining the temperature is a lot easier than trying to chill them in the first place.
---
Trump Coolers: Pricing
Now that we are familiar with its features, let's talk about its pricing and warranty.
The price of MAGA Coolers ranges between $199 and $299, depending on the size of the ice chest you're planning to buy.
While this is cheaper than YETI coolers, they are still more expensive than other coolers in the market. Take RTIC and Cordova, for instance. A 45-quart cooler from RTIC has the same price as a 37-quart Trump Cooler, while you can save up to $60 for bigger-sized coolers.
The same is true for Cordova Coolers. An 88-quart Cordova ice chest is actually more affordable than a 68-quart Trump ice chest – and you already get a lot more space at that.
Other cooler brands may also come with the same price, but they usually come with freebies and accessories, and that gives you more value for the money.
We couldn't find any warranty information from the Trump Coolers website. We will update this post when we find out, but to be honest, it's the first time we couldn't find the warranty information on the manufacturer's website.
---
Trump Coolers vs. YETI
We also tried to look into Trump Coolers vs. YETI Tundra Coolers to see how it fares against one of its toughest competitors.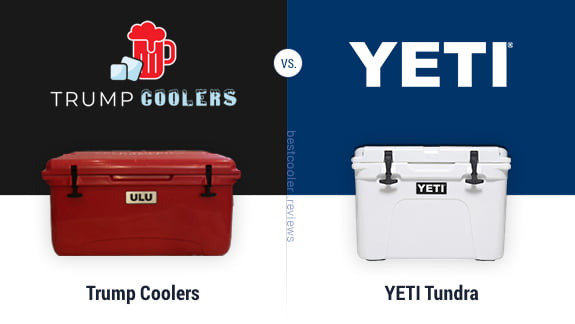 All things considered, we do not think that Trump Coolers are as impressive as YETI Coolers. While the former is more affordable, we feel it's the latter that provides us with better value for the money – and this is especially considering the numerous features that YETI coolers can offer, including the IGBC certification, vast number of sizes and colors to choose from, as well as the accessories (both included and optional).
Trump cooler isn't a bad cooler. It's just too expensive for what it offers, and unless you really really want the TRUMP cooler (from obvious reasons), it's probably better to buy a YETI or any of the alternatives we're sharing below.
---
MAGA Coolers: Advertised as Patriots' Coolers… But Made in China
If there's something that intrigued us the most about these MAGA Coolers, it's the fact that they're made in China. This, we think, is pretty ironic, considering that it promotes American patriotism (it even comes with a free "Keep America Great" flag when you purchase).
They explained that they resorted to outsourcing production to save on costs, and this was quite helpful for a small company like ULU.
But we believe that if there's a will, there's a way – so we're quite disappointed. In fact, Cordova produces more affordable coolers and all of their models are made in the United States.
If Cordova could do it, why couldn't they? After all, there are plenty of rotomolding companies in the country being open for contract manufacturing projects, so outsourcing that to US companies instead of Chinese ones doesn't seem impossible.
Upon browsing Trump cooler reviews on their website, we found that some users didn't seem to notice that they are made in China. Those who do notice, on the other hand, are expressing their distaste on social media.
---
Where to Buy Trump Coolers?
As of press time, you can only avail of these MAGA Coolers through their official website. They are not yet available on Amazon and other retail stores, but we're expecting them to arrive there soon.
Fortunately, the brand offers free shipping for 4 to 8-day deliveries. Fast Shipping options are also available.
---
How About These Trump Alternatives?
If you don't like the thought of showing off your patriotism with China-made products, then how about trying these coolers that are 100% made in America?
---
Cordova Coolers – More Affordable, US-Made
The Adventure 48-Quart Cooler from Cordova is one ice chest we have our eyes on. Aside from being 100% made in the United States – particularly, in Idaho – we were also impressed with all the features that it is built with.
It comes with metal handles for a more stable grip while its top-down handles to keep it tightly closed while also making it easy to open if you want to get something.
We also love that it has an increased lid height, a lid lock system to help it stay open when you want to, and bottle openers, to name a few.
It is also IGBC-certified as bear-proof, and that gives you peace of mind as to its quality.
What's more, this ice chest comes with a lifetime warranty – and that definitely gives you great value for the money.
Considering all of these features, it's almost hard to believe that this is cheaper than Trump Coolers!
Get it at Cordovaoutdoors.com or read our full Cordova review.
---
Kenai Coolers – Another Great Alternative
Another all-American cooler brand that we want you to look into is Kenai Coolers. Bein entirely made in the United States, you can be assured of its top-notch quality. And more importantly, it boasts a Grizzly Coolers design that's meant for heavy-duty performance.
Looking into the list of features that Kenai Coolers have, you can say that they offer the basics just like those of Trump Coolers. But on the bright side, you're assured of its quality, given the fact that it's US-made. Nevertheless, these coolers would make great entry-level coolers.
To show your patriotism, you can get Kenai Coolers in red, but other color options are also available. And just like Cordova, the brand also offers a lifetime warranty, so you know you're getting your money's worth.
While Kensai Coolers are very slightly more expensive than Cordova Coolers, they're still significantly cheaper than MAGA Coolers.
But considering its top-quality construction and US-based production, you know that it's something that you can be proud of.
---
KONG Coolers – Proudly Made on U.S Soil
And finally, you would want to check out KONG Coolers. These coolers are made in Elkhart Plastics' facilities in Washington, Iowa, and Indiana. Being made in the US, you are assured that it's made of high-grade materials.
We love that it comes with divided storage to help you organize the contents. It also comes with other accessories for your convenience.
KONG Coolers also come with cam-action latches for easy access, anti-slip feet to prevent cuts and to keep it firmly on the ground, and a sturdy plug drain for easy cleaning. These coolers also come with an insulated super seal, padded handles, and a stay-put lid.
All of these features guarantee comfort and convenience for its users, while also giving you peace of mind that ice won't easily melt.
These coolers are available at prices almost similar to Trump Coolers, if not cheaper. And if you look at all the features you get to enjoy, KONG Coolers are undoubtedly clear winners.
---
Trump Cooler Review and Rating – Bottom Line
Overall, we would give Trump Coolers are an okay rating. We were satisfied with its ice retention, but all the other features seemed quite basic. We felt like it didn't offer much, considering the more expensive price tag it comes with.
The fact that it is China-made is also a big drawback for us. The concept, nonetheless, is truly admirable. After all, who in the country wouldn't want to show their patriotism?
Briefly stated, here are the key points in this Trump Cooler review:
Trump Coolers Review and Rating
Ice Retention

Quality

Features

Price
Summary
Trump Coolers are decent ice chests but do not give you the best value for money, considering its rather average features (for an above-average price), absence of warranty information, and lack of accessories. Plus, the fact that the Trump coolers – advertised as Patriot's coolers – are made in China is likely going to be a big no-no for a lot of potential customers.
Last update on 2023-09-29 / Affiliate links / Images from Amazon Product Advertising API
Disclaimers
All product names, logos, and brands are property of their respective owners. All company, product and service names used in this website are for identification purposes only. Use of these names, logos, and brands does not imply endorsement.
It is our policy to make every effort to respect the copyrights of outside parties. If you believe that your copyright has been misused, please provide us with a message stating your position and we will endeavor to correct any misuse immediately.
Some of the links in this post are affiliate links. As an Amazon Associate, we earn from qualifying purchases. This means if you click on the link and purchase the item, we may receive an affiliate commission, at no extra cost to you. This helps us keep this website alive. Learn more here.