Affiliate Disclosure: Some of the links in this post may be affiliate links. As an Amazon Associate, we earn from qualifying purchases. Learn more here.
---
We've talked a lot about rotomolded coolers in our past posts – now, it's time for us to dedicate a separate in-depth material to choosing the best rotomolded cooler.
We're going to specifically focus on best high end coolers in today's post. No compromises, no money savings – only the best materials, insulation, quality, and features.
If you are ready to spend the money on the best high-end rotomolded cooler, our post is for you.
And even if you aren't really shopping for a cooler right now, then maybe our buyer's guide will make you geek out over what the best-of-the-best rotomolded coolers out there can do!
So let's get started!
---
Best Rotomolded Cooler – Our Top 5 Picks
Picture
Name / Capacity
Top Features
Made in
Ice Retention
Yeti Tundra
20 - 330 quarts
• Roto-molded
• 3" PermaFrost
• T-Rex™ Lid Latches
• Coldlock™ Gasket
• Neverfail™ Hinge System
PH / US
4 - 14 days*
Check Price
YETI Store
editors-choice

Editor's Choice

Cordova
20 - 128 quarts
• Eco Foam Insulation
• Quad-core rubber gasket
• Aluminum handles
• Top Mount Lid Latches
• Built-in Raised Tray
US
4 - 12 days*
Check Price
Cordova Store
Otterbox Venture
25, 45, 65 quarts
• Mounting system
• Tough latches
• Included accessories
• Anti-slide rubber feet
• Integrated handles
US
4 - 12 days*

Check Price
OtterBox Store
ROVR Wheeled
45, 60, 80, 85 quarts
• Certified grizzly bear resistant
• High density foam insulation
• 9-inch all-terrain rubber tires
• Great accessories
• Bike adapter
US
6 - 10 days*
Check Price
at ROVR Store

No products found.

Orion
25 - 85 quarts
• 6 tie-down slots
• Side Gear Tracks
• Padded and non-slip lid
• IGBC certification
US
4 - 10 days*
Check Price
at Amazon
RTIC
20 - 145 quarts
• Molded tie-down slots
• Traction lid
• Non-slip feet
• Heavy-duty rope handles
China
4 - 12 days*
Check Price
RTIC Store

No products found.

KENAI
25, 45, 65 quarts
• Drain System
• Ecomate® Insulation
• Grip Feet
• Integrated Hinge
• Lid Gasket
• Molded-In Handles
US
4 - 8 days*
Check Price
at Amazon
* Depending on the size selected
---
What Are Rotomolded Coolers And What Are They So Popular?
Rotational molding is a manufacturing process that produces highly consistent cooler bodies. During rotomolding, a hollow mold is filled with material and then slowly rotated to disperse it throughout the mold.
The result of rotational molding in cooler-making is:
One-piece cooler bodies that are much more durable than coolers made from several pieces of plastic welded together.
Thick walls and even thicker corners. Compared to other cooler manufacturing processes, rotational molding makes especially strong corners.
All in all, the rotational motion produces walls of more or less consistent thickness. However, rotomolding isn't as consistent as some other plastic-molding methods.
Contrary to what many people may be thinking, rotomolded coolers don't have a perfectly uniform thickness across their bodies.
The corners are actually thicker than the rest of the shell. This is because as the mold is rotated, the plastic resin spends more time on the corners than on the walls. The time difference by itself is insignificant, but over multiple rotations, it adds up and results in more material being applied to the corners.
This is great because corners are serious weak points in other cooler designs. With rotomolding, these areas receive extra reinforcement.
However, there is one disadvantage of increased corner thickness – increased weight. The corner thickness in rotomolded corners is more than necessary, which means unnecessarily added weight. This is one of the factors that makes rotomolded coolers very heavy.
So all in all, rotomolded coolers are heavy but exceptionally durable. In realistic use scenarios, they will never crack (so they will retain insulation for years), won't fall to bears (when the lid is locked), can be used as a stool, and can overall take anything you throw at them.
---
What Features Make A High-End Cooler
Here are the features that we think make good hi-end coolers:
Insulation

High-End Rotomolded Cooler
Insulation

Closed-cell PU (polyurethane) coolers tend to have the best insulation. Most rotomolded coolers employ this type of insulation. A few (usually cheap) rotomolded coolers use weaker materials, e.g. PE (polyethylene) foam – PE foam is great for soft coolers but not the best for hard ones.

TIP: If the thickest possible insulation is what you look in a cooler, make sure to read our other post about best coolers for ice retention.

Continuous improvements

High-end coolers typically see multiple iterations of design and manufacturing, with each iteration better than the previous. Over these iterations, some cooler makers add eco-friendly foam to their models (e.g. Cordova), others add accessories, while the rest may be eliminating existing weak points in durability or convenience.

Better, more convenient design

High-end coolers are typically also very well-designed in terms of convenience. They tend to have more accessories, a better latch design (e.g. top-facing latches that can be opened in tight spaces), are stackable, or whatnot.

Higher-quality hardware

Cordova's freezer-grade gasket.

Durability in high-end rotomolded coolers should be a feature of not only the housing but also their small hardware. Most importantly, latches, gaskets, valves, and drain plugs should be heavy-duty.

Unfortunately, when shopping online, it's difficult to determine how durable small hardware is. All cooler makers use cliché phrases (like freezer-grade gaskets), so it's challenging to assess hardware quality by just the product description.

Spare parts

Established brands typically offer genuine replacement parts for their cooler models, such as latches, drain plugs, accessories, and pretty much anything else. Lesser-known, cheap rotomolded cooler brands usually don't offer such a thing.

Warranty

High-end coolers typically are covered by lifetime warranties (contrary to 1-5 years in cheaper models), which implies that the manufacturer is confident in its coolers.
---
Best High End Cooler – Our Top 5 Picks Compared
---
YETI Tundra Hard Coolers
First up, we have YETI Tundra hard coolers.
YETI is pretty much the Apple of the cooler industry – YETI coolers are very expensive, don't offer the best value for the money, but are among the most trusted and popular models you can find out there.
YETI isn't the first brand to make rotomolded coolers, but the rotomolded craze started with their Tundra coolers.
Tundras have seen numerous iterations – for example, recently, YETI released Roadie 24, a successor to the compact Roadie 20. Roadie 20 was an excellent cooler, and YETI didn't have much to improve in it, but they still managed to make it better.
The Tundra line includes 13 sizes (including the very small Roadie 24 and the wheeled Tundra Haul).
Ice retention times in YETI Tundras go from about 4-5 days in the Roadie (according to our own tests), 10 days in mid-to-large coolers, and up to 2 weeks in the largest models.
Tundra coolers all have extra-thick insulation (up to 2-3 inches of closed-cell PU foam). The bodies in Tundras are also extremely durable and "virtually indestructible", as well as IGBC-certified for bear resistance. Small parts like the NeverFail hinges or the latches are heavy-duty too.
Most coolers in the Tundra series have molded tie-down points as well, which may matter to some buyers (especially for boating purposes).
All in all, if you have the money, you can't go wrong with YETI. We wouldn't say that Tundras are the most cost-effective coolers on the market, but they do bring the money back in long-term use – mainly because they will serve you for years.
Find out more about Tundra coolers in YETI's official store here >>
---
Otterbox Venture Coolers
Next, we included Otterbox' Venture coolers for their fantastic ice retention capabilities and good value for the money.
The 65-quart model can do about 10 days, the 45-quart one for around a week, and the smallest 25-quart cooler can do up to 4 days. Otterbox advertises slightly higher numbers, but the ones we brought are more realistic.
What we also like about Venture coolers very much is that they have unique features. This is in contrast to many other high-end coolers that try to copy YETI (most notably, RTIC). Not that those YETI lookalikes are bad, but it's always nice to see something new in pricey coolers.
Among the interesting features of Venture coolers are the slanted bottom for easier draining, accessory attachment points on the outside, oversized molded handles (1), and nesting grooves for convenient cutting board & dry tray storage (3).
You are also getting a few handy accessories out of the box – a dry storage tray (5) and a bottle opener (4).
As expected from a premium cooler, Venture coolers are extremely durable – they are IGBC-certified as bear-resistant, have tough latches and handles, stainless steel pins, and a bunch of other stuff for longevity. Ventures also boast US manufacturing along with a lifetime warranty.
The biggest con with Venture coolers is that they come in only 3 sizes, but you do at least get 9 colors to choose from.
You can check the colors and sizes here in the Otterbox 's own store >>
You can also read our full Otterbox cooler review for more information.
---
Cordova Coolers
Cordova is undoubtedly one of our favorite brands this year. Their coolers are again 100% US-made, but they are currently significantly cheaper than YETI and Otterbox coolers.
We say currently, because they used to be more expensive. In 2020, however, Cordova is being far more aggressive with their pricing. When you compare the price-per-quart ratios you'll learn that Cordova is currently the most affordable American-made cooler brand (just check our own analysis here).
And best of all, despite lower pricing, Cordova models have features, durability and insulation on par with the more premium Otterbox and YETI coolers (here's a detailed Cordova vs YETI comparison).
At the heart of Cordova cooler is its tough rotomolded body that has a lockable lid and is IGBC-certified. For days of insulation, the coolers have closed-cell PU foam. Interestingly, in the current iteration of Cordova coolers, the foam is eco-friendly.
Cordova's hard cooler line features 5 sizes:
the 20QT Side Kick,
the 28QT Companion,
the 48QT Adventurer,
the 88QT Journey,
and 128QT Excursion.
There also is the 32-quart Tailgater rotomolded cooler, but it isn't IGBC-certified and has a slightly different design.
The 5 cooler sizes share one interesting feature – the top-down latches. These latches are very easy to access in tight spaces and allow you to avoid moving the cooler for opening.
Starting from the 28-quart Companion cooler, Cordova coolers also have aluminum handles with built-in bottle openers – one of the key features of this brand's coolers.
If you are willing to spend a little more money, then Cordova also offers a few accessories like wire racks, dividers, and even a cooler cart for convenient transport.
Last but not least, Cordova backs its coolers by a lifetime warranty, so you could expect this brand's models to deliver years of service.
At the current price, they're a steal. Check them out in Cordova's official store right here >>
---
ROVR Wheeled Coolers
Finally, in this category, we have ROVR RollR wheeled coolers. These coolers are among the most expensive, if not the most expensive wheeled coolers available on the market. They are tough, boasts great insulation, and offer features that you won't see anywhere else!
For us, the highlight of this cooler line is the compatibility with the BikR kit. It doesn't come with the cooler out of the box, but if you buy it, you will be able to haul the cooler from your bike, like that:
Another interesting feature is the wagon bin that provides extra storage space for items like tents, blankets, or foldable chairs. For improved organization, you are also getting a dry bin with 2 compartments.
At the heart of RollR coolers' mobility are the 9-inch off-road & puncture-resistant wheels. And while pulling, the offset handle will ensure that you don't hit your heels or ankles onto the cooler.
ROVR offers a wide variety of accessories for RollR coolers as well, such as cup holders, a prepping board, umbrella/rod holder, and the mentioned BikR kit.
The RollR cooler line includes 4 cooler sizes – all boasting bear-proof rotomolded construction along with thick and dense foam insulation.
The ice retention in RollR coolers is advertised at 10 days, but we feel that this mark is easily achievable only with the large RollR 80 and 85 coolers. The 60 should hold ice for about a week, while the smallest one will probably do about 5 days. You can check out our full RovR cooler review for more information on this.
---
No products found.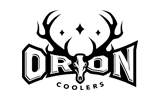 Orion Coolers
So although YETI is the most renowned example of a very pricey cooler brand, its coolers actually aren't the most expensive out there.
Orion can compete with YETI price-wise and at the same time deliver better value. If you are looking for the best rotomolded cooler for the money, Orion may have what you are looking for.
Orion coolers are made in the US, and the brand itself is owned by Jackson Adventures (formerly Jackson Kayaks). Given who the owner of Orion is, these coolers are likely an excellent fit for kayaking use (and likewise for canoeing, rafting or boating in general). This statement is backed up by their features.
For secure anchoring while in the water vessel, Orion coolers feature a whopping 6 tie-down points (4). Next, you are getting side accessory tracks (10) that work with Orion accessories and perhaps some third-party stuff as well.
Speaking of accessories, Orion also offers the best accessory line we've seen in hard coolers, including but not limited to a flip-flop cart, cutlery kit, and even a backrest (11)!
The backrest combines perfectly with the soft top that can be used for seating or as support for casting.
Among other notable details in Orion coolers are the corner bottle openers (3), low-profile latches (5), and rope handles (9) for easy carrying.
The Orion cooler line incorporates 6 true-to-size coolers – 25, 35, 45, 44, 65, and 85-quart options.
All the coolers share the features mentioned above, as well as have an IGBC-certified rotomolded build and 2+ inches insulation for about a week of ice retention.
---
Best Rotomolded Cooler – 2 Less Expensive Options Than All Above
Now, let's have a look at 2 more picks – they are again rotomolded and among the best coolers out there but are priced much more attractively than our top 5 picks.
---
RTIC Coolers
Up first in this category, we have RTIC hard-sided coolers. RTIC is a major YETI competitor because its coolers have a very similar set of features but are much less expensive.
Interestingly, RTIC also prefers to sell directly to the consumer, so you will not be able to find its coolers in a lot of places. Also know that RTIC makes its coolers overseas – again, to keep the price as low as possible.
RTIC coolers are pretty much lookalikes of YETI Tundras – they are visually very similar, which might be one of the reasons for their appeal. For those who like the design of Tundra coolers but don't quite like their price tags, RTIC coolers are perhaps the best ones out there.
In terms of build and features, RTIC coolers are nearly identical to Tundras – you are getting a bear-resistant (though not IGBC-certified) rotomolded body, durable rope & molded handles, molded tie-down points, and thick insulation that is advertised to keep ice for up to 10 days.
The traction lid in RTIC coolers is somewhat of a new thing – it is grippy and can be used as support when casting. With YETI Tundras, you'd need to buy an accessory for such a thing.
One thing to note about RTIC hard coolers is that unlike Tundras, the product naming is true to the sizing – RTIC 65 is sized at 65 quarts, 145 at 145 quarts, etc. The RTIC 20 though is sized at 22 quarts, which isn't really a downside since you get more than implied by the name.
---
No products found.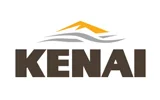 KENAI Coolers
And to close off our rotomolded cooler reviews, we have the KENAI hard cooler line. They are a little more expensive than RTIC coolers, but as Cordova, they are made in the US.
KENAI is also a brand of Grizzly, a renowned cooler manufacturer that makes a good bunch of high-end coolers (more on that in our Kenai cooler Review).
KENAI is direct-to-consumer like RTIC too, so they can keep the price a little down and not dig too deep into your pockets.
KENAI coolers are very reminiscent of RTIC and YETI coolers. And this is not only visually but also functionally – you are getting a comparable rotomolded build, a few tie-down latches, tough rope & molded handles, and a few other things. KENAI models aren't bear-resistant though, which may be a downside for some people.
The insulation in KENAI coolers is made up of 2-inch PU foam – similar to other high-end coolers on this list. Notably, the insulation in KENAI coolers is eco-friendly, just like in Cordova hi-end coolers. KENAI claims that its coolers' insulation has no global warming potential and is safe for the environment.
All in all, KENAI coolers are rather simple and have no bells & whistles. If you don't want to overpay for stuff like gear tracks in Orion coolers or the wheels in ROVR coolers, then the best high end cooler for your needs may be in the KENAI hard cooler series.
In terms of price-per-quart, however, Cordova looks like a slightly better deal, as you get better feature-packed cooler for a bit lower price.
---
Rotomolded Cooler FAQ
---
Do the best rotomolded coolers have the best, thickest insulation out there?
In most cases, this is true, but not always. For example, the Pelican Elite cooler line contains both rotomolded (above 70qt) and injection-molded coolers (below 70qt). The injection-molded coolers are less durable but have as good insulation as their rotomolded counterparts.
So although the best high end cooler will likely have excellent insulation, good insulation isn't exclusive to rotomolded coolers.
---
Can rotomolded coolers really keep ice for 10-14 days?
High-end coolers can store ice for 10-14 days with proper packing. However, only the largest coolers can do such a feat because it takes less heat to saturate and defeat the insulation in small coolers.
So no, the small YETI Roadie won't match a 350-quart YETI Tundra, even though they have pretty much the same exact insulation.
---
Is an IGBC certificate a must-have in high-end rotomolded ice chests?
As a rule of thumb, if a rotomolded cooler's lid can be locked with padlocks, then it's bear-proof, so IGBC certification isn't that important. An IGBC certificate is more about prestige – certification costs money, and some brands choose not to certify their coolers to save money and keep prices low.
But premium brands like YETI, Otterbox or Cordova do typically have their coolers certified.
---
Are there any light rotomolded coolers?
Rotomolded coolers are indestructible in realistic use scenarios, but this comes at the cost of added weight. Without compromising durability, there is no way to make a rotomolded cooler light.
If you want something lightweight, then consider injection-molded coolers. They are cheaper and about 30-40% lighter than rotomolded options but boast similar ice retention and features.
---
Best Rotomolded Cooler – Final Words
And that's it for our rotomolded cooler reviews!
One final tip – before investing in what you think is the best rotomolded cooler for you, ponder whether you truly need its benefits. Best high-end coolers are expensive, and while they are worth it, many people won't even come close to uncovering their potential.
In order to find the right cooler, you'll need to look into the mirror and ask that person exactly what they need. If you ask us, we'd go either with the YETI Tundra or Cordova, depending on the budget. But that's just us.
Again, all of the listed coolers here will provide superior ice retention times as well as durability. When you get down to it, finding the right rotomolded cooler will really boil down to your personal needs and wants.
We hope this article has been a help to you.
---
PRO TIP: Here's a nice video made by folks behind Grizzly showing how the roto-molding process works:

---
Last update on 2023-04-01 / Affiliate links / Images from Amazon Product Advertising API
Disclaimers
All product names, logos, and brands are property of their respective owners. All company, product and service names used in this website are for identification purposes only. Use of these names, logos, and brands does not imply endorsement.
It is our policy to make every effort to respect the copyrights of outside parties. If you believe that your copyright has been misused, please provide us with a message stating your position and we will endeavor to correct any misuse immediately.
Some of the links in this post are affiliate links. As an Amazon Associate, we earn from qualifying purchases. This means if you click on the link and purchase the item, we may receive an affiliate commission, at no extra cost to you. This helps us keep this website alive. Learn more here.