Affiliate Disclosure: Some of the links in this post may be affiliate links. As an Amazon Associate, we earn from qualifying purchases. Learn more here.
---
We talk here every day about roto-molded coolers. We tend to idolize them and recommend them at every turn. Whenever we're reviewing the best rotationally molded ice chests, the very first thing we praise is the fact that they are rotomolded.
But have you ever wondered what, exactly, a rotomolded cooler is and how it is made? We are going to explore that today. More specifically, we shall look at the differences between rotational molding and injection molding.
Roto-molding: What, exactly, it is?
As you go out there looking for the perfect cooler, you're likely to see the term "rotomolded" used an awful lot. We bet you have probably wondered what that means.
Rotomolding is simply a particular process used by manufacturers to give plastic material the shape that they desire.
The full name for rotomolding is rotational molding, and it basically defines the method used to give the plastic the desired shape. The process itself is superior to other processes used to shape plastic and produces very high quality and durable bodies that have become the hallmark of the best coolers on the market.
The process begins with filling a mold with hot molten plastic. The mold is then rotated at a preset speed in order to for the plastic to have an even and consistent thickness along the entire body of the cooler. That is where the strength of the rotomolding process lies: the cooler is able to achieve consistent thickness, which means there aren't any weak spots that are especially prone to cracking or shattering. The best way to appreciate the advantages of rotomolding is to look at some of the alternatives on the table.
Injection Molding
This is the second most common method for creating coolers in the industry. It is especially popular when creating wheeled coolers. Injection molding works just like it sounds. The mold is filled with hot molten plastic. The shape is then cooled while in the mold and ejected from the most. The method itself is quite flexible and inexpensive.
It does present one major problem, however: the corners and joints of the coolers will be particularly weak. With injection molding, multiple pieces are molded separately and then assembled into a whole There are therefore many more stress points in an injection molded cooler, making it more prone to breakage, corrosion, and wear and tear.
Thermoforming and Blow Molding
Thermoforming works by heating a sheet of plastic. It is heated up to the point where it becomes flexible enough to be pliable. It is then molded into the desired shape and trimmed.
Blow molding works a little like conventional glass blowing. The plastic is heated until it is molten, and then it is filled with air. The air forces it to expand into a mold, making it conform to the shape of the mold. It is then cooled and ejected from the mold.
This used to be more common before the advent of rotomolding but has not becomes more of a relic than a common cooler forming process. Very few coolers are made using this process and they are characterized by a very inconsistent thickness.
Both of the methods above share many of the disadvantages that injection molding has. As a result, they aren't very popular in the industry and do not yield high quality coolers.
The Rotomolding Process
With rotomolding, the inside of the mold is first coated with raw plastic, which is usually polyresin pellets. These are a lot more expensive and versatile than regular plastic. Once the pellets have coated the mold, the mold will be rotated in an oven along both the horizontal and vertical axes. That way, the material is evenly distributed along the inside of the mold.
The end product of this process has the most consistent thickness you will ever find in a cooler. The joints, corners, and other stress points are much stronger and will easily withstand more pressure and stress than their counterparts that have been manufactured using different processes.
The rotomolding process takes longer than other processes but yields the very best coolers.
---
Roto-molding Process – See how it looks.
---
Roto-molding Advantages
It is an advantageous process, yielding many advantages. For starters, such coolers have consistent thickness in their walls. The thick foam insulation can therefore be evenly distributed inside the ice chest, making for better ice retention.
Such coolers also allow for more complex geometrical designs, allowing the manufacturers to be more creative with the shape. Because of this, such things like ergonomic handling, maneuverability, and drainage can be optimized.
They are also more durable because they have fewer stress points and they are stronger in rugged conditions. They are also more environmentally friendly because less energy and material is wasted in their production.
Roto-molding Disadvantages
The only disadvantage of rotomolded coolers is that they are heavier than their counterparts, but that is a disadvantage worth having.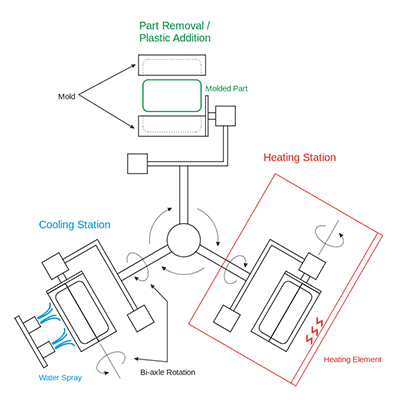 ---
References:
Disclaimers
All product names, logos, and brands are property of their respective owners. All company, product and service names used in this website are for identification purposes only. Use of these names, logos, and brands does not imply endorsement.
It is our policy to make every effort to respect the copyrights of outside parties. If you believe that your copyright has been misused, please provide us with a message stating your position and we will endeavor to correct any misuse immediately.
Some of the links in this post are affiliate links. As an Amazon Associate, we earn from qualifying purchases. This means if you click on the link and purchase the item, we may receive an affiliate commission, at no extra cost to you. This helps us keep this website alive. Learn more here.