Affiliate Disclosure: Some of the links in this post may be affiliate links. As an Amazon Associate, we earn from qualifying purchases. Learn more here.
---
Welcome to our very own Kenai Cooler Review. This review is going to be an interesting one because Kenai Coolers is probably the most affordable American-made cooler we've ever seen and a very interesting concept in itself.
You see, we've always been fans of coolers made in the USA. Not only is keeping manufacturing a great expression of patriotism and firm support for the nation's economy and job market but buying US-made products is also an expression of the same. This is something most people looking for coolers to purchase will agree on.
The problem, as it usually does, comes in when we start to talk prices. The US-made coolers are quite expensive; way more so than their counterparts that are manufactured in China.
For this reason, many manufacturers have opted to outsource their manufacturing to China. Some of the products are of high quality, and some of them are off, well, less than high quality. They are, however cheaper than the US-made coolers by 40 – 50% on average.
Wouldn't it be great if someone came along and solved this problem by building a cooler in the US and offering it at a competitive price?
As it turns out, someone did.
I know you're anticipating that I'll say that someone is Kenai. However, Kenai isn't a company. It's a standalone product from a larger manufacturer that our readers will remember: Grizzly Coolers.
Yes, ladies and gentlemen; Grizzly coolers, who are already well-known for building high-quality coolers that thwart bears' attempts at prying them open, have built the affordable US-made cooler (although not bear-proof).
That's the Kenai line of coolers, and that's what we're going to be talking about today.
---
Kenai Ice Chest Line Up
item-title
Kenai 25
Kenai 45
Kenai 65
to-top
25-quart cooler
Empty Weight 17.5 LBS
27 12oz Cans & 5lbs Ice
45-quart cooler
Empty Weight 28.5 LBS
60 12oz Cans & 10lbs Ice
65-quart cooler
Empty Weight 17.5 LBS
60 12oz Cans & 20lbs Ice
td-btn-amz
Check Price
at Amazon
Check Price
at Amazon
Check Price
at Amazon
---
Enter Kenai Coolers
Now, there are a few things I should point out about the Kenai line of coolers straight out the gate.
First, they're rotomolded, which already puts them right up there on the quality pyramid (yes, I just made that up) for pyramids. As you may know from reading our other cooler reviews (and hopefully from personal experience as well), rotomolded coolers are the best kind of coolers, because they are molded in one piece on a dual axle machine, making them super strong and rigid compared to blow-molded coolers like the Igloo IMX for example, and therefore longer-lasting and better at ice retention. We can't stop singing their praises!
Second, Kenai coolers are not exactly the most unique cooler out there, whether we're looking at the overall design or the features involved. Grizzly wasn't looking to build a functional or aesthetic unicorn when they set out to build this cooler. These coolers are good enough that they will keep your food and drinks cold for a week if you need it. They also look good enough that you won't be embarrassed to go out with them. However, don't expect any wild features or variety. That said, Grizzly did throw in some great value propositions, which we'll get to in the review.
Third, the main reason why these coolers are so affordable is that they're factory direct. That means they're shipped directly from the factory to the consumer. There are no middlemen, such as retailers or distributors. Even when you buy them at Amazon, the cooler you order will be shipped directly from the Grizzly factory. This is why these coolers are so insanely affordable as to be almost unbelievable.
Now, let's take a closer look at these coolers…
---
Kenai Cooler Review
Construction and Build
Let's start with the build quality. This is a great win, considering the prices of these coolers. Being rotomolded, they have superior quality and will likely last you many years.
In fact, it seems Grizzly themselves have plenty of confidence in the build quality of the Kenai ice chest because each cooler comes with a lifetime warranty.
The lid is pretty strong and comes with a silicone rubber gasket. However, the most interesting thing about it is the latches.
These latches aren't like what we're typically used to on Grizzly coolers. They fit in a space under the molding under the lid.
At their heart, they're really just a fancy type of T-latch. However, they're sleeker and fit neatly into the lid, giving the cooler and overall sleeker look.
The lid is also conspicuously missing the slots on the front that make it lockable. For this reason, the Kenai ice chest isn't certified bear-proof, since you can't bolt it with a padlock. Grizzly is known for making bear-proof coolers, so this contrast is noticeable.
On the other hand, however, unless you're going camping in bear country, this isn't something to worry about.
On the back of the lid is a molded-in hinge that's unlikely to lock due to the excellent design. For extra durability, it has an aluminum pin running through it.
On the side is a silicon gasket drain and plug for when you want to quickly drain the melted ice from your cooler.
It doesn't have a chain to tether the plug, so you'll have to be careful not to misplace it lest you lose it and render your cooler unusable.
On the bottom, there are anti-skid feet, which also raise the cooler from the floor for better insulation.
On the side are handles. Kenai coolers have a molded-in handle as well as rope handles with a rubber grip.
If you're carrying the cooler alone and it isn't especially heavy, the molded-in handles should come in handy (no pun intended).
If there are two of you, the cooler is heavy, and you're hauling it over especially uneven terrain, the rope handles should make the hauling experience significantly more manageable.
---
Insulation and Ice Retention
On the inside the cooler has up to 2 inches of insulation, making it fairly thick and also fairly well-performing.
Speaking of performance, the ice retention on the Kenai cooler is actually pretty decent!
We used a Kenai 45 for our ice retention test. We loaded it full of ice cubes, thrown in a medium-sized block ice and kept it outside in 90-degree weather, opening it to check and measure the temperature every evening.
There was still a bit of ice in it 5 days later and it would easily have stayed cold another day or 2 if it wasn't that hot during all this time. That's pretty respectable for a cooler at this price point, and enough to take almost a week-long camping trip.

---
Available Sizes and Colors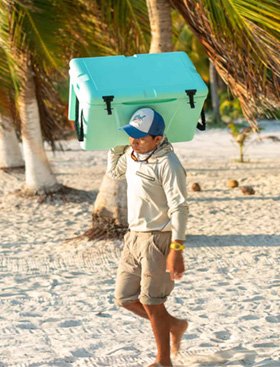 There are 3 available sizes to choose from:
the Kenai 25 (25 QT, 27 12oz CANS & 5lbs ICE)
the Kenai 45 (45 QT, 60 12oz CANS & 10lbs ICE)
and the Kenai 65 (65 QT, 60 12oz CANS & 20lbs ICE).
Not much variety to talk about there, though this is understandable as the Kenai is a special product that Grizzly is trying out.
It's still young so it needs time. On the other hand, there is plenty of variety on the color front, with 10 different color options for you to choose from. That's a big plus.
---
Warranty
As mentioned earlier, Grizzly offers a lifetime warranty on these coolers, which is a testament to Grizzly's confidence in their own product. It's also a smoking gun that blows a lot of Kenai's competitors out of the water.
---
---
Kenai Cooler vs. Grizzly
There are quite a few interesting points on which to compare the Kenai vs Grizzly coolers.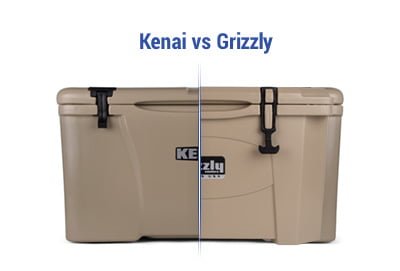 For starters, Grizzly Coolers have more variety when it comes to size. You can choose from 8 different sizes for normal Grizzly coolers.
Meanwhile, Kenai only offers 3 sizes. That said, the 3 sizes offered by Kenai aren't like any of the size options offered by other Grizzly products.
There isn't a Grizzly 25, or a Grizzly 45, or a Grizzly 65. What is there is a Grizzly 20QT, a Grizzly 40QT, and a Grizzly 60QT.
The Kenai equivalents for each of these is 5 quarts larger than their Grizzly counterparts, which is a cool value proposition if you think about it. If you want a small Grizzly cooler that is larger than 20 quarts, but not by much, then you can get the Kenai 25.
The Kenai cooler also has different latches than other Grizzlies. They have a different appearance, even though the locking mechanism isn't too different.
While other Grizzly coolers have rubber T-latches that use the rubber to hold the lid in place, the latches on the Kenai tuck under a ridge in the molding beneath the lid. This is mostly an aesthetic difference, however, since the latches on the Kenai lock just fine and can hold their own.
We thought that the main reason the design of the latches was different was to lend to the aesthetic design of the Kenai. The Kenai overall looks sleeker than other coolers by Grizzly. It's more rounded with more gentle lines. The latches definitely emphasize this design choice.
The lack of lock plates on the lid also helps make the sleekness more prominent, even though it sacrifices the lockability of the lid in the process.
By comparison, Grizzly coolers tend to look tougher and more 'serious'. The Kenai brings in a little playfulness and gentleness in its design.
All that said, there are some things that the Kenai and Grizzly coolers share.
The rope handles feel similar, if not the same, for both coolers, and they have many of the same great accessories Grizzly customers have come to love. The ice pack divider is a good example of this. We still think it's one of the best inventions. Very clever!
The whole point with Kenai is to give patriotic buyers an affordable and high-quality cooler. It's also a good strategy from a business point of view.
The cooler has some good features but isn't too advanced. It allows Grizzly to connect with a new customer base while maintaining the opportunity for a potential upsell to a premium Grizzly cooler later.
>> Check out the Grizzly Coolers at Amazon here, and Kenai coolers right here.
---
Kenai Cooler vs Yeti
As usual, a review of a cooler brand isn't complete until we compare it to the industry leader: YETI.
While going through this Kenai vs YETI comparison, let's not forget that the Kenai cooler is a simplified Grizzly, and so let's be gentle with it.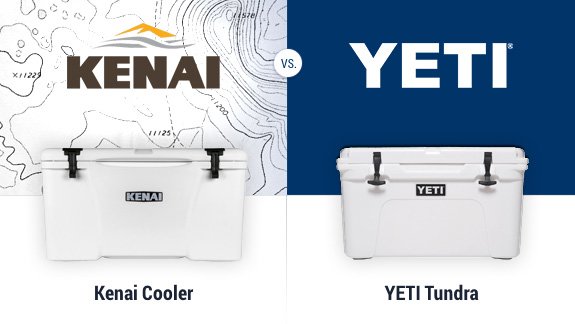 The first great thing about the Kenai cooler is the value proposition it offers. It is not only US-made, but it is also very affordable, with a price point that makes the cost of a comparable Yeti look like an arm and a leg in comparison. Yeti coolers are known for many things; being cheap isn't one of them.
That said, there are lots of things that make Yeti stand out. They're
much more rugged
and can handle tougher conditions and environments that Kenai coolers.
Kenai coolers have a graceful but fragile vibe to them that makes them look like the kind of cooler you take on a safe camping trip or to a picnic, not out on the high seas or hunting.
Of course, they're still pretty strong, being rotomolded and all, but the polythene exterior is scratchable and they're not bear-resistant. The Yetis are a lot more rugged (and bear-resistant) and have thicker insulation. This means the YETI will keep the ice longer than the same-sized Kenai.
The Yeti also has more variety in terms of sizes, with plenty of different capacities to choose from. Yeti also has a better-known brand. The Kenai brand isn't well-known just yet.
The Grizzly brand might give it a little boost, but it will be a while before Kenai catches on, and even then it's pretty hard to beat the value of Yeti's brand. In other words, Yeti is Yeti.
I would say Kenai and Yeti are targeting slightly different user bases. For Yeti, the main competitor isn't really Kenai; it's Grizzly.
---
Kenai vs. RTIC
RTIC Coolers is another industry giant that we thought it would be great to do RTIC vs Kenai comparison. In fact, we think it just might be the main competitor for the Kenai and a far more appropriate comparison than the Yeti.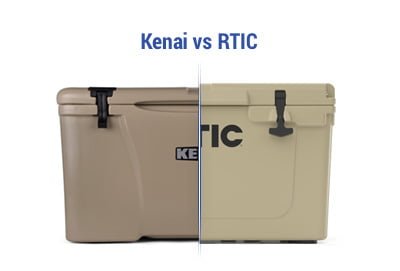 For starters, both coolers are not only rotomolded but also direct to consumer. The RTIC also uses a factory-direct business model, which makes their coolers highly affordable.
The catch is that RTIC coolers are made in China, as compared to Kenai coolers, which are 100% made in the USA.
On the other hand, Kenai
has only 3 sizes
and a limited product line while
RTIC has 5 sizes
and a far more advanced product line. RTIC includes customization options and other product options, such as
soft coolers
and
tumblers
.
Design-wise, the RTIC looks a little more run-of-the-mill, reminding us of the Yeti or Grizzly coolers we're used to. The Kenai looks a lot more original and sleeker in its similarity.
As far as build quality is concerned, the two coolers are of roughly similar quality and so they perform roughly the same. They also have similar prices.
Overall, RTIC and Kenai coolers are largely similar. RTIC has more variety, but Kenai coolers are American made and have a more original aesthetic design. Apart from this, they're largely the same.
>> Check out the RTIC at Amazon here, or read our review here.
---
Where to buy Kenai Coolers?
As a direct-to-consumer brand, Kenai coolers sell directly to the customer using Amazon as a sales platform. When you purchase the cooler, it's going to be dispatched directly from the Grizzly factory. They also sell via their own store, so that's another option.
Our advice is to first check them at Amazon before you decide where to buy. There you can read the latest reviews for each cooler size, enjoy fast shipping and outstanding buyer protection (the returns are super easy in case something goes wrong).
---
Kenai Cooler Review – Rating and Conclusion
And with that, we come to the end of this Kenai Coolers review. As you can see, Kenai offers an interesting value proposition for those looking for affordable, US-made, rotomolded coolers.
They're not only high quality and locally made, but they're also affordable. You should seriously consider them.
Thanks for reading this Kenai cooler review to the end. We hope this will help you make an educated buying decision. Don't forget to check out our other reviews. Stay cool!
Kenai Coolers Rating
Ice Retention

Quality

Features

Price
Summary
Kenai coolers, made by known and respected Grizzly, is a basic, well-performing cooler that does exactly what it was made for, and it does just good enough. And while Kenai ice chests do not feature many bells and whistles, to our knowledge there's no other cooler at this pricepoint that would be A) rotomolded and B) made in the USA. That alone makes Kenai a unique proposition in the crowded market.
Last update on 2021-09-15 / Affiliate links / Images from Amazon Product Advertising API
Disclaimers
All product names, logos, and brands are property of their respective owners. All company, product and service names used in this website are for identification purposes only. Use of these names, logos, and brands does not imply endorsement.
It is our policy to make every effort to respect the copyrights of outside parties. If you believe that your copyright has been misused, please provide us with a message stating your position and we will endeavor to correct any misuse immediately.
Some of the links in this post are affiliate links. As an Amazon Associate, we earn from qualifying purchases. This means if you click on the link and purchase the item, we may receive an affiliate commission, at no extra cost to you. This helps us keep this website alive. Learn more here.