Top 5 Best Ice Packs for Coolers and How to Maximize Ice Retention
Arctic-Ice
Cooler Shock
Fit & Fresh
FlexiFreeze
Other
Rubbermaid
Yeti
by Greg0
A wise man once told us, a cooler is only as good as the ice inside it. While this might be a serious contender for truism of the year, it goes without saying that if you're willing to drop big bucks for maximum ice retention, it pays to invest in one (or several) of the best ice packs for coolers you can get.
This is a little easier said than done – it's common knowledge among cooler nerds that certain ice packs don't work too well in certain types of coolers, and vice-versa. The materials, size, and construction of your specific cooler will determine what ice pack is the most effective for achieving maximum ice retention – that mystical, blissful, zen-like state that marks the pinnacle achievement of any true cooler aficionado.
In this be-all-end-all, best cooler ice packs review, we'll go over anything and everything you need to know in order to pick out the most effective refreezable pack for your particular ice chest.
---
Best Ice Packs for Coolers – Comparison Table
First of all, let's take a quick look and compare some of the most important features:
editors-choice

Editor's Choice

editors-choice

Editor's Choice

.

.

.

.

.

.

item-title
Cooler Shock
Fit & Fresh Cool Coolers
Arctic Ice Chillin Brew
Rubbermaid Blue Ice Brand Weekender
FlexiFreeze Ice Sheet
Yeti Ice Packs
to-top
Features
• 100% non-toxic
• non-hazardous
• flexible and easy to use
Features
• good price
• small size
• very durable
• multi-color option
Features
• best performance
• longest last
• PCM material
Features
• small size
• easy to use
Features
• 100% water-based
• cuttable
• flexible and easy to use
Features
• sizes: 1LB, 2LB, 4LB
• very durable
• very expensive
td-btn-amz

Check Price


on Amazon

Check Price


on Amazon

Check Price


on Amazon

Check Price


on Amazon

Check Price


on Amazon

Check Price


on Amazon
---
Reusable Ice Packs for Coolers: The Ultimate Guide
There's certainly not much rocket science involved in choosing a good ice pack for your cooler. In general, as with most things, you'll find that you get what you pay for – whereas a cheap ice pack will last about as long as a platter of bacon in a dog kennel, a more expensive, good quality one is worth its weight in gold as far as helping to keep your ice chest colder, longer.
That being said, even the best ice packs out there don't cost a fortune; it definitely pays to invest in a good one (or several), avoid the junky ones, and get the most out of that top rated cooler you paid top dollar for.
Ice Packs vs. Regular Ice: What's the Difference?
An ice pack is an ice pack is an ice pack, right?
Not so fast.
Ice packs generally serve two main purposes over cubed or crushed ice: they stay frozen longer, and they don't create a watery mess in your cooler when they melt. This last one is a pretty major detail, as there's nothing worse than reaching for that pastrami sandwich you've been waiting for after a long day of fishing, only to find that it's soggier than wet toilet paper.
The only real advantage that regular crushed ice has over ice packs is that volume-wise, they're a lot more practical and easier to pack tight. If you're filling a good size cooler, and especially if you have a lot of canned or bottled drinks inside, there's really no substitute for traditional ice.
Freezer packs for coolers work fine by themselves in a small cooler or lunch bag, but they're most effective when used in combination with regular ice; they'll dramatically decrease the internal temperature of the cooler, and will easily double your particular cooler's ice retention span.
Another thing to keep in mind is that in general, refreezable ice packs are used most of the time with food, whereas standard crushed or shaved ice is the better choice for beverages.
Design Differences's Most Popular Refreezable Ice Packs
A lot of companies nowadays are really emphasizing the importance of chemical-free, non-toxic, environmentally friendly products. The problem with those traditional blue refreezable gel packs that your mom used to pack in your Power Rangers lunchbox is that they're petroleum-based, so who knows what kinds of toxins are leaking out as they thaw and melt – especially after wearing out and breaking down over time.
One of the most popular materials now for reusable ice packs is something called phase-change material, or PCM.
Unlike petroleum-based chemical gels, PCM is a fully biodegradable, plant-based material that draws in heat from the surrounding environment and stores energy internally, keeping coldness locked down like an Alcatraz prisoner.
The great thing about PCM is it really, really doesn't like letting go of its energy (i.e., heat) – the entire block has to reach melting point before any phase-changing starts to take place. Regular ice on the other hand melts at a constant rate, continuously releasing heat into the inside of the cooler as the temperature steadily rises.
Arctic Ice's Chillin' Brew Series is one of the most popular and well-reviewed PCM ice packs out there, and we'll talk about it in our detailed review below.
Another really popular product to have hit the market recently is flexible foil packs. These were originally designed for ultra-urgent blood transport, and the cool thing about them is that they actually accelerate cooling by drawing in and storing ambient heat within their 3-layer nylon foils.
Like PCM, foil packs are 100% non-toxic, and are relatively inexpensive. The 7-mil thick layers freeze down to 18-degrees Fahrenheit, and dramatically outperform regular crushed ice. A few bags (like this 3-pack from Cooler Shock) will easily replace about 20 lbs of bagged ice.
Some of the more traditional gel packs are still being used today, but fortunately most manufacturers have figured out a way to make them BPA-free, non-toxic and non-hazardous. The advantage of gel packs over regular water is that they freeze at a lower temperature, and have better heat capacity properties, allowing them to store energy internally for longer before undergoing a phase change (melting).
These new Blue Ice Packs from Rubbermaid are a great example – they have all the benefits of a reusable ice pack, without the concern of dangerous petroleum-based chemicals.
---
Quick Recommendations
---
Size Considerations
One huge disadvantage of freezer packs for coolers is that they don't pack nearly as nicely as regular ice.
Refreezable blocks – and even flexible bags – can be cumbersome to pack, and nearly impossible to get in tight spaces and down into awkward corners.
Fortunately, there are ice packs that put an emphasis on convenience and packability, and we've picked out a couple of our favorites. Flexi-Freeze's new 3-pack Ice Sheets are an incredible design and a long-due industry innovation, and you can cut them down to the exact size you need for your specific cooler or ice chest.
Fit and Fresh's new Slim Lunch Packs are also a good option for packability – at only ¼" wide, they actually get into much tighter spaces than your standard ice cube does.
Things to Consider When Choosing the Right Ice Pack for Your Cooler
Like we just mentioned, one of the main things nowadays that you want to look for in a good ice pack is that they're non-toxic. Petroleum-based gels are all but obsolete now, but you'll still come across them from time to time if you don't keep a keen eye on labels.
Another thing that a lot of people don't consider as much as they need to is size. Think about what cooler(s) you plan on using your ice pack for, and pick out your ice pack accordingly.
A lot of people are under the false impression that a standard size ice pack (or two) will keep a 60-quart cooler ice cold for days on end, but this is far from true. While ice packs will easily increase ice retention by about 60%, they're not miracle workers.
Long Lasting Ice Packs for Coolers: What Users Have to Say
If you want to skip all the technical stuff and scientific mumbo jumbo, here's some of the most popular reasons why users prefer to use reusable ice packs instead of (or in addition to) regular ice:
Pretty much everyone we've ever turned on to refreezable ice packs has had good things to say about them and how they increase ice retention in their cooler – whether it's a Yeti or an entry-level Coleman
Most companies claim that their refreeze packs will last anywhere from 40 to 60% longer than regular ice, and short of doing any real-time calculations, most folks agree this is pretty accurate
One of the main reasons people get ice packs is so sandwiches and other 'high-potential-for-sogginess' food items don't get ruined if/when the ice pack starts melting
They also like not having to think about making pit-stops to pick up (and pay for) bagged ice
Best Cooler Ice Packs: Our TOP 5 Picks
Cooler Shock – The Best Reusable Ice Packs
These Cooler Shock Freeze Packs get our #1 top pick for the best reusable ice packs. These things are 100% non-toxic and non-hazardous, they're pretty flexible for packability, and most importantly, they're easy to use and super efficient performance-wise.
Like we were talking about earlier, these packs are constructed with three layers of nylon foil, and are rated to phase change (freeze) around 18-degrees Fahrenheit, making them last way longer than regular ice. And like we said, they also dramatically increase retention when packed in your cooler along with standard ice.
Cooler Shock Packs come in two different sizes – the X-Large 3-pack measures 10" x 14" and weigh about 4 lbs each, while the are about half the size, weighing 2 lbs each and measuring 10" x 9.5".
---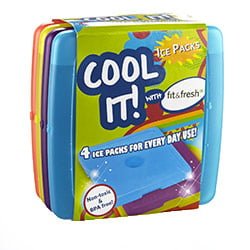 Fit & Fresh Cool Coolers Slim Lunch – The Best Value Ice Pack
As for the best value ice pack, our top pick definitely goes to the Fit & Fresh Cool Coolers Slim Lunch Ice Packs.
These things are dirt cheap, cost literally next to nothing, and perform super well all things considered.
The only real downside is that because they're pretty small (4.75" squares about ¼" thick), they're not too effective for any cooler over about 30-quarts. For lunch bags, soft cooler packs, and/or anything less than about 25-quarts, though, they're fantastic.
One of the most impressive things about Fit & Fresh Packs is how durable they are – most people refreeze them every single day, either for their own lunch bags or their kids', and they last seemingly forever.
Fit & Fresh standard packs are just a basic grey/clear, but they've also got Cool-It Color Packs with four different colors that your kids might find a little more enjoyable. Both are 100% non-toxic and BPA free.
---
Arctic Ice Chillin Brew – The Best Performance, Longest Lasting Ice Packs
For the overall best performance, longest lasting ice packs, our pick is no doubt the Chillin' Brew series from Arctic Ice.
These are truly top-shelf refreezable ice packs, and have become the most popular choice for hardcore hunters, fishermen, and outdoors people that use them in premium rotomolded coolers like YETI's and Pelicans.
Arctic Ice actually sent out dozens of samples to outdoor field testers when they first introduced their new line of ice packs, and every one of the reviewers had nothing but positive things to say about them.
The packs themselves measure about 11" x 8" x 2", and are made of that plant-derived vegetable PCM material we were talking about earlier. The energy retention capabilities of these things are unreal, and they freeze down to 28-degrees – lasting longer than anything we've ever used before.
In addition to the Chillin' Brew Series, Arctic Ice also has an Alaskan Series and Tundra Series that freeze down to even lower temps than the Chillin' Brews, but in our experience we actually prefer the Chillin' Brew because they're easier to freeze (unless you've got access to a commercial fish freezer or something).
The Tundra Series are larger and are available in anything from ¾ to 5 lb blocks, and they freeze at a numbingly 5-degrees Fahrenheit. These are more popular for things like backcountry hunting trips, where it's critical to keep your fresh meat frozen for days at a time. The only thing is they're actually tough to freeze them that cold, as most standard home freezers won't go anywhere near 5-degrees Fahreneheit.
Also, another cool thing is that Arctic Ice products come in tons of different colors, if you're into aesthetic things like matching the color of your refreezable ice pack with your cooler. Oh, and we don't know who the hell is counting, but these things are rated to be able to refreeze up to 100,000 times. Seriously!
---
Rubbermaid Blue Ice Brand Weekender Freezer Cooler Pack
Moving on, the Rubbermaid Blue Ice Brand Weekender is a very similar product to the Arctic Ice Chillin Brew packs, albeit less expensive and quite a lot smaller in size (8" x 5" x 7").
The Rubbermaid blocks are available in either singles, 2-packs, 3-packs, or 4-packs, and are totally non-toxic and BPA free, like all the other picks on our list.
They won't last as long as the Arctic Ice packs, but they'll easily increase your cooler's retention capabilities, and are best used along with regular ice.
---
FlexiFreeze Ice Sheet – The Best Packable Ice Pack
Lastly, we can't help but be intrigued by FlexiFreeze's brand new Ice Sheet 3-packs, which get our pick for the best packable ice pack.
We've never really seen anything like these before, and if there was a yearly award or trophy for the best innovation in cooler ice packs, FlexiFreeze would probably get it.
The 3-pack sheets are 100% water-based, yet they're completely reusable and refreezable, and don't melt down and create a mess like regular ice.
Best of all, though, is the fact that you can cut them down to the exact size you need to fit your cooler. They come standard as 19" x 15.5" sheets, but with a pair of scissors you can make them whatever size or shape your heart desires. A really cool new product that we've actually fallen in love with.
---
So, those are our overall Top-5 best ice packs for coolers, but what do we have to say about…
…YETI Ice Packs?
YETI's proprietary refreezable ice packs are without a doubt a really popular product, especially among YETI fans and YETI cooler owners (naturally). It is available in three sizes: 1LB, 2LB, 4LB.
---
However, you'll find out that a lot of users haven't been too pleased with their performance, and many won't hesitate to say they're not nearly worth the price. They're by no means a bad product – they're just kind of… average. Not what you'd expect from something with a YETI logo on it.
For that reason, the bottom line in our opinion is we think it's a safer bet to go with one of our Top 5 Picks – they're proven products, they have better reviews, they're more compatible with different types of coolers, and most importantly, they cost a lot less than a YETI Ice packs.
---
YETI Ice Packs are designed to keep your food and drinks colder, longer.

---
Conclusion About The Best Cooler Ice Packs
Alright, so the bottom line: is it worth it to buy an ice pack (or packs) for your cooler?
We're pretty sure you already know that our answer here will be a resounding yes. 
Even if you just use it along with regular ice, you'll no doubt notice a drastic improvement in your cooler's ice retention capabilities (you can push it even more further with dry ice – read about it here), and you'll for sure end up saving time, money, and hassle (no more soggy sandwiches) in the long run.
As always, thanks for checking out our Top 5 Best Ice Packs for Coolers review, and be sure to keep in mind the several things we talked about when picking out the most appropriate pack for you and your cooler.