Affiliate Disclosure: Some of the links in this post may be affiliate links. As an Amazon Associate, we earn from qualifying purchases. Learn more here.
---
Welcome to our very own Igloo Mission cooler review. Igloo is one of our favorite cooler brands. We have reviewed many of their products and they always have good quality and rarely disappoint.
With that in mind, we won't go into the company and its history. We have talked about that a lot in previous reviews. Today, we are mainly interested in a new product of theirs: The Mission cooler.
Igloo released the Mission coolers last year, so they are still fresh. In fact, with the summer around the corner, they are fresher than ever.
These coolers are nicely suited for an adventure, whether it is in the woods or on a fishing boat. We decided to write this Igloo Mission review to give you a quick recap of what to expect from them so you can decide whether they are the right cooler to take on your next adventure.
And now, without further ado, let's get started!
---
Igloo Mission Cooler Review
---
Blow Molded Construction
Right out the bat, it's important to point out that the Igloo Mission coolers are blow molded coolers.
We actually wrote a very detailed article about blow molding, rotational molding, and other types of molding that are used to manufacture coolers.
Blow molding produces fairly strong coolers, though not nearly as strong as popular roto-molded coolers.
In fact, Igloo's Mission coolers won't take much of a beating. They are not as durable as roto-molded coolers and are certainly not bear-resistant.
On the flip side, they are much lighter than roto-molded coolers, so you won't have a very hard time carrying even the large 124-qt cooler.
They're even lighter than the injection-molded coolers (which by the way fall somewhere in between roto-molded and blow-molded coolers when it comes to durability and "heavy-duty-ness".
Also, these coolers have a very sleek and modern design. They are the kind of cooler you may actually be proud showing off to your friends.
With that out of the way, let's take a closer look at the cooler's various build aspects and features.
---
Exterior
The exterior of the cooler is very solid for all 3 available sizes (50-qt, 72-qt, and 124-qt).
Even though blow molding as a fabrication technique is inferior to rotational molding, the plastic used in the making of the Mission coolers is thick enough that it's armor-like.
You can expect it to last many years, so long as you don't put it through any, especially strenuous conditions, though it certainly feels like it would try its best to survive even the most strenuous of conditions.
Dual Drain Plug
One of my favorite things about the design of this cooler is the dual drain system on the side.
A lot of the time, we see coolers with a single drain. You unscrew the drain cap, tip the cooler over, and let the water flow. That's all great, but what if sometimes you want the water to have a different speed?
Maybe sometimes you want a slow drain and sometimes you want a super-fast drain.
Slow drains, in particular, are useful when all you want to do is drain the water from the ice slowly as it melts. You're still using the cooler; you just don't want it the water from the melting ice to sit in the cooler.
If you open the entire drain, you might end up letting out some of the ice pellets, so it's better to have a smaller drain opening for the water so it slowly drains. At the end of your use, however, you want a larger drain hole so you can drain the water quickly.
Many coolers don't offer that, but the Mission coolers do.
The dual drain has a top drain with its own cap. The drain hole is small enough that it will let water flow out without letting the little ice pellets through as well.
The larger drain will help you quickly drain out the water when you're done using the cooler. Both drain caps have tethers so you don't lose them.
Igloo Mission Features
Ultratherm® insulation in body and lid
Food grade silicone rubber lid gasket
Lockable lid
FDA approved food-grade liner
2-way tie-down points
Oversized latches
Fast/slow dual drain release
Heavy-duty grab handles with integrated tie-down brackets
Fish ruler
Handles
The handles on the Mission coolers are also strong and high quality. They are large plastic handles with plastic grips.
A common feature of handles in coolers is that they are made of nylon rope with rubber grips. The ones on the Mission cooler are made entirely of plastic, including the grips.
Now, this would normally be a red flag, since plastic is rigid and brittle. However, the plastic on the Mission coolers is high quality and able to handle the weight of a full cooler, even the 124-qt one. The grip is also surprisingly comfortable. Two people should be able to carry the 124-qt cooler between them and haul it around with ease.
That said, the frame on the handles (the part that connects to the body of the cooler) is made of metal, making for a strong connection. It can be used as a tie-down point for the cooler when transporting it in a car or boat.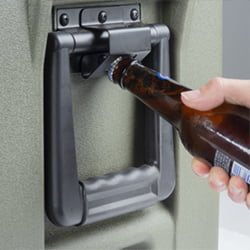 It also has a built-in bottle opener so you don't have to carry your own when you bring this cooler along on your trip.
The Lid and Latches
The lid is lockable with a padlock slot in the middle. The latches are metallic and very tight, allowing for a secure and airtight lock.
To help make the lid airtight, there is a food-grade silicone gasket on the underside, ensuring that no air gets in or out once the lid is secure. It also keeps the cooler waterproof as not even rain can get into the cooler.
On the top of the lid is a fish ruler so you can measure the size of your catch on the spot when you're out on the water.
---
The Interior
Inside the Mission cooler, we have an FDA approved food-grade liner. This is very important when you're storing raw meat, which is likely to happen on a fishing or hunting trip. You can also salt the meat, such as by brining, without having any worries about contamination.
Underneath the liner is the insulation. It is Igloo's proprietary Ultratherm insulation, which can provide up to 8 days of ice retention, in theory. We'll talk about that 8-day figure claim in a bit.
---
Ice Retention
Now, Igloo's official advertisement is that their Mission coolers can achieve ice retention of up to 8 days. That's great, but there are some caveats to this.
Based on our experience with the coolers, we found that 8 days of ice retention were possible on with the largest (124-qt) cooler.
And that is assuming you pre-chilled the cooler and the contents, used block ice with some bullet ice on top, didn't open the cooler too often (a couple of times a day at the most), and kept it in the shade or under a thermal cover most of the time.
These are very stringent measures under presumably very ideal conditions (the weather isn't too hot or humid). In reality, you can expect something a little lower.
On the average hot summer day (90 degrees Fahrenheit), you can expect 3-4 days of ice retention on the 50-qt cooler, 4-5 days on the 72-qt cooler, and 6-7 days on the 124-qt cooler.

That said, these are still remarkable ice retention numbers given the prices of these coolers. The results are actually better than we anticipated. These are numbers that you typically expect from more expensive roto-molded coolers, so they are quite impressive coming from the Mission coolers.
---
Available Sizes and Colors
There are 3 available sizes for the Mission coolers:
There is only one color available, which is gray. While the lack of variety might seem disappointing, we're not surprised. This is a new product and Igloo is obviously still testing the waters.
Depending on how the market receives the Mission series, more colors and sizes might be made available in the future. We are waiting eagerly.
Overall, we think a Mission cooler is a good cooler for extended weekend trips, especially adventure trips like hunting or fishing.
The largest one, in particular, is well-suited to hunting elk and other large game. That said, they need prepping beforehand for extended ice retention.
If you want a cooler that will give you extended ice retention without prior prepping, consider roto-molded coolers with 2"+ thick polyurethane insulation, such as YETI, Cordova, or Blue Coolers, among others. But note that these will be more expensive (although we've seen some cheap rotomolded coolers out there too).
Anyway, with prices that lie below the prices of all these alternatives we just mentioned, the Mission coolers offer great value.
item-title
Igloo Mission 50QT
Igloo Mission 72QT
Igloo Mission 124QT
to-center
Capacity
72 cans
50 quarts (47 liters)
Capacity
114 cans
72 quarts (68 liters)
Capacity
198 cans
124 quarts (117 liters)
to-center
Ice Retention
4 days at 90°F*
Ice Retention
5 days at 90°F*
Ice Retention
8 days at 90°F*
to-center
Exterior (LxWxH)
28.0" x 14.7" x 15.0"
Exterior (WxDxH)
29.8" x 16.7" x 17.5"
Exterior (WxDxH)
35.4" x 19.7" x 20.7"
to-center
Weight
15.62 lbs
Weight
22.11 lbs
Weight
31.79 lbs
Check Price
at IGLOO
Check Price
at IGLOO
Check Price
at IGLOO
---
Igloo Mission vs Yeti Cooler
This should be an interesting comparison…
Yeti coolers are roto-molded, while Igloo coolers are blow molded. Right off the bat, Yeti coolers are more rugged. They are also IGBC certified as bear-resistant. On the flip side, the Igloo Mission coolers are much lighter than the Yeti coolers.
The Yeti coolers also have a lot more variety in terms of sizes and colors. Yeti has over a dozen size options while the Mission series only has 3. Yeti also has at least 6 colors available for all their models, with frequent color releases. Igloo has just one 1 here.
The biggest advantage for Igloo Mission coolers by far is their pricing. They only cost a fraction of what similar-sized Yeti would cost.
On the other hand, ice retention does not compare to the Yeti. The new Roadie 24, for example, will easily give you 5 days of ice retention. The Tundra 45 will give you a week of ice retention. Larger coolers like Tundra 110 will go for up to 10 days without breaking a sweat. And then, some best ice retention coolers can go even beyond that.
As for brand factor, both brands are very well-known, with plenty of brand loyalty. Both have models made overseas and at home in the US. Your pick here, apart from the other considerations above, would be based on which brand you were more loyal to.
Igloo Mission Cooler vs Yeti Tundra – The Verdict

To be honest, these are completely different coolers for different use cases, so it's not entirely an apples-to-apples comparison. If you want something for casual use on the weekend, the Mission coolers should do just fine.

However, for heavy duty use, such as an extended camping trip, it's hard to match the durability, ice retention and performance of a YETI cooler.
---
Other Coolers Like Igloo Mission Worth Looking At
If you're not convinced, why not do a little more research to see what other options are worth considering at a similar price level?
---
RTIC Ultra-Light
This one has a very similar price level to the Mission coolers, though it is injection molded and comes in one size (52 quarts) and one color (white). The ice retention is pretty good too.
---
Giantex
This is currently the cheapest roto-molded cooler at Amazon. The 64-qt cooler, which is the second largest (the others are the 80-qt, the 40-qt, the 32-qt, and the 27-qt) has about the same per-quart price as the 72-qt Mission cooler, all while having a superior rugged roto-molded construction.
The main reason why it's so cheap is that it is made in China.
---
Igloo IMX
This cooler comes from the same brand as the Mission coolers but is superior to the Mission coolers in construction (it is injection molded). In fact, it can rival the RTIC above.
It is sturdier than the Mission coolers and will retain ice for longer. We actually wrote an in-depth review of IMX here.
---
Igloo Mission Cooler Review – Conclusion
And with that, we come to the end of this mission (corny pun very much intended). The Mission cooler is a great casual cooler for a short weekend hunting or fishing trip, and the large one will gladly hold a large game.
However, if you want something with longer ice retention, or able to take a beating, such as in if you're in bear territory and want something that's bear-proof, this is not the best choice.
That said, we still love how well it applies to its use case, and also the great low price of it.
Thanks for reading our Igloo Mission cooler review. Until next time, stay cool!
Igloo Mission Cooler Rating
Igloo Mission Cooler Review
Ice Retention

Quality

Features

Price
Summary
The Mission cooler is a great casual cooler for a short weekend hunting or fishing trip, and the large one will gladly hold a large game. Although it won't take as much beating as its rotomolded counterparts, it's strong enough for everyday use and the ice retention is actually better than we thought it would be.
---
Resources and Images: igloocoolers.com
---
Last update on 2023-04-01 / Affiliate links / Images from Amazon Product Advertising API
Disclaimers
All product names, logos, and brands are property of their respective owners. All company, product and service names used in this website are for identification purposes only. Use of these names, logos, and brands does not imply endorsement.
It is our policy to make every effort to respect the copyrights of outside parties. If you believe that your copyright has been misused, please provide us with a message stating your position and we will endeavor to correct any misuse immediately.
Some of the links in this post are affiliate links. As an Amazon Associate, we earn from qualifying purchases. This means if you click on the link and purchase the item, we may receive an affiliate commission, at no extra cost to you. This helps us keep this website alive. Learn more here.