Affiliate Disclosure: Some of the links in this post may be affiliate links. As an Amazon Associate, we earn from qualifying purchases. Learn more here.
---
Welcome to yet another review on our cooler blog. This time, we're doing the Igloo IMX cooler review!
Igloo is one of those die-hard cooler brands that we won't see go away any time soon. They have a wide array of product lines, each catering to a different kind of customer and a different set of features altogether.
Best Black Friday Cooler Sales
Get a head start on your shopping this year... this is the earliest we've seen Black Friday cooler sales and they're looking great! We're tracking the best cooler deals from top brands to save you time and money:
No matter what kind of cooler you're looking for, or what particular set of needs you have, Igloo has something for you that is going to retain the ice for many days at a time.
Today we're particularly looking at the Igloo IMX cooler series. These coolers are one of their cheaper brands, making for an Igloo product that is accessible to just about anyone. But don't think that, just because it's cheap, it's low quality.
The build on this cooler is pretty solid and its ice retention is good enough to put many higher-end coolers to shame. We were pleasantly surprised by it and grew to love it. Let's dive in!
---
Igloo IMX Cooler Review
Design and Construction
The first thing we should say about this ice chest right out the gate is that it isn't rotomolded.
We are quite partial to rotomolded coolers here. We think it is a far superior way to make coolers and makes for better insulation and ice retention.
It also makes for a much stronger cooler that is able to handle just about any kind of damage. In fact, I'm yet to hear of a certified bear-resistant ice chest that isn't rotomolded.
That said, every now and then, we come across a cooler that just blows our minds, despite not being rotomolded.
A strong, durable cooler but lightweight cooler, with great ice retention that seems to defy all stereotypes we have about non-rotomolded coolers.
The Igloo IMX is one of those coolers. It is injection molded, and because of this, it's about 30% to 40% lighter than all rotomolded counterparts. We discussed injection molded coolers vs rotomolded coolers in our post about best lightweight coolers, where the IMX has taken one of the top spots.
Being injection-molded doesn't mean that this cooler can't take much beating. It's actually pretty strong for a cooler of this type, and will easily hold up to anything. It's got some really rugged plastic all over and a good mix of aluminum and steel for extra reinforcement.
The best part? Igloo promises up to 8-day ice retention in a cooler that's 40% lighter than rotomolded ice chests of a similar size. It doesn't sound bad, does it?
Given that this one costs less than $200, and is so much lighter, we understand why they didn't make this one rotomolded.
To offer a quality cooler at this price-point, they had to make tradeoffs to keep the price that low. However, even while doing that, they still managed to make a high-quality ice chest that actually does its job well!
The plastic itself is UV resistant, making it durable, even if you keep the cooler in the sun for hours on end. It's not going to fall apart.
I also love the strong hinge it has on the back. One problem I had with the Coleman, which we have talked about before, was that it has flimsy plastic hinges.
These have a tendency to come apart very quickly. It generally compromises the longevity of the cooler.
The IMX ice chest has a single aluminum hinge across the back. It's much like what you find on the Yeti Tundra, and it is a very strong type of hinge.
That hinge is also self-stopping, which means you can stop the cooler's lid at any point without it slamming shut.
This is excellent when you want to keep the cooler open through a tough and bumpy ride, such as on a boat.
On the inside of the cooler is 2-inch thick foam, while the lid has 1.5-inch thick foam insulation to keep your food and drinks cold for a long time. Insulation wise, therefore, the IMX is not the best one out there, but certainly it's above the average.
This great mix of plastic and metal serves to make for a very strong cooler that can take just about anything.
Igloo IMX 24 QT Cooler
---
Igloo IMX 70 QT Cooler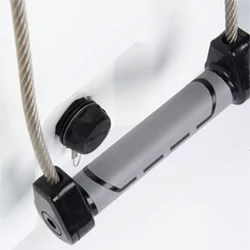 For hi-res photos go to: igloo.com

---
Features
There are lots of great features on Igloo IMX series cooler that just seem to go above and beyond what you would expect of such a cheap cooler.
My favorite is the fact that this cooler has a dry foods basket. It comes free with the cooler. You actually have to buy it separately with most premium ice chests!
Now, the dry foods basket does sit a little deep within the cooler, which can be a bit of a problem when stacking lots of food, but it's not too much of a big deal and it does its job very well.
Under the lid is a freezer-grade gasket that works hard to keep the cold in and the heat out. The lid itself also has some pretty strong rubber t-latches to make for a secure close.
T-latches have become a staple for many Igloo coolers, as well as many other cooler brands. They were popularized by Yeti, which uses them on virtually all of their hard coolers.
To be fair, they work a lot better than most other types of latches, and we think Igloo did well to include them here. The latches are made of rubber and quite stretchable, making it super easy to pull them down tight while locking your cooler.
The lid also has a lock slot, in case you would like to secure the contents of your cooler with a padlock. On the same spot as the lock slot is a bottle opener so you never have to carry your own bottle opener.
On the lid we have 4 self-draining cup holders so you have somewhere to rest your drinks as you enjoy them. There is also a ruler for measuring your fish as you catch them.
On the bottom we have raised feet that ensure the base of the cooler is completely raised from the ground, to help with the insulation. There are also rubber pads under the feet to prevent the box from skidding around on bumpy rides.
On the side of the cooler, we have some pretty strong cord handles. They consist of a nylon cord with a strong plastic handle. They were actually sturdy and comfortable. Carrying the cooler, even when it was full, proved to be a comfortable and fairly easy task.
Near the base is a massive drain plug to help you drain out all the water as fast as possible. It's also tethered to prevent loss.
Igloo IMX Features
Injection molded construction with UV inhibitors

Ultratherm® insulation

Rubberized lid latches

Self-stopping integrated lid hinge

Cool Riser Technology®

Anti-skid feet

Stainless steel locking plate

Self-draining cup holders

Tie-down points

Fish ruler

Threaded drain plug

Wire basket included

---
Ice Retention
We put in a batch of ice in the 70-qt IMX cooler and checked every afternoon over the next 6 days. We found that, up until the 5th day, there was still plenty of ice left in the ice chest, even when ambient temperatures were very high.

On the sixth day, it was mostly water, but it was still super cold and painful to touch. I have to say we were quite shocked that this ice chest could have such good ice retention. I guess it made us even more fond of it.
Overall, it wasn't 8 days as Igloo stated but we didn't pre-chill the cooler and also we didn't use any ice packs or block ice, both of which could have impacted retention times in a positive way. That said, we think 6 days is a really strong result, on par with many good, rotomolded ice chests out there.
---
Sizes and Colors
There isn't much variety here, to be honest. There are only two available sizes: the 24-quart and the 70-quart coolers.
For the colors, there are also only 2 available options: white and gray. I suppose it might be because it is a new product line and Igloo still wants to test it out.
Hopefully, they introduce more sizes and colors as time goes by.
---
Warranty
Like other coolers of its kind made by Igloo, the IMX has a warranty of 5 year. This is actually shorter than what you would get with a rotomolded cooler from, say, Orca or RTIC. However, that's probably because this isn't a rotomolded cooler, making it less durable.
---
Purpose
For the most part, this cooler was built for people who wanted a nice and cheap cooler that does the job well without having to break the bank.
If you don't care about too many premium features, and want something that won't require you to break the bank, then this cooler is perfect for you.
---
Igloo IMX vs Yeti Tundra
The closest comparable Yeti product we can compare the Igloo IMX 70-qt cooler to is the YETI Tundra (our review here), while the YETI Roadie (review) would be the closes match to the 24-quart version of the IMX.
Let's start with the most obvious similarity: the T-latches. The ones on the Yeti tundra use a ball while the ones on the IMX use wings.
Overall, the ball seems to make for a tighter shut, but the wings are also pretty good.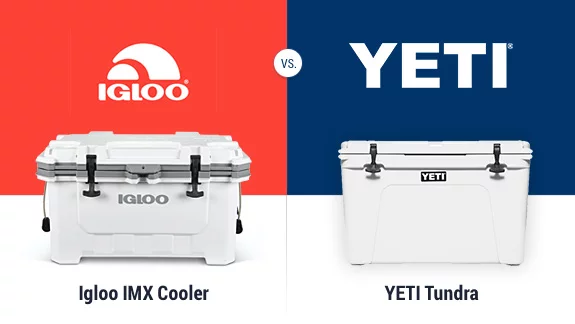 Both coolers also have a single strong hinge at the back which, as I mentioned before, is a pretty good idea since it's more durable.
A major difference between these two is that the Yeti Tundra is rotomolded. It is, therefore, stronger, more durable, and bear-resistant.
Insulation wise, Tundra has an edge too, and its rotomolded, single-pieced body also helps in that aspect. That said, the 6-day ice retention of the IMX cooler is also pretty impressive, considering the fact that it is so much lighter and cost much less.
Another thing: the weight. Being rotomolded, the YETI Tundra is obviously very heavy cooler (even when empty), while IMX is as light as it can be – you'll immediately feel the 30% lighter construction the IMX has.
Verdict on Igloo IMX vs Yeti Tundra

Overall, the IMX is a great cheap alternative to Yeti, and is a great idea if you don't mind trying something new. If you're looking for a lightweight cooler able to keep ice for couple of days, then this is it. However, we would understand if you're a die-hard Yeti fan and want to stick to what you know. Yeti will always be Yeti.
---
Igloo IMX Cooler Review – The Conclusion
And with that, we come to the end of our Igloo IMX cooler review.
As you can see, the Igloo IMX ice chest is a lower budget option for those who still want a good quality cooler without paying an arm and a leg or for those who look for something lighter, and more portable.
We'll definitely be recommending it to our friends!
Igloo Imx Cooler Review
Ice Retention

Quality

Features

Price
Summary
Igloo is getting better and better with every cooler they bring to the market. With the IMX ice chest release, they prove that the cooler business isn't only about rotomolded ice chests. The Igloo IMX cooler delivers on its promise: it's lightweight, durable, well made and keeps ice for nearly a week. At this price-point, it's a no-brainer.
---
Disclaimers
All product names, logos, and brands are property of their respective owners. All company, product and service names used in this website are for identification purposes only. Use of these names, logos, and brands does not imply endorsement.
It is our policy to make every effort to respect the copyrights of outside parties. If you believe that your copyright has been misused, please provide us with a message stating your position and we will endeavor to correct any misuse immediately.
Some of the links in this post are affiliate links. As an Amazon Associate, we earn from qualifying purchases. This means if you click on the link and purchase the item, we may receive an affiliate commission, at no extra cost to you. This helps us keep this website alive. Learn more here.