Affiliate Disclosure: Some of the links in this post may be affiliate links. As an Amazon Associate, we earn from qualifying purchases. Learn more here.
---
If you are considering shopping from Hooked but aren't quite sure about this brand, then our Hooked cooler review may be able to provide answers to your doubts.
Hooked offers a few rotomolded cooler models – nothing really special here since there are dozens of brands selling such coolers.
However, Hooked is a veteran-owned brand – apart from just being remarkable, this also implies some perks for veteran buyers (more on that later). You don't see this often, though Hooked is not the first veteran-run cooler brand we reviewed (there also was Taiga whose coolers we really liked).
But all in all, how do Hooked coolers compare to competing offerings from the likes of YETI or RTIC?
Should you even consider buying them? Read on to find out!
---
Hooked Cooler Review
Let's start with a detailed overview of the features of "hook" coolers.
Construction & durability
First off, let's briefly talk about the build of the Hooked cooler line.
As rotomolded coolers, these coolers are exceptionally durable and will take anything you throw at them with realistic use. This is just like many other rotomolded coolers out there (including YETI), so there is nothing new to mention – Hooked coolers are nice and sturdy and great for outdoor travel.
Small hardware also seems pretty rugged in these coolers – they have heavy-duty rubber latches, tough rope handles, and you also get a lockable lid that should make Hooked coolers bear-resistant.
Hooked coolers have no IGBC bear resistance certification though, likely for cost-saving reasons – some brands (e.g. RTIC and perhaps also Hooked) are avoiding IGBC certification to keep the prices of their coolers lower since certification likely costs money.
IGBC certification is more about prestige, to be fair – it's not a must, and a cooler that has a lockable lid and rotomolded shell will likely be bear-resistant even without certification.
Insulation
Next up, we have insulation. And like we usually do, we've paid extra attention to the ice retention performance of Hooked coolers.
The insulation in Hooked cooler is delivered by over 2 inches of closed-cell polyurethane (PU) foam – pretty standard for higher-end rotomolded coolers. With their freezer-grade gasket (again a typical feature in coolers), Hooked coolers maintain an airtight seal to keep heat out.
Hooked advertises the ice retention of its coolers as follows:
25 – 5 days.
35 – 6 days.
50 – 7 days.
75 – 10 days.
Now, what we really appreciate is the fact that Hooked lists different ice retention figures for each of its cooler sizes. Usually, cooler makers list the ice retention duration of their largest cooler for all sizes. So with small coolers, the provided figures are unrealistic and make small sizes look better than they are. Why is that so?
Well, because not everyone realizes that larger coolers retain ice longer even if they are built in the exact same way and have the same insulation as their smaller counterparts. This is because it takes less heat to saturate small coolers and render their insulation ineffective. Small coolers just won't match the larger ones in that aspect. Therefore, if you want the best possible ice retention, opt for a large cooler.
We are yet to perform in-depth ice retention tests with Hooked coolers, but their claimed numbers look really good – on par with what the much pricier YETI models. Can they be trusted?
Pretty much so, yes. Based on our experience with dozens of other brands, judging by how the Hooked cooler is made, and what kind of insulation it has, right of the bat that we can tell you should be able to consistently hit the advertised figures (or at least come very close to them) if you do the following:
Pre-chill your Hooked cooler and its contents before packing.
Aside from regular cube ice, use flake ice (chills faster) and block ice (melts slower). Alternatively, use high-quality ice packs like Cooler Shock – such packs melt slower and have a lower freezing point.
Only open the cooler when absolutely necessary. When you do open the cooler, be sure not to leave it open for too long.
Keep the cooler in a shade.
Ideally, cover the cooler with a thermal blanket when not in use.
Again, based on our previous experience, we'd say that Hooked coolers will store ice for about a day less than advertised on a hot day at 90 degrees Fahrenheit even with proper packing. Even then, their insulation would be very good.

Available sizes
Hooked coolers are available in 4 sizes – 25, 35, 50, and 75. These numbers mean the capacity of the coolers in quarts, and they are more or less accurate – though there are slight deviations. Based on the inside dimensions, Hooked coolers have the following capacities:
25 cooler: 23.36 quarts. This is calculated by multiplying together the interior measurements of the cooler (height, width, and depth – with the 25 cooler, the result is 14.3" x 8.5" x 11.1" = 1,349.205 cubic inches) and then converting the result to US liquid quarts, which is roughly 23.36. If a cooler brand doesn't provide capacity in quarts, you can calculate it like this if you have interior dimensions.
35 cooler: 33.4 quarts.
50 cooler: 51.9 quarts.
75 wheeled cooler: 76.3 quarts. In this size, some of the interior space is occupied by the wheel housings, so the actual capacity is a little lower (maybe even exactly 75 quarts).
Hooked coolers are small- to mid-sized, and they should be able to meet the needs of most buyers out there. There are no extra-large 200+ or 300+ coolers in this line, but not many people even need such sizes, to begin with.
It's nice that the naming scheme of Hooked coolers is more or less straightforward, especially compared to YETI coolers. In YETI coolers, the numbers in size names don't indicate the capacity in quarts, which is confusing for many buyers.
Wheels on the 75QT cooler
The 75-quart Hooked cooler has a pair of wheels on the back for easier transportation. To be honest, we have mixed feelings about these wheels.
On one hand, the wheels are small and don't make the cooler too bulky, nor do they occupy too much interior space (though do they take away some capacity). When traveling on not too rough surfaces, the wheels could make transportation very convenient.
On the other hand, the wheels definitely are not for off-road use – they are not big enough. In contrast, the large wheels on Igloo Trailmate, ROVR coolers, YETI Haul, and this 55-quart cooler from Blue Coolers have big wheels that are perfect for off-road use.
The wheels are definitely unique, we haven't seen such small wheels in a rotomolded cooler, but we aren't entirely sure in their practicality. They may work for some people, but certainly not for those who want off-road usability.
---
Features & accessories
Hooked coolers also have a few handy features:
Tie-down slots
You can use these to anchor the cooler to your boat or pickup for security.
Fish ruler
The lid has an impressive fishing ruler. The 75 cooler has two 20-inch rulers, while the smallest 25 cooler has a single 12-inch ruler.
Cup holders
The cup holders are pretty interesting – they have a "tiered" design that allows them to snugly fit cups of different sizes. So a small cup won't be floppy in these holders.
Bottle openers
These are situated on the front of the cooler on the right and left.
Removable handles
The rope handles in Hooked coolers (except for the 25 cooler) can be removed for easier cleaning. Note that the 25 cooler has a metal grab handle instead of ropes.
Hooked models additionally have a few cooler basics, including non-slip feet and a quick drain plug.
Accessory-wise, Hooked offers dividers and baskets. As of this review, you could also buy replacement drain plugs and rope handles, but no latches, bottle openers, or other small pieces of hardware that often go bad.
Where are Hooked Coolers made?
Hooked coolers are roughly half the price of YETI coolers. They are very affordable and offer great value for the money.
Hooked designs and ships their coolers from the US, but manufacturing is done overseas – similar to cooler brands like Blue Coolers, RTIC Coolers, or Cascade Mountain Tech (all are made in China). We reached out to the company to ask about specific information and they responded saying their "hard coolers are sourced outside the US from multiple countries".
Warranty & Discount Information
Interestingly, Hooked backs up its coolers by a lifetime warranty – a rarity among more affordable cooler brands and definitely a strong selling point. Veterans, military, and first responders get 10% discounts as well.
All in all, Hooked models are solid alternatives to YETI and other rotomolded coolers, but they aren't for those buyers who prefer to buy 100% US-made coolers.
---
Hooked Coolers VS YETI – Head to Head Comparison
As the holy grail brand of the cooler industry, YETI is a company that rotomolded cooler makers have to compete against. Well, here is how Hooked coolers compare with YETI hard coolers (specifically, Tundras):
Construction and durability
Both coolers are rugged, heavy-duty, but YETI Tundras are IGBC-certified. Overall, the quality is very comparable.
Design
Hooked coolers are clearly inspired by YETI – they have similar shells, latches, and other small details. This isn't surprising or new for us – most brands that offer rotomolded coolers try to mimic YETI models.
Sizes
YETI Tundra has a whopping 13 sizes (including the extra-small Roadie), while Hooked only offers 4.
Colors
Hooked offers 5 different colors, which is pretty nice. As for YETI, it usually rotates cooler colors and introduces new ones every season.
Features
Hooked coolers have a better-designed lid with fish rulers, cub holders, and bottle openers – YETI Tundra coolers don't have these features. Both cooler series have molded tie-down slots though.
YETI coolers come with a dry goods basket – with Hooked models, you'll have to buy them separately.
Accessories. YETI offers a much wider range of optional accessories (traction lid cushions, tie-down kits, padlocks, beverage holders, or whatnot) along with replacement parts (feet, drain plugs, latches, and many other things.)
Origin. YETI coolers are made in the US and Philippines, and you can choose to order a US-made cooler if you want. As for Hooked, they are not manufactured in the US, though we don't know where exactly ("multiple countries").
Warranty. Hooked has a clear advantage here – their coolers are covered by a lifetime warranty, while Tundras only have a 5-year warranty.
Pricing. Hooked costs roughly half of YETI coolers – an insane difference, but we and our seasoned readers are used to that sorf of thing. The higher price of YETI is to some extent due to the brand name, as well as US manufacturing and IGBC certification.
Hooked vs Yeti: Our verdict

To keep this Hooked vs YETI verdict brief: if you are value-driven, then Hooked coolers are going to be much better than YETI. They offer comparable quality, durability, insulation, better features, yet cost much lower.

If, however, you want a better-known brand, extra accessories, replacement parts, extra-large sizes, or more unique colors, go for YETI instead.
---
Similarly Priced Coolers Worth Looking At
If you're not convinced that a Hooked ice chest would be the best for you, then here are a few alternatives at the same price level – either you'll find something better among them, or you'll become sure that Hooked coolers are right for you.
---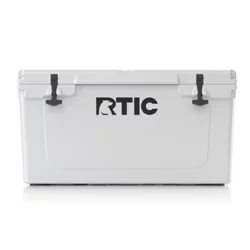 RTIC Coolers
RTIC is a major competitor to YETI and produces lookalike coolers with similar insulation, durability, and features, but for a lower price than YETI coolers. RTIC coolers are priced very close to Hooked models per quart but are a little more expensive in absolute terms.
RTIC coolers have a simple feature set – no bottle openers, fish rulers, or cup holders. They only have tie-down points, tough rope handles, and a bear-resistant, rotomolded construction (but again not IGBC-certified). This makes them pretty much identical to YETI coolers. You can find more information in our RTIC cooler vs YETI comparison.
One advantage of RTIC models over Hooked or YETI ones is the traction lid – it serves as a great support for casting.
Check out RTIC coolers in their store >>
---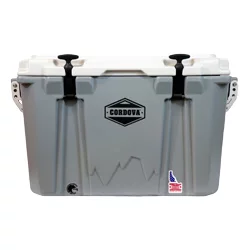 Cordova Coolers
Cordova offers perhaps the most exciting alternative to Hooked and YETI coolers – its rotomolded coolers are made in the US yet are cheaper than most other US-manufactured coolers on the market.
Recently, Cordova has been very aggressive with pricing too – for example, when used with a coupon (like "save10now"), you get 10% off the price, which makes Cordova coolers even cheaper per quart than Hooked models.
Cordova coolers are feature-packed as well – you are getting things like convenient top-down latches (can be easily accessed in tight spaces), IGBC certification, patented aluminum handles with bottle openers, and a lifetime warranty.
Check out Cordova Coolers right here >>
PRO TIP: Read our full Cordova review if you're interested in this cooler.
---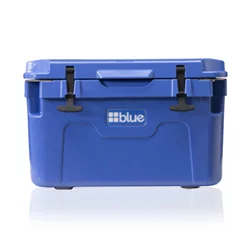 Blue Coolers Coolers
Like Hooked, Blue Coolers is a US brand, but its manufacturing is based in China. The two cooler brands offer similar pricing, but Blue Coolers seems to boast better insulation – the foam in the walls is thicker than in Tundra and Hooked coolers, so expect maybe an extra day of ice retention.
Blue Coolers offers only 3 sizes – 30, 55, and 100 quarts. The 55-quart model is available in standard and wheeled configurations. The wheeled cooler has large wheels and will be a better off-road alternative to the wheeled Hooked 75 cooler if you're looking for off-road capabilities.
In terms of features, Blue Coolers models are lacking compared to Hooked – they don't have tie-down points or cup holders, they're pretty basic. If insulation is important for you though, Blue Coolers might be a better choice.
---
Where To Buy Hooked Coolers?
As of this review's writing, Hooked only sold its coolers via its official store – these coolers are yet to appear on other stores like Amazon. Hooked also offered free shipping, but this might be a temporary perk.
---
Hooked Coolers Review – Final Words
As our Hooked cooler review shows, Hooked models are very solid for the money. Our biggest gripe with Hooked is that its coolers aren't US-made, but it won't matter to a lot of customers.
If you're more concerned about getting the best value for the money than about the brand itself, and just want a good performer like YETI, then Hooked may be actually one of the better alternatives out there.
Hooked Cooler Review and Rating
Ice Retention

Quality

Features

Price
Summary
Hooked coolers are an interesting, low-cost alternative to the well known, high-end brands. At about half the price of the YETI, you're getting a feature-packed ice chest that performs just as good as the more expensive brand. Overall, a very decent cooler, well made and well priced.
---
Disclaimers
All product names, logos, and brands are property of their respective owners. All company, product and service names used in this website are for identification purposes only. Use of these names, logos, and brands does not imply endorsement.
It is our policy to make every effort to respect the copyrights of outside parties. If you believe that your copyright has been misused, please provide us with a message stating your position and we will endeavor to correct any misuse immediately.
Some of the links in this post are affiliate links. As an Amazon Associate, we earn from qualifying purchases. This means if you click on the link and purchase the item, we may receive an affiliate commission, at no extra cost to you. This helps us keep this website alive. Learn more here.