Affiliate Disclosure: Some of the links in this post may be affiliate links. As an Amazon Associate, we earn from qualifying purchases. Learn more here.
---
Welcome to our very own Cascade Mountain Tech cooler review, in which we'll be taking an in-depth look into the Cascade Mount Tech's newest baby. We'll also compare it to YETI to see if this can be a viable alternative.
Cascade Mountain Tech Cooler Review – A Word Of Introduction
Sometimes it's easy to think that the cooler space is saturated. There seems to be a cooler company for just about every niche you can imagine. There are cooler brands for tailgating, there are brands for those who love premium coolers, there is a whole market for those who love to customize their coolers, and pretty much everything else.
However, every time we think this, a new brand comes along and blows our minds, either by creating an entirely new niche we hadn't thought of or by redefining an old one in ways we hadn't imagined.
Either way, we fall short most of the time and end up being schooled on the fact that there is always space for a new player on the coolers market; so long as they execute it right.
Cascade Mountain Tech is one of those cooler brands that come along and redefine a niche you thought you perfectly understood.
In this case, they make adventure so exciting that everyone on the team now wants to pack up and head over to the mountains for a couple of weeks. We don't even know what we're going to do there; we just want to go!
Cascade has breathed fresh air onto the adventure scene by introducing some pretty cool premium coolers that rival the very best names in the space, including YETI (more on that later).
But they went a step further. Most names in the space will be content with selling a few camo hard and soft coolers for adventurers and hunters and call themselves an adventure brand.
Cascade Mountain Tech have gone a step further and sold some camping equipment along with their hard coolers and tumblers.
You can buy camping chairs, LED lanterns, trekking poles, and many other products from these guys along with your cooler, giving you the sense that you're getting everything under one roof.
See what I mean? They have come along and redefined a niche we thought we knew like the back of our hands. Come to think of it I'm not even sure I know the back of my hands that well anymore!
Having been founded by outdoor enthusiasts in the Pacific Northwest, this company is all about giving you affordable and achievable adventure and offers some great quality gear for your next adventure.
We loved them so much we had to do a review of their Cascade Mountain Tech Super Cooler. We're pretty confident you'll love it just as much as us. They're young, but they have promise.
---
Cascade Mountain Tech Super Cooler Review
---
Build Quality
As would be expected of a premium cooler like this one, the Cascade cooler is rotomolded. Rotomolded coolers are the best constructed coolers in the market today, being made from a single mold all around and having a hardy and durable build.
These coolers can withstand nearly every kind of shock, stress, or strain without as much as a crack and they also happen to be extremely good insulators because of the fact that there aren't any seams through which heat could be lost.
Oh, and by the way, just to show how incredibly tough the build on this cooler is, it's certified bear-resistant – a rare thing amongst coolers not made in the USA (it's made in China).
Sizes and Colors
The Super cooler from Cascade Mountain Tech comes in only two sizes, 45-quart and 80-quart. The lack of other sizes, as well as the lack of the wheeled version, is perhaps the biggest disadvantage of these coolers. Even some lesser-known brands typically have more sizes available (take Frosted Frog coolers, or Cordova for example).
As for the colors, it only comes in one: white. OK we get it, it's a safe color to start with, but it's not enough for many customers. Other brands often have 4-6 colors to choose from even when they're starting out.
What if you want a pink one? What if you want a camo one? The lack of color options is a sad fact. We hope this is going to change very soon.
Design & Features
The design on this cooler is pretty good looking. It looks like a heavy-duty cooler, feels like one too, but at the same time, it has a sophisticated YETI vibe to it.
Don't get us wrong here, we're not saying they ripped the Yeti design off – quite the opposite! What we're saying is that they have the same sophisticated feel to them. The edges aren't too sharp but gently curve into the faces.
The ice chest itself has that familiar box shape we love in a cooler and tapers toward the bottom. In a way, it looks pure and perfect, the way an ideal cooler should look like.
When you think about it from this perspective, it kind of makes sense that they would choose white to represent that purity we just mentioned.
When it comes to the ice chest itself, we really love the amount of thought and engineering they invested in the foam. The foam on the inside is up to 3 inches thick. That means you're getting some pretty good insulation with this cooler.
The lid is also pretty strong, with a strong rubber gasket and some strong rubber latches to hold everything together. This is the kind of rubber latch that doesn't get stuck once you secure it but can easily be pulled open.
However, it still secures your cooler firmly so that it won't fly open when you're, say, driving on particularly bumpy terrain and the cooler gets shaken up in the back of the car.
So you've got your cooler set and full of your favorite food and drinks and now you want to haul it over to your vehicle so you can start your journey into the wild. But wait, those plastic handles in the side look pretty uncomfortable. Not only that but they also look rather fragile.
What if the cooler is too heavy and the handles break? What then? Well, you don't have to worry about that with the Cascade Mountain cooler. It has some pretty strong nylon rope handles on the side that you can use to easily carry your cooler. There is a rope handle on either side so you can enjoy the ergonomic advantage of carrying the cooler by the sides, rather than over the top.
At the bottom, we have a drain plug for draining out your water. It comes with a latch so you don't have to worry about losing the plug as soon as you take it out.
On the corners of the lid are some bottle openers you can use to pop open your bottles of beer.
If you buy the larger 80-quart cooler, you also get to enjoy two cup holders on the outside, attached to the corners of the lid and a basket for the kind of stuff you want to keep dry on the inside of the cooler.
---
No products found.
Photos: cascademountaintech.com
Cascade Mountain Tech Super Cooler Features
Extremely tough rotomolded construction

Certified Bear-Resistant

Extra thick insulated walls – up to 3″ of foam

Heavy Duty Rubber Latches

Durable Rope Handles

Non-Slip Feet

2X Built-in Bottle Openers

Cup holder and basket included!

---
Ice Retention
The company announces the ice retention at 7 days. Now, that's a major claim to make and so we decided to investigate it. We put in our drinks and filled the cooler (the larger 80-quart version) with ice using 1:2 contents to ice ratio.
True to the claim, the ice was still there and our drinks were still chilly a full week later. We figured the ice could probably survive an extra day or two. A good cooler with good ice retention. What more can you ask for?
Now, keep in mind that for how long the cooler is able to keep ice depends on multiple factors. First of all, the larger cooler will likely keep the ice for longer period of time so in this case, the 45-quart version may not keep the ice for as long as the 80-quart one we've tested.
On top of that, they're other factors impacting ice retention, such as the outside temperature, how many times you open the cooler during a day, whether you keep the ice chest in a shade, what types of ice do you use and how much of it is in the cooler (vs. the contents), and more.
For example, throwing in a few cooler ice-packs, or a large block of ice (in addition to regular cube ice), should increase ice retention times quite noticeably. It's also more effective to pack the content (drink, foods) that has already been pre-chilled so that. You get the point.
To wrap-up this part, we think the Cascade Mountain Tech's ice chest is performing really well, especially for a cooler at this price-point.
Actually, it's a quite serious contender to the best coolers, including top names like the YETI Tundra or Cordova, due to the thickness of the insulation inside the walls and the lid. This, combined with the single-piece construction makes the claim of 7 or more days of ice retention totally possible.
---
The Cascade Mountain Tech Super Cooler video to watch now!

---
Cascade Mountain Tech Super Cooler vs Yeti Tundra
So now we get to our favorite part: comparing the incumbent to the industry leader. Here's the comparison of Cascade Mountain Tech cooler vs. YETI Tundra.
What can be said about these two is that the competition is pretty close in terms of performance. The ice retention is comparable and so is the build and construction. Both coolers are bear-certified, both have a sturdy, one-piece rotomolded design and both are superbly insulated.
When it comes to the aesthetics, we love the fact that Cascade Mountain Tech's cooler looks….different. You see, we've seen so many YETI knock-offs that often look like an exact copy of YETI, that we've learned to appreciate any attempt to differentiate from the market leader. The Cascade is a rare example of a cooler that looks great, but different. We like this a lot.
When you compare the Cascade cooler vs. YETI visually, you'll immediately spot the differences: the Cascade looks rough, more heavy-duty, while YETI looks slicker and lighter. Again, this is just an aesthetics, as both coolers are equally strong and nearly indestructible, but we really like the more sturdy look of the Cascade cooler.
The Yeti beats the Cascade, though, when it comes to variety in terms of available colors and sizes, as well as customizability. But really it ends there. The Cascade is as good as any Yeti when it comes to performance.
OK wait, it doesn't end there. There's one more aspect, and perhaps the key one: the price. The Cascade costs a fraction of the YETI.
Last time we've checked, the 45-quart version of the Cascade Mountain Tech cooler was about $189 while the same size YETI Tundra was selling for $299 (you can check the current prices here and here, for the Cascade and YETI Tundra respectively).
That's over one-third less. A huge difference, true, but is it surprising? Not really. YETI is a premium brand, an object of desire by many out there, and that shiny badge comes with a steep price tag. They've earned their status throughout the years and a lot of people are happy to pay more for their products.
However, from a pure value for the money perspective, the Cascade clearly outperforms YETI here. It's nearly as good for less than 2/3 of the YETI price.
The Verdict: Both Cascade Mountain Tech and YETI are excellent coolers and while YETI is an industry leader, field-tested and proven by so many people, you really won't be disappointed with the Cascade either. While YETI is an unquestionably great cooler, we feel it's the Cascade that gives you more bang for your buck.
---
Best Alternatives To Cascade Mountain Tech Coolers
We've compared Cascade to YETI, but what about other brands? As it turns out, there are other coolers like Cascade Mountain Tech that are worth checking out. Here are the top alternatives:
---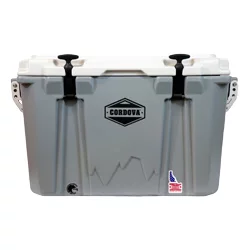 Cordova Coolers
We've mentioned Cordova in this article not without a reason. First of all, these are awesome coolers that boast some pretty unique features, such as the all-metal handles, increased lid tray height, or the top-loader latches, just to name a few.
They also come in 4 different sizes and multiple colors, contrary to just 2 in the case of Cascade coolers, and are also IGBC-certified as bear-resistant.
But perhaps more importantly, unlike Cascade Mountain Tech coolers, those made by Cordova are 100% manufactured in the US, in Idaho to be precise.
Now, you'd probably expect that the US-made Cordovas must be significantly more expensive than the Cascades, but the fun fact is that they're not!
As of this article writing, Cordova has been very aggressive with their pricing, and it's actually possible to buy them very cheaply.
To give you an example: last time we checked, the 45-quart Cascade Mountain Tech cooler was priced at $189.99 at Amazon (check current price). The similar-sized Cordova, the 48-quart Adventurer cooler, was $209.99 in Cordova's store. That's $4.22 per quart vs $4.37, for the Cascade and Cordova respectively.
BUT, when you apply the coupon code that gives 10% off the Cordova cooler price ("save10now"), the price changes from $209.99 to $188.99 – and that's actually lower than the Cascade cooler, plus you get 3 more quarts of space! Not a bad deal, right?
---
RTIC Coolers
RTIC is a well-known brand, a famous YETI competitor that has been responsible for a lot of YETI's lost sales. RTIC have always been aggressive not only with their bold marketing claims ("half the price, holds more ice" and so on), but also with the pricing.
RTIC coolers are priced very similarly to those made by the Cascade Mountain Tech. The 45-quart RTIC is priced at $199.99 in RTIC's store, just $10 more than the Cascade cooler.
What do you get in return? Well, without any doubt RTIC coolers have been field-tested. They sold zillions of them over the years and we've seen these coolers go through at least few design iterations. Long story short, they're a safe bet.
If you've read our RTIC vs YETI comparison before, then you already know that RTIC is almost an exact copy of YETI: rotomolded, heavy-duty, same insulation material, same thickness, just the different badge, and the price.
5 different sizes are available, each comes in three different colors. Free shipping is standard when you buy RTIC cooler in their own store here.
---
Where to buy Cascade Mountain Tech Super Coolers
There are several places where you can buy this cooler but we recommend getting it from Amazon. You will enjoy loads of benefits when you make your purchase at Amazon.
For starters, you get to read real reviews by real users just like you. That will make your decisions a lot more informed. You also get to enjoy free returns if you don't like the product you've purchased and free shipping when you're a Prime member.
---
Cascade Mountain Tech Cooler Review – Rating and Summary
To wrap up this The Cascade Mountain Tech cooler review, all we can say is that the Cascade's cooler has surprised us in many aspects.
We haven't expected this one to perform so well, but it did. We didn't expect it to be high-quality when it comes to the overall build quality either, but it was well-made.
At this price-point, we'd say it is one of the better coolers on the market right now, and definitely one worth considering.
Cascade Mountain Tech Cooler Rating
Ice Retention

Quality

Features

Price
Summary
The Cascade Mountain Tech may be the new kid on the block but this kid has come with a bang. It looks great, feels solid and with its thick insulation, it performs on par with the best coolers out there. If they only had more sizes and colors available!
---
Last update on 2023-06-01 / Affiliate links / Images from Amazon Product Advertising API
Disclaimers
All product names, logos, and brands are property of their respective owners. All company, product and service names used in this website are for identification purposes only. Use of these names, logos, and brands does not imply endorsement.
It is our policy to make every effort to respect the copyrights of outside parties. If you believe that your copyright has been misused, please provide us with a message stating your position and we will endeavor to correct any misuse immediately.
Some of the links in this post are affiliate links. As an Amazon Associate, we earn from qualifying purchases. This means if you click on the link and purchase the item, we may receive an affiliate commission, at no extra cost to you. This helps us keep this website alive. Learn more here.