Affiliate Disclosure: Some of the links in this post may be affiliate links. As an Amazon Associate, we earn from qualifying purchases. Learn more here.
---
Welcome to our Pelican vs YETI coolers comparison.
Coolers are great. They can keep beverages chilled for a party, allow you to keep your contents cold while camping or hunting or can act as a temporary refrigerator should you find yourself in an emergency situation. So how do you choose?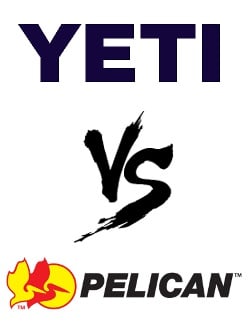 Well, the run of the mill variety that you'll find at any drug store may be good, but for how long is the question. Not necessarily on how long it will last, but rather how long it can keep contents frozen or even cold.
Unfortunately, the answer to this question is usually a day or two at most. So where do you turn? To the Pelican or Yeti, that's where.
And since we know that many of you will ask the "but which one is better?" question, we've sat down and written down this Pelican vs Yeti coolers comparison – and we hope it will give you some good hints on which one to choose.
---
Pelican Vs Yeti: What They Can Offer
Regardless of whether you decide to go with a Pelican or a Yeti, what you'll find in both is the quality you need and names you can depend on. In our Yeti vs Pelican cooler battle, let's take a look at the Pelican first.
---
Pelican Elite Coolers
If a variety of sizes are what you require, then it's a variety of sizes you will find. Here are all of the sizes you can get with a Pelican:
Pelican boasts the ability to keep ice for up to 10 days and with the thickest insulation in the cooler industry, it would be hard to argue with. Locking latches to keep contents in and cold, and wide wheels to navigate a variety of terrains and a lifetime warranty make this an attractive offer to the individual looking for their next cooler.
Pelican has positioned itself as one of the best on the market when it comes to tough, durable, and reliable coolers that can hold ice and contents cold for long periods of time.
For more information check out our Pelican Coolers Review. You may also want to check out Pelican coolers in their store.
---
Yeti Coolers
You have no doubt come across Yeti coolers. It's like searching on any other product and having the top name brands come up over and over again. There's a reason for that. They are a name that many have come to trust, and they are just downright one of the best when it comes to coolers – Plain and simple.
Yeti coolers not only come in a variety of sizes, but they come in a variety of styles as well. You will find styles that suit large scale needs, as well as individual needs such as a soft-sided cooler that's as durable as you'll find on the market. For your convenience, we've listed all current models here:
Throw in things such as your favorite college mascot and design on them and you will find the one and only cooler you may ever want and need, and we haven't even mentioned the ice retention times or other features.
If you're interested in Yeti coolers, make sure to read our comprehensive YETI Hard coolers review. If you already decided it's a worthy purchase, then make sure you check the latest YETI prices here.
---
Yeti Vs Pelican: Which One Should You Choose?
With so many great features to choose from, you really can't go wrong with choosing either one. What it will really come down to is your own personal preference. So in order to help you choose best, let's look at some of the major areas you might want to focus on.
Design
In terms of Yeti vs Pelican design, both of these coolers are top of the line and are engineered to provide only the best quality product.
The Yeti Tundra series is fashioned through high end rotomolded construction, boasts between 2 to 3-inch permafrost insulation, a no-sweat design so the outer core of the cooler stays dry, and a vortex draining system so enormous pounds of melted ice can drain easily.
You will also find double haul handles, which are made from military-grade polyester rope.
The Pelican Elite coolers also are made through rotomolded construction, but only above 70 quarts. Smaller coolers, up to 50 quarts are injection-molded, which makes them not as durable as the rotomolded ones, but instead much lightweight and in result also more portable. As for the wheeled ones, all sizes have roto-molded construction.
The presence of those new, lightweight injection-molded coolers in Pelican's lineup is something that sets them apart from YETI, which makes all of their hard-sided coolers in rotomolded technology.
As for the other features, all Pelican ice chests hold a freezer-grade gasket to seal in the cold, rugged outer body, stainless steel hardware, and press & pull latches. While the Yeti has rope handles, you'll find molded-in lift bar handles on the Pelicans.
The design on both of these coolers is built to last with tough outer bodies to withstand the lifting, transporting, bumps, and bruises along the way.
Warranty
If you plan on putting your cooler through some seriously tough weather conditions, then this is where you may find a bit of difference. While the Yeti Tundra coolers are built for a fight (two grizzly bears and a 500-pound gentleman couldn't break it), they also offer a five-year warranty.
The Pelican line of coolers takes this a step further and gives you a lifetime warranty on their cooler. If you are looking into putting your cooler through its paces and then some, then you may want to take the different warranties into consideration.
Ice Retention
This is really the granddaddy Pelican coolers vs Yeti test of them all. According to the manufacturer, the Yeti Tundra series can hold ice for a maximum amount of time. While statements from the manufacturer can report an estimated ice retention time, what people really want to hear is what users have reported.
One user reported the cooler still having ice after a four-day canoe trip. Another user reported having still having ice after a three-day trip. And yet another user stated that ice retention of around four days can be had.
The Pelican states a little longer ice retention time. The manufacturer states that ice retention times can be had for up to 10 days. As mentioned with the Yeti Tundra, let's have a closer look at what real-world users had to say about this.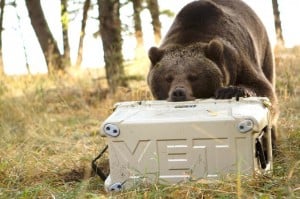 One user reported using the cooler on a three-day trip, then putting the cooler in the garage for five more days, and still finding ice in it for a total of eight days. This comes pretty close to the 10-day claim.
Another user mentioned going in and out of the cooler and getting seven days of ice retention time, while yet another user mentioned getting ice retention times on average from six to ten days.
Last but not least – Yeti and Pelican are both certified bear-proof coolers and there have been numerous tests performed with some pretty angry bears who really did everything they could to crush the ice chests. Needless to say, coolers won the battle.
Conclusion? Both Pelican and Yeti will be excellent choices for camping in the wild.
---
Pelican vs Yeti coolers: Wrap Up & Bottom Line
Again, choosing the best cooler will come down to personal preference when it comes time for you to decide. Take into consideration things such as price, design, warranty, and ice retention times as you take a closer look at the Yeti vs Pelican.
There really isn't much difference between Pelican coolers vs Yeti coolers, though you can find a longer warranty with one as opposed to the other. You might also prefer one product's handles over the other. And also may want one with longer ice retention times as per user's reports.
At this point, it really comes down to your own needs, preferences, and wants when it comes to choosing Pelican vs Yeti coolers.
One thing is for sure though, you really can't go wrong with these top of the line coolers.
---
Pelican vs. Yeti – Vote Now!
Now it's time for you to take it in your hands and vote! It's a heated debate and we need your help to find the winner of this battle. Simply choose one brand and find out what others went for.
---
Here's the latest Pelican ad – made for people who are serious about outdoor activities.
https://www.youtube.com/watch?v=fxInYbZ27PU