Affiliate Disclosure: Some of the links in this post may be affiliate links. As an Amazon Associate, we earn from qualifying purchases. Learn more here.
---
We're about to talk about the YETI soft coolers, but let's take a moment to revere this giant. Every time we do a coolers review here on bestcooler.reviews, on virtually any kind of cooler (perhaps excluding electric coolers), we have to include a section where we compare that cooler brand to the industry standard: Yeti.
We talk about how its ice retention, design, features, and even price are compared to what has come to be the most famous cooler in the country.
Quick Menu
Yeti is such an icon that we sometimes like to take it for granted. We all know of it as this premium cooler brand that we all aspire to afford and that no other cooler brand will ever be a complete replacement of.
We know we all secretly want a Yeti, and that if we had the money that's what we would buy. But, when our budgets do not allow it, we will look for something that's just as good or nearly so.
We will say that we're trying to be unique when we buy something with a slightly different design, and yet we might find ourselves gravitating toward cooler designs that vaguely remind of us of Yeti. We even consciously or unconsciously look for features that we would find in a Yeti.
What we rarely stop to think about, is how this giant of industry started out. Yeti has become synonymous with the cooler industry, and the Yeti logo has become so famous, that one would be forgiven for thinking this brand has been around since the dawn of cooler history. However, believe it or not, Yeti is neither the oldest cooler brand or even an old cooler brand for that matter. It is only 12 years old and yet has managed to make waves in that period of time.
It all started in 2006 when two brothers decided to found a cooler company that would build the cooler they would "use every day if it existed". It was such a simple premise and yet it drove and still drives the innovation and design of Yeti coolers until today.
Yeti products have always been driven by the firsthand experience of the team leading the design and what is necessary based on the needs of the customer. It has rarely been led by large-scale data analysis and research. The coolers therefore always end up being perfect for the situations for which they are built.
Another major strength of Yeti is its wide network of ambassadors. The brand builds strong ties with influencers in the different niches that use coolers, from anglers to mountain climbers to hunters to plain old Joes who love a good tailgater.
These men and women drive the sales of the brand's products in their own influencer communities and give the brand exposure in places it would otherwise only have dreamed of being able to penetrate.
So successful has been the ambassador method of marketing that other brands have scrambled to it and are now using the same model to market their own products.
This tendency to pioneer different things and remain an industry leader by leaping from one innovation to the next while the rest of the market struggles to keep up is part of Yeti's success and keeps it as cool and vibrant today as it was when it started out. In just 12 years, we have seen the rise of a cooler empire that isn't likely to fall any time soon.
And so today we're going to look at part of the Yeti line-up: the Yeti Hopper line of soft-sided coolers. As hard as they are to beat, Yeti does have a soft side.
---
Yeti Soft Sided Coolers: The Hopper Family Review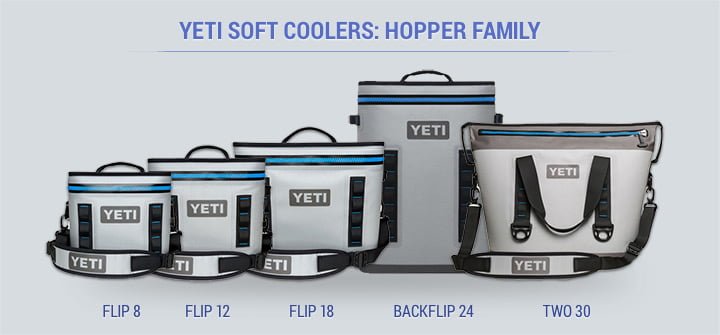 Technology and Features
They might be called soft coolers, but these creatures are anything but soft. They have been built with some of the toughest material, can withstand the toughest conditions, and are guaranteed to make the toughest load seem like nothing more than a small haul with their ergonomic design.
The Yeti Hopper line of soft coolers has a few features that are common to all of the cooler in the lineup. These are what define them and make them such a great product to have in your collection.
---
Let's start with the color and design: the distinct colors of the Yeti Hopper are Fog Gray/Tahoe Blue and Field Tan/Blaze Orange. These colors aren't just unique to the soft cooler but permeate all of Yeti's designs.
On the one hand, you might feel a little disappointed that you don't get more variation in terms of color when it comes to Yeti's products. On the other, however, this is consistent with Yeti's brand identity and makes their products instantly recognizable from just about anywhere. If you say that color scheme from a mile away, you would know you were looking at a Yeti.
Another advantage of this singular color scheme is that simplicity makes Yeti products extremely easy to customize. You can add your own stickers, decals, and what have you's on top of the basic but sleek appearance of a Yeti product and make it truly your own.
What Yeti have built here is a classy canvas on which you can draw your own art. The distinct logo in the middle; that gray but bold 'YETI', reminds everyone that you're practically carrying the iPhone of the cooler world.
---
Another feature that is common to all of the Yeti Hopper models is the wide mouth opening. As soon as you unzip the soft cooler, all the contents inside are accessible. You can see what it is you're looking for and go for it immediately; you don't have to blindly rummage in your bag to find what you're looking for.
This is a common disadvantage with many soft coolers. You get a really good cooler that feels like a vault when you're out there trying to use it. It's big, sure, so it can carry most of your stuff, but then the opening is so small that you can't see or access most of your stuff easily.
A cooler shouldn't be hard work. It shouldn't take you more than a couple of seconds at most to pull stuff out of your cooler. Yeti's wide mouth opening makes sure everything is within reach so you hardly have to think about it.

---
The exterior on the Yeti is made of the same material you find on white water rafts and other tough exteriors. They call it
DryHide Shell technology
; we call it rugged and indestructible; they're different ways of looking at the same thing.
This material certainly looks dainty and soft from a distance, but don't be fooled. What you have here is an exterior that will last for many years and keep your cooler waterproof, puncture proof, UV ray resistant, and even mildew proof. The material is also safe for foodstuffs as per its FDA approval, meaning you don't have to worry about letting it come into contact with your food. It's also extremely easy to clean.
---
On the inside, you have some of the
best-closed cell foam insulation
in the market, with some great cold holding properties that ensure for extended ice retention. Yeti have trademarked their particular brand of closed cell insulation and named it
ColdCell Insulation
. For the most part,it's what you get in
other soft coolers
, only a notch higher.
---
And then we have that light blue strip that brings a dash of color to the parade: the zipper. The zipper on the Yeti is extremely tough and both waterproof and leak proof. It's one of the toughest around and needs more than a bit of force to pull open. However, you can sleep easy knowing it won't let any moisture in or out of your soft cooler.

---
The characteristic hitch point grid on the Yeti makes it extremely versatile in that you will be able to attach just about anything, including the MOLLE bottle opener and the MOLLE Zinger that are sold separately by Yeti. It's a great convenience that makes it possible for you to make your Yeti Hopper a lot more versatile.

Bonus point for kayakers: if the kayaking trip gets extra gnarly, the Yeti Hopper floats!
---
Ice Retention
Ice retention has always been a strong point for Yeti, with their products being known for holding ice for extended periods of time. When it comes to soft coolers, the expected standard is something that keeps your items cool for at least a day.
There isn't any official data from Yeti about how long their Yeti Hopper is supposed to retain ice, but we did do some independent tests. We found, provided you didn't open the bag too often and don't expose it to sun directly too often, it could retain ice for up to 3 days.
It definitely went well over a day with the ice retention, which makes it perfect for day travelers, hikers, kaykers and people carrying their lunch to work. That may not be the best ice retention in the industry, but it's pretty respectable and still puts Yeti up there with the best of them.
---
What We Like and What We Don't
We definitely love the tough exterior and how the whole design, coupled with the tough zipper, is waterproof and leak proof. This is a soft cooler you can take into the wettest and toughest of environments and fully trust to do its job without a hitch.
While we did mention that the basic color scheme lends itself well to customization, we're not really fawning over it; we just like to be nice!
When it comes to color variations there are lots of brands out there that go all out and give you some great options, including camo. We don't want to Let Yeti off the hook for that one.
We also don't like the price (surprise surprise!). Yeti's bags are premium, granted, but the price tag sometimes feels a little unjustified. You're definitely going to have the urge to find something cheaper with the same features, even if the money isn't really a problem for you.
---
Who is this Product for?
This product is perfect for you if you're an outdoorsy person that rarely spends more than a day outside. Whatever you do, whether fishing, hiking, hunting, kayaking, or just plain picnicking; the Yeti Hopper is right for you. It will also work if you want a lunch box to go to work with.
---
Yeti Hopper Coolers Line-Up
There are 5 different Yeti Hopper soft coolers, in order of size: the Hopper Flip 8, The Hopper Flip 12 Personal Cooler, the Hopper Flip 18, the Hopper Backflip 24 Backpack Cooler, and the Hopper Two 30.
---
Yeti Hopper Flip 8
This is the smallest Yeti soft cooler with a capacity of 8 cans of beer and 10 pounds of ice. It's practically a lunch box and is meant for the lightest of duties.
Get Yeti Hopper Flip 8 Soft Cooler at Amazon
---
Yeti Hopper Flip 12 Personal Cooler
This is the medium Hopper and is some where between a simple lunch box and something a little more. You can use it to carry your lunch or go kayaking, or fishing, and so on. It's the most popular selling Yeti Hopper and for good reason; it's neither too large nor too small. It has a capacity of 13 cans of beer and 16 pounds of ice.
Get Hopper Flip 12 Personal Soft Cooler at Amazon
---
Yeti Hopper Flip 18
This is a larger Hopper with more versatility. If your expedition is going to take you through both lunch and dinner, then the Hopper Flip 18 should be able to handle that for you plus some drinks to boot. It has a capacity of 20 cans of beer and 24 pounds of ice.
Get Hopper Flip 18 Soft Cooler at Amazon
---
Yeti Hopper Backflip 24 Cooler
The special thing about this Hopper sot cooler is that it comes with backpack straps so you can carry it like a conventional backpack and chest and shoulder straps for extra comfort. It has a capacity of 20 cans of beer and 25 pounds of ice. It's probably the most comfortable Yeti soft cooler.
Get Hopper Flip 24 Backpack Cooler at Amazon
---
Yeti Hopper Two 30
This Hopper has the largest capacity at 23 cans of beer and 28 pounds of ice. It is heavy duty and will serve you through the longest expeditions in the toughest of environments with space for your own food and drinks and those of a friend too.
Get Hopper Two 30 Soft Cooler at Amazon
---
Yeti Hopper Competition – Our TOP 3 Picks
There are plenty of other soft coolers like Yeti Hopper available on the market. Some of them look nearly identical, some others try to bring something new to the table. Here are the 3 contenders that we think have become a serious competition to Yeti soft-sided cooler bags.
Orca Soft Coolers
The Orca line of soft coolers with their familiar barrel shape area strong competitor to the Yeti Hopper line up. They all come with the backpack design, have more color variety, and certainly look a little different. Yeti beats them on size variety, however, since these coolers offer only two available sizes. They're also cheaper, and that's a huge plus here.
Get Orca Soft Cooler at Amazon
---
Pelican Soft Coolers
Pelican soft coolers come from a much older brand than Yeti; one that's been around since 1976. Does that mean they're better? Well, they're shaped like hard coolers, come in 3 sizes and just one color. I wouldn't say that's much in the way of competition. As far as design is concerned, the Yeti is far superior. They do, however, offer a 3-year warranty, which is something you won't find with the Yeti.
Get Pelican Soft Cooler at Amazon
---
---
Polar Bear Cooler
We have reviewed Polar Bear coolers before and we absolutely loved them! They match the Yeti Hopper in terms of size variety, beat it in terms of color variety, and the best of them have ice retention for more than 3 days! They even have camo color designs so we are absolutely in love. If we were to recommend a worthy competitor to the Yeti Hopper, this would be it.
Get Polar Bear Cooler at Amazon
---
Where to Buy Yeti Soft Sided Coolers?
You can buy Yeti products directly off of their website, of course. However, there are also other places you could do that, some of them giving you added benefits. We recommend making your purchase at Amazon. YETI has a new, dedicated section at Amazon that we'd recommend checking out.
The benefits of buying at Amazon are simply too good to pass up. You get real user reviews, one-day shipping, free shipping in some circumstances, and free returns if you don't like the product. You also have buyer protection, meaning you get your money back if the product isn't as advertised by the seller.
---
Yeti Hopper Soft Coolers Review – The Bottom Line
And that concludes our Yeti soft cooler review. As you can see, Yeti isn't just great, they're legendary. Here is yet another one of their products that leaves you awed. If you haven't yet thought of getting yourself a Yeti, consider getting one soon. See you on the Yeti side of life!
>> Check out All Yeti soft coolers at Amazon
---
YETI Hopper Flip 12: The Portable Cooler That's Anything But Soft
---
Last update on 2023-04-01 / Affiliate links / Images from Amazon Product Advertising API
Disclaimers
All product names, logos, and brands are property of their respective owners. All company, product and service names used in this website are for identification purposes only. Use of these names, logos, and brands does not imply endorsement.
It is our policy to make every effort to respect the copyrights of outside parties. If you believe that your copyright has been misused, please provide us with a message stating your position and we will endeavor to correct any misuse immediately.
Some of the links in this post are affiliate links. As an Amazon Associate, we earn from qualifying purchases. This means if you click on the link and purchase the item, we may receive an affiliate commission, at no extra cost to you. This helps us keep this website alive. Learn more here.