Affiliate Disclosure: Some of the links in this post may be affiliate links. As an Amazon Associate, we earn from qualifying purchases. Learn more here.
---
Medium coolers are arguably the most popular cooler style out there due to their versatility, and there is a vast array of options available on the market. While this variety can satisfy pretty much any needs, it can be very challenging to choose the best medium cooler, especially if you don't know what to consider.
Today, we want to help you find the right medium size ice chest for your needs. To this end, we'll talk about what makes a great medium size cooler, as well as will introduce you to 6 excellent cooler options.
---
Best Medium Cooler – Our Top Picks
Let's kick-off our medium size cooler reviews by comparing our top picks' key features in this brief but to-the-point comparison table:
editors-choice

Editor's Choice

to-middle

No products found.

item-title
Yeti Tundra 45
Cordova Adventurer
RovR RollR 45 Wheeled
Igloo BMX 52 QT
RTIC 45
Frosted Frog 45QT
to-top
Made in
PH & USA
Made in
USA
Made in
USA
Made in
USA
Made in
China
Made in
China
to-top
Capacity (real qt)
38
Capacity (real qt)
48
Capacity (real qt)
45
Capacity (real qt)
52
Capacity (real qt)
45
Capacity (real qt)
45
to-top
Ice Retention
7-8 days*
Ice Retention
Up to 5 days**
Ice Retention
7-8 days**
Ice Retention
3-4 Days*
Ice Retention
7-8 days*
Ice Retention
5-6 days*
to-top
Insulation
3" PermaFrost
Insulation
Eco Foam
Insulation
High Density Foam
Insulation
Extra-thick Foam Walls
Insulation
3" Walls
Insulation
3″ High Density PU Foam
to-top
Features:
• Roto-molded
• T-Rex™ Lid Latches
• Coldlock™ Gasket
• Neverfail™ Hinge System
• Vortex™ Drain System
Features:
• Roto-molded
• Quad-core rubber gasket
• CNC Machined Handles with Bottle Openers
• Built-in Raised Tray
• Top Mount Lid Latches
Features:
• Roto-molded
• 9" All-Terrain Puncture-Resistant Tires
• Dry Storage Bin
• Telescopic Handle
Features:
• Blow-molded
• Cool Riser Technology®
• Rubberized T-latches
• Skid pads
• Diamond plate metal inserts
• Fish ruler
Features:
• Roto-molded
• Integrated Locking System
• Rapid V-Drain System
• Traction Lid
• Bear Resistant
• Cool-Lift Design
Features:
• Roto-molded
• Molded Tie Down Slots with Lock Plates
• Pressure Release Valve
• 2 Built In Bottle Openers
• Nylon Rope Handles
td-btn-amz
Check Price
in YETI store
Check Price
in Cordova Store
Check Price
in ROVR store
Check Price
in IGLOO Store
Check Price
in RTIC Store
Check Price
at Amazon
* According to our test results.
** According to the manufacturer's data.
---
What Exactly Is A Medium Cooler – Our Methodology And Categorization
Now, let's discuss what exactly is a medium cooler. As it turns out, it's not so obvious for many people out there.
Medium Size Cooler Definition
Strictly speaking, there is no such thing as a medium cooler – every manufacturer has its own size ranges.
For the purpose of our cooler reviews, we have to categorize and compare coolers in some way. With that, we consider coolers in the 35-65-quart size range as medium coolers.
We define a medium size cooler as the one in 35-65 quart size range.
With our 35-65-quart price range, we can narrow coolers down and have fewer options to work with. But even in the "medium" cooler category, there are many, maybe even too many coolers to choose from. It's really hard to decide for buyers what would be the best medium cooler.
Best Medium Size Coolers – How We Chose Them
Well, with our top picks, you should be pretty safe. We prefer to feature coolers with excellent craftsmanship and versatile features that are likely to meet our reader's needs.
Not only that, but we like to go with brands that have earned a good reputation thanks to consistent quality and good customer support. Unlike many other reviewers, we don't recommend subpar products, even if they have a lot of "stars" on Amazon or in other stores.
We know coolers well and have seen seemingly premium products perform poorly in the long run. With our experience in mind, we want to be more in-depth in our picks and only recommend what is very likely to work for you.
Our top isn't only limited to pricey high-end coolers in this category. We know that not everyone has the budget or the needs for an expensive cooler.
Therefore, to diversify our top and hopefully meet the needs of our many readers, we will also feature a few excellent budget models.
---
So What Makes The Best Mid-Sized Cooler?
Medium coolers share many features with other cooler sizes – insulation, latches, durability, or whatnot. These are must-haves to consider when shopping for an any-size cooler.
However, there also are features that are important specifically for medium coolers due to their intended use. In our opinion, a good medium ice chest:
Must be easy to carry… because it will likely be used often. This means that your cooler should ideally be not too big. And if you have to go big, then you may want to consider a wheeled one.

Must be versatile… and have features like cup holders, bottle openers, baskets, fish rulers, and others to help you stay organized and carry essentials for your activity.
Should be made durably… because it will probably be used year-round. Among things to look for durability-wise is resistance to scratches, leaks, dirt, and protection from heat and UV rays. Of course, rotomolded construction is a desirable feature here, since it makes coolers extremely rugged.
---
Best Mid Size Cooler – Reviews of Our Top 3 Picks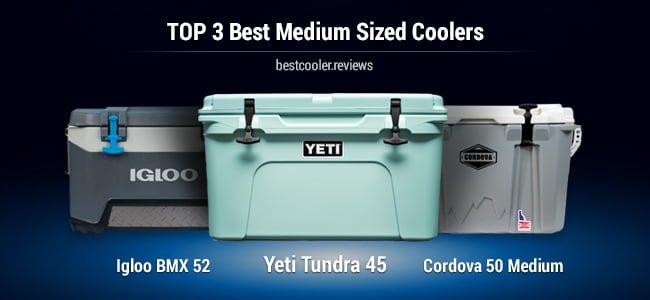 ---
Yeti Tundra 45 Cooler
YETI is the Apple of the cooler industry – their coolers certainly aren't pocket-friendly, but they boast some features and benefits that you will not find anywhere else.
With that in mind, if you are ready to pay for top-notch durability and quality, then look no further than YETI Tundra 45.
The highlights of Tundra 45 are its nearly 3-inch PermaFrost polyurethane insulation, freezer-grade gasket, and interlocking lid designed to keep your food and beverages cold.
YETI doesn't specify for how many days this thing can store ice but expect it to be around the 7-10 day mark (depends on the outside conditions and many other factors).
In fact, when we've been testing a bit larger Tundra Haul, which by the way is an excellent wheeled cooler, we were able to enjoy ice after a week (our full review here). We used a mix of cube ice and block ice and had about 70% of the latter left on DAY 7.
This alone should tell you, that Tundra is capable of keeping ice for a week (or longer), especially if you use at least some of our tips for maximizing ice retention.
Continuing, YETI boasts about the heavy-duty rotomolded construction of the Tundra 45 cooler, which makes the cooler "armored to the core", "virtually indestructible", and resistant to UV rays.
Remarkably, the thick walls of the Tundra (suitably called FatWall) are IGBC-certified to be bear-resistant. The latches are also constructed of durable rubber to ensure a tight seal and no heat leaks, while the military-grade handle ropes should never wear down.
We also like that this cooler is available in 9 colors.

The "brand factor" is strong with YETI as well – as a reputable brand, its products are trusted and have been field-tested by thousands of users. Not only that, but Tundra coolers have been on the market for years and have seen many iterations – each better than the previous.
But of course, nothing is perfect. The steep price of Tundra 45 is the first downside to catch the eye. This cooler's benefits are nice, but not everybody will be able to afford them.
Next, despite what the product name suggests, the actual capacity of this cooler is around 38 quarts. This isn't a huge problem because YETI doesn't claim anywhere that Tundra 45 is indeed sized at 45 quarts. But this is still important to know because the naming is likely to confuse and mislead many buyers.
Some of the YETI coolers are made overseas as well, which will be a downside for those who prefer US-made products or want to support the US economy.
But this isn't a problem quality-wise. In fact, there is a way to order the Tundra that's made in the US. To learn how, refer to our post about the USA made coolers.
---
Why we like YETI Tundra 45
YETI Tundra 45 offers top-notch craftsmanship and premium features to keep your beverages and food safe & cool. We feel that Tundra 45 is going to be an excellent option for those who travel or camp very often throughout the year. And yes, it just feels good to own a YETI cooler.
---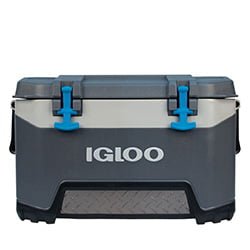 Igloo BMX 52-Quart Cooler
Igloo is also a trusted brand, but it's not considered as premium as YETI. Igloo still produces good coolers though, so if you want high quality at a reasonable cost, there are some options to consider.
This brand makes its coolers in the US as well, which will be a big advantage for some people.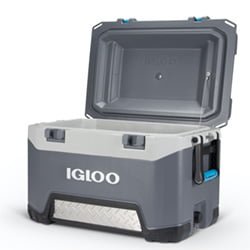 We chose to feature the inexpensive Igloo BMX 52 cooler for variety. It is a nice option if you have a limited budget or need a medium ice chest for occasional use.
Priced 3 times cheaper than YETI Tundra 45, BMX 52 probably won't be nearly as heavy-duty.
With that said, BMX 52 is much larger than Tundra 45. With 52 quarts of space, this cooler is a better option if you are intending to carry more food items with you.
Although BMX 52 could be bought for camping or partying, it may be a particularly good choice for fishing thanks to its integrated fish ruler. Anglers probably have their own means to measure fish, but BMX 52 may make this just a little bit easier for you.
We also like the design of BMX 52. Its colors and shape are more futuristic-looking, making for a frankly more visually appealing cooler than Tundra 45.
Unfortunately, however, since we've reviewed it some time ago, nothing changed in terms of available color options which means that this cooler is still only available in one color scheme.
Build-wise, Igloo BMX 52 is solid for the price. At the base of this cooler is blow-molded construction that should take quite a beating but won't be as sturdy as the rotomolded Tundra 45.
The cooler housing also is reinforced by stainless steel & diamond inserts and oversized hinges.
However, the durability of BMX 52 isn't there – this cooler isn't bear-resistant, and it also has a few questionable design choices that undermine its longevity. The biggest of such choices is the plastic handle holders – these are very loosely set in place so the handles may one day just fall out.
When it comes to insulation, BMX 52 is pretty decent but not nearly as heatproof as Tundra 45. The foam walls are advertised to keep ice cold for up to 5 days, but most people seem to be getting about 3-4 days out of this cooler. Thereby, this cooler probably isn't for week-long trips.
---
Why we like Igloo BMX 52
Igloo BMX 52 isn't as reliable as the YETI Tundra 45 cooler, and won't keep ice for a week, but it's not as pricey either. It offers very good value for the money. We feel that BMX 52 is going to be a much better choice for only occasional weekend-long trips.
---
---
---
Cordova Adventurer 50 Medium Cooler
CORDOVA's 50 medium cooler is a middle-ground option between the YETI and Igloo. And like Igloo coolers, CORDOVA coolers are 100% US-made!
The CORDOVA 50 cooler has many of the Tundra 45's benefits while being about a 1/3 cheaper than the YETI.
To start with, this medium-size cooler has a rotomolded construction, which is a major step forward comparing to the above reviewed Igloo BMX.
The unique handle construction in the CORDOVA cooler is better than in BMX 52. The handles are fixed in place by screws, as well as are durable thanks to their aluminum build.
Interestingly, the handles have integrated bottle openers – a nice feature given that coolers are often used to carry beverages.
The insulation in CORDOVA 50 is great as well. This cooler features an airtight gasket and a grommet system to keep heat out and store ice for up to 5 days.
In terms of capacity, CORDOVA 50 is again between the YETI and Igloo coolers – 48 quarts – though it's closer to the latter. Again, don't get confused by the product name – this cooler isn't 50-quart.
Notably, this ice chest boasts a few features for added convenience and safety as well. Its latches are facing up, which should allow you to open the cooler without getting it out of your car or tilting it.
The safe lid-locking system is also designed to stay open and prevent accidental closure. We talked about it in our full Cordova cooler review here.
At the top of the cooler is also a raised tray that may be used to keep your fishing tackle or beverages close-by. And last but not least for many readers, the CORDOVA 50 medium cooler is available in 7 colors.
---
Why we like Cordova 50 Medium Cooler
The CORDOVA 50 medium ice chest is an excellent ice chests that is not as outrageously expensive as YETI Tundra 45 but has many of the Tundra benefits. The Cordova brand may not be as known as the YETI, but their medium-size cooler offers a great set of features for the money.
---
3 More Medium Size Coolers – Runner-Ups
To provide you with more medium cooler options, we've decided to showcase 3 additional coolers.
These are just as good as our Top 3. In fact, in some aspects, they are even better! But whether they'll be better for your needs than our top picks is another question – read on to find out!
---
RovR 45-Quart Wheeled Cooler
This 45-quart cooler from RovR is arguably the most interesting medium size cooler on our list. However, we didn't include it in our Top 3 because we think that it is a more narrow-purpose cooler due to its features and steep price.
The first thing to catch the eye in this mid-size cooler is the integrated 9″ puncture-resistant wheels.
Although this cooler isn't much larger or heavier than other options on our roundup, the wheels will make its transportation much easier.
And if you get the optional bike attachment, you'll even be able to haul the RovR medium cooler! This is an excellent feature if you are intending to travel with the cooler.
Next, RovR includes attachments galore with this 45-quart camping cooler. More precisely, you are getting a deep freeze storage bin to keep food cold, as well as a pop-up wagon bin to help you transport gear.
For added convenience, the RovR cooler is also compatible with dual cup holders and a prepping board, but these are sold separately.
The ice retention of the RovR cooler is also remarkable – this unit is claimed to store ice for around 8 days! The durability should be no worse thanks to the rotomolded construction and the rust-resistant wheel hubs.
All this beauty costs quite a lot though – in fact, this is the priciest medium cooler on our list. However, with its US-made quality and versatility, it is worth the money if its features match your needs. Check out our full RovR review for more details.
Why we like RovR wheeled cooler
The RovR 45-quart cooler is a very unique one. Not everybody needs its benefits, but we appreciate the versatility and convenience offered by this medium ice chest – especially when it comes to transportation.

The guys behind this kick-started cooler were able to combine the best-in-class technology with much needed features, creating an ultimate mid-sized cooler you can take anywhere with you.
---
Check out all the cool features the RovR has:
---
---
RTIC 45-Quart Cooler
This 45-quart cooler from RTIC is a Tundra 45-like option for not as much money.
RTIC is also YETI's main competitor and a similarly popular and field-tested brand, so there's a lot to look forward to with it.
Feature-wise, the RTIC 45-quart cooler is similar to Tundra 45 and offers nothing new or unique. It's just another YETI-like option. For the lower price though, we can't really complain.
The RTIC cooler offers a comparable rotomolded build and marine-grade rope handles that should serve you for the years to come even with heavy use. The construction in this medium-size cooler is claimed to be bear-resistant as well, so your food and beverages (and also you) should be safe.
For insulation, the RTIC cooler has 2 to 3-inch walls that are advertised to keep ice-cold for up to 10 days. With that said, 10 days probably won't be easy to actually achieve with this size of the cooler – 10 days is likely advertised for big, 100+ quart ice chests. This one, however, will be able to store ice frozen for 5-6 days, up to a maximum of 8 days (with all possible ice retention maximization)
Notably, the lid in the RTIC cooler is slip-resistant and can be used as support for casting, which may be a handy thing to have while fishing.
One thing to keep in mind with this medium cooler is that it is made in China. This is the reason why RTIC has been able to offer pretty much the same value for about a third less money. They've sold tons of these coolers over the years, so they're field-tested (just look how many reviews they've got)
Interestingly though, for the same price you can get the before mentioned Cordova 50 which is 100% US made.
Why we like the RTIC 45qt cooler
The RTIC 45-quart cooler is a pretty reasonably-priced alternative to YETI Tundra 45. It is as dependable as Tundra 45, you are also getting pretty comparable features and it does cost 1/3rd less than the same-sized YETI.
---
Frosted Frog 45QT Cooler
Finally, on our roundup of the best mid-size coolers, we have the 45-quart cooler from Frosted Frog.
It's a relatively inexpensive option from a young brand that looks promising. Time will show how the brand will hold up, but so far, their lineup looks pretty interesting.
Despite its pocket-friendliness, the 45QT cooler features a solid-quality rotomolded build that should easily withstand the hardships of travel.
The exterior UV protection should prevent fading and material degradation, while the rubber latches will keep the cooler securely locked and insulated.
Speaking of insulation, the Frosted Frog medium cooler has familiar 2-inch (up to 3-inch) commercial-grade insulation along with a freezer-style gasket to store ice for several days.
Frosted Frog doesn't state the max ice storage duration for this cooler, but when we've been testing it as a part of our own Frosted Frog cooler review, there was still some ice left on Day 5. Not bad.
To conclude on the ice retention part, we'd say 4 to 5 days is what you can realistically expect, depending on the outside temperature, the type of ice used, and so on.
Moving forward, Frosted Frog 45QT has a pressure-release valve to make opening the cooler easier. This is a helpful feature because sealed coolers are sometimes difficult to open.
Some people will also like the 2 integrated bottle openers, which makes 45QT a good option for camping or partying.
When it comes to less techy features, there are 13 color options to choose from, which is aplenty. The color options include some pretty wild colors, like the 7 camo variations. Not everyone is going to like them, but one must admit that they do look quite unique.
Why we like the Frosted Frog 45QT
Frosted Frog 45QT offers a solid set of features for its price. Although it doesn't have anything special or unique, it's a solid, rotomolded cooler that does the job done. Sure, it isn't bear-certified, isn't made in the US but instead it's incredibly affordable. For occasional travel or backyard parties, it should be more than enough.
---
Medium Cooler – Final Words
Pretty much every brand offers medium-size coolers, so there is a lot for you to look forward to while shopping for this size.
Hopefully, our mid-size cooler reviews will be able to help you with finding the right cooler for your demands. You should be safe with any of the featured coolers, but to get the very best medium cooler for the money, make sure to understand your needs and pick a cooler accordingly.
Last update on 2022-05-20 / Affiliate links / Images from Amazon Product Advertising API
Disclaimers
All product names, logos, and brands are property of their respective owners. All company, product and service names used in this website are for identification purposes only. Use of these names, logos, and brands does not imply endorsement.
It is our policy to make every effort to respect the copyrights of outside parties. If you believe that your copyright has been misused, please provide us with a message stating your position and we will endeavor to correct any misuse immediately.
Some of the links in this post are affiliate links. As an Amazon Associate, we earn from qualifying purchases. This means if you click on the link and purchase the item, we may receive an affiliate commission, at no extra cost to you. This helps us keep this website alive. Learn more here.