Affiliate Disclosure: Some of the links in this post may be affiliate links. As an Amazon Associate, we earn from qualifying purchases. Learn more here.
---
Welcome, readers, to another review on our cooler blog. Today we're going to look at a little known cooler with a lot to offer: the CaterGator. Fasten your seatbelt as we dive into this Catergator cooler review!
Now, the CaterGator is a cooler brand, but it isn't a cooler company. It's owned by Clark Associates, which is a larger company that sells lots of different products.

A casual look through the Clark Associates home page will show you that the company offers dozens of brands, ranging from dinnerware to coolers. Each of their brands could easily spawn off a company of its own.
The CaterGator, in particular, is sold via the Webstaurant Store, a website owned by Clark Associates. It seems to be sold exclusively on the site, which comes with its own set of disadvantages.
But let's not get ahead of ourselves. We shall talk about those in the course of the article.
---
CaterGator Cooler Review
Design and Build
In the Yeti obsessed world we live in, it has become normal to see many brands that look like Yeti, differentiating themselves only a little from the iconic Yeti design. It makes the coolers market look eerie, like it's made up of a bunch of siblings that look a little too alike.
That's why it always feels like a breath of fresh air when we find a cooler that truly stands out, coming up with a unique design that sets it apart from the crowd.
CaterGator is just that type of cooler.
These coolers are pretty nice and rugged-looking, with the kind of look that makes you have confidence in its durability and strength.
As you might expect of a premium cooler, this one's rotomolded. That not only has a bearing on its durability and strength as a cooler but also gives a strong positive hint about its ice retention capabilities.
Rotational molding is a special type of cooler manufacturing technique that borrows from the way boats are manufactured. It was first used to make coolers by Yeti and is one of the things that got Yeti coolers to sell so well and get popular from the beginning.
It involves adding polyethylene powder to the plastic mold, and then heating it while rotating it constantly in order to maintain uniform thickness. The resulting ice chest is very strong with no seams, meaning it's virtually indestructible. In fact, such ice chests are the ones that end up with bear-proof and gator-proof certifications.
The design is rugged but simple, in a combination that reminds you of what a cooler is supposed to do: keep things cool. This cooler isn't trying too hard to look fancy or far out. The look is simple and functional, with a muted appearance that nevertheless manages to turn out classy.
Features…
On the front, it has a panel-like appearance, with some smooth straight lines running across the face of it. On the lid, it has rubber T-latches that keep it tightly shut. These are pretty common among premium coolers, as T-latches are very easy to open and close, while also being capable of holding the lid down tightly when it's shut.
Right in the middle of the front face of the lid, where it meets the lip of the cooler, is an indent that allows for easy opening. On the corners, there are lock holes that make it possible to lock the cooler with padlocks and prevent unauthorized access.
While there isn't an official bear-proof certificate on this cooler, the lockability probably makes it a very difficult target for bears and curious humans.
On the top of the lid, you will find a large 24-inch fish ruler engraved, so you can measure that great and impressive catch of yours with ease. Being rotomolded, this cooler is also probably strong enough to handle you sitting or standing on top of the lid to make casting easier.
.. And Ever More Features
On the sides of the lid are two cup holders, so you don't have to worry about where to put your drink tumblers or beer bottles when you're out in the outdoors. And if the cup holders aren't enough, you'll be glad to know that integrated bottle openers can also be found on the corners of the lid.
Not only do you have to scratch your head trying to figure out where to place your beer bottles, but you also don't have to carry your own bottle opener.
On the back of the lid are self-stopping hinges. If you've ever gone through the trouble of trying to make an ice chest lid stay open when you're trying to get something from the ice chest, then you know just how much of a convenience self-stopping hinges are.
With the self-stopping hinges on the CaterGator, you can open the lid through whatever angle you want and trust it to stay there without you having to hold it. That way you get to use both your hands as you pick out the contents.
The hinges are also overall pretty strong with a single aluminum rod running through them for structural strength.
Underneath the lid is an industrial-grade rubber gasket to help keep everything airtight and improve ice retention.
CaterGator Cooler

45 QT

65 QT Wheeled
---
Features
Non-skid feet
Ice retention:
up to 10 days (manufacturer's claim)
Triple insulated polyethylene construction
Built-In Cup Holders
2 bottle openers
Indentations and side handles
Rubber comfort grips
Self-Stopping Hinges
Insulation and Ice Retention
Speaking of improving ice retention, you're going to like what's inside. It's not every day you see a cooler with insulation as thick as this one. The CaterGator has a triple insulated design.
On the outside is a layer of high-density polyethylene, or HDPE. In the middle, we have a layer of polyethylene and foam, and on the inside is a layer of food-grade polyethylene, which is what finally comes into contact with the ice and your food and drinks.
With insulation like that you should expect some mad ice retention times. The company itself claims an ice retention period of 10 days on its website.
Now, to be honest, we haven't tested the ice retention on this cooler ourselves just yet. However, we have heard reports from friends and have also scoured online for reviews, and it seems most people are getting about 7-8 days max of ice retention with these coolers.
That said, keep in mind that the larger the cooler, the longer it can keep ice icy, so the smallest Catergators won't be able to achieve the same results as the larger ones.
So, while I would be conservative about the 10-day claim, I still think this cooler has some solid ice retention from what I've learned so far, which is a good thing.
Even More Features
On the outside, there are some more cool features that you will certainly appreciate. Nylon rope handles with rubber grips attached are on the side, making carrying this cooler easy enough.
The larger ones even have wheels, making things even easier. There's also a large drain near the bottom for quickly draining away the melted ice water. The drain cap has a chain tether so you don't lose it.
On the bottom are the usual anti-skid rubber feet to raise the cooler above the ground and improve insulation.
CaterGator Round Cooler
As if all of that isn't enough, CaterGator also provides a round cooler!
Now, if you're not sure what a round cooler is, we've actually reviewed one before.
Check out our Kula review to see what they are and what their advantages are. Although we haven't tested this one personally, it looks just as good as the Kula, and a lot cheaper too!
Available Sizes and Colors
This cooler comes in 4 sizes: the 20 quart, 45 quart, 65 quart, and 100 quart. The 65 and 100 quart coolers come with wheels to make it super easy to haul them around, something we deeply appreciate.
It should also be pretty interesting to note that space is 100%, even on the wheeled options. There aren't any wheel cavities to worry about that may make your beers fall over!
There are 6 available colors: Seafoam, Tan, White, Gray, Camouflage, and Beige. While this isn't so much, it's still not too bad.
---
CaterGator Ice Chest – Price and Availability
From a customer standpoint, this cooler offers insanely high value for money. We struggled to find any heavy-duty cooler that's as cheap as this one.
We also appreciate the fact that it looks different. It has its own look, which seems different than many other coolers we've reviewed – those typically look like they've come from the same factory.
It's a little unfortunate that availability seems limited mostly to the Webstaurant Store, which makes this cooler lesser-known. However, not long ago we've also spotted some of them at Amazon as well, although in limited availability.
Hopefully, after this review, that is going to change and more people will begin to appreciate this diamond in the rough.
---
CaterGator Extreme Outdoor Coolers Video Review
---
CaterGator vs Yeti
How does this cooler stack up against Yeti coolers? Well, for starters Yeti has more sizes and colors. CaterGator has only 4 sizes and up to 6 colors, which leaves it a little limited.
Both are equally rugged with high quality builds. They're high-performance coolers and the CaterGator seems capable of holding its own against the Yeti.
As far as ice retention is concerned, we've got to lean towards Yeti. Yeti is field-tested. It is well-known to last pretty long. We also don't really believe the 10-day claim, as even better-insulated coolers, such as Cordova and Blue Coolers, need to be pre-chilled to keep ice for that long.
That said, user reports about the ice retention on this cooler are overwhelmingly positive, and we don't think it lags much behind the Yeti.
Yeti definitely has more accessories, such as dividers, baskets, and the like. Spare parts for the CaterGator may also not be as widely available as on the Yeti.
The biggest smoking gun for the CaterGator is the price. Basically, this cooler is either as good as Yeti or almost as good as and yet costs less than half the price of the Yeti. It's really hard to ignore that!
This cooler is one of the cheapest rotomolded coolers we've seen so far this year. If you take a look at our post about cheap rotomolded coolers, you'll see how Catergator performed vs. other brands in the price-per-quart comparison.
CaterGator vs Yeti Cooler – The Verdict

If you're on a budget, but still want a rugged cooler that's able to keep ice for a few days, then choose the CaterGator.

If you want a proven cooler, from a known brand, then then you should probably stick to the Yeti.
---
Other Coolers like CaterGator Worth Looking At
If you're not convinced, why not do a little more research to see what other options are worth considering? Here are similar coolers:
---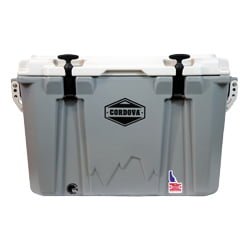 Cordova Coolers
What makes Cordova Coolers special is that they are the cheapest 100% American made coolers on the market, in terms of price per quart but also in absolute dollars – unlike Catergator, which, although very cheap, is not being manufactured in the USA.
Interestingly, despite the low price (still slightly more expensive than Catergator), Cordova coolers are amongst the best feature-packed coolers we've seen in a while. We've talked about it in our earlier Cordova cooler review.
The insulation is thick and eco-friendly, as Cordova uses a special kind of closed-cell foam that has no impact on the environment. Ice retention is awesome, and those all-metal handles (with integrated bottle openers on each handle) are simply one of a kind.
Overall, we think Cordova is a hidden gem in a world of coolers and as long as they're able to maintain the current low prices, they're going to be amongst our top picks.
---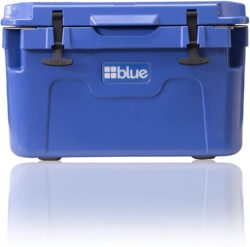 Blue Coolers
These are some pretty good rotomolded coolers. They're slightly more expensive than the CaterGator but still worth the price.
One particularly interesting fact about them is that they have thicker insulation than the YETI Tundra (and Catergator as well). Week-long ice retention isn't a problem with Blue coolers, even with the small or mid-sized ones. Their big cooler, the 110q one, can retain ice for up to 10 days.
Overall, Blue coolers are pretty awesome and as Catergator, they have an excellent price per quart ratio but as Catergator, they're not US-made (hence the lower price).
You can read our full Blue cooler review or check their coolers right here.
---
Monoprice Emperor / Pure Outdoor
Pure Outdoor coolers are produced by Monoprice Emperor. They're simple coolers for budget shoppers as well. Again, slightly more expensive than the CaterGator, but still worth the price. You can read our full review here.
---
CaterGator Cooler Review – Rating and Conclusion
And with that, we come to the end of our CaterGator cooler review. As you can see, this new cooler has earned a special place in our hearts.
It sits at that sweet spot between premium and budget, where you don't have to pay an arm and a leg for a high-performance cooler.
We're certainly looking forward to more people knowing about it!
CaterGator Extreme Outdoor Coolers Rating
Ice Retention

Quality

Features

Price
Summary
CaterGator might be a lesser-known brand in the world of coolers, but their ice chest is a really promising one. Packed with some good features, this heavy-duty cooler is the cheapest one we've seen in a long time. Even for this reason alone, the CaterGator cooler is definitely worth checking out.
Last update on 2023-09-26 / Affiliate links / Images from Amazon Product Advertising API
Disclaimers
All product names, logos, and brands are property of their respective owners. All company, product and service names used in this website are for identification purposes only. Use of these names, logos, and brands does not imply endorsement.
It is our policy to make every effort to respect the copyrights of outside parties. If you believe that your copyright has been misused, please provide us with a message stating your position and we will endeavor to correct any misuse immediately.
Some of the links in this post are affiliate links. As an Amazon Associate, we earn from qualifying purchases. This means if you click on the link and purchase the item, we may receive an affiliate commission, at no extra cost to you. This helps us keep this website alive. Learn more here.