Affiliate Disclosure: Some of the links in this post may be affiliate links. As an Amazon Associate, we earn from qualifying purchases. Learn more here.
---
A cooler with speakers…say what? Well, you read it correctly. American craftsmanship, creativity, and ingenuity has brought us some fantastic things over the years: monster trucks, corn dogs, beer helmets, and (finally), some best coolers with speakers in them. Because really, who doesn't want to blow their neighboring beach-goers away with some classic Kenny Chesney tunes?
In this review, we'll take a look at several of our favorite coolers and ice chests with built-in speakers; some of them are expensive, quality pieces with really fine sound systems. Others are fun, inexpensive little value speaker coolers that you'll get loads of fun out of without having to freeze your bank account.
In any manner, they've all got one thing in common: they hold beer, and they jam tunes. Can't go wrong with that.
Cooler with Speakers – The Best Ones Compared
editors-choice

Editor's Choice

No products found.

No products found.

No products found.

item-title
Coolest Cooler
Tunes2Go CA-E065O KoolMAX Ice Chest
GIWOX Waterproof Picnic Cooler Bag
Bellino Sound Cooler
Fydelity JAMBOX Coolio Cooler
Features
Features
Features
Features
Features
to-top
• 55 quart
• removable outdoor Bluetooth speaker
• 20-volt ice-crushing blender
• USB charger
• LED light
• bottle opener and cap-catcher
• rubberized wheels
• 40 quart
• 350 Watt, two 6.5" Hi-Fi and two 2" tweeters
• XLR microphone input
• ¼" instrument input
• 12-volt power plug
• 2 x auxiliary jack
• 2 x USB port
• SD memory card slot
• FM Radio
• bluetooth speakers (V2.1)
• headphone input jack
• charging cable
• 600D polyester
• 15.25" x 10.25" x 9"
• 8" x 11" x 12"
• up to 24 cans
• zipped speaker pocket
• 14" x 9.5" x 7"
• up to 18 cans
• 3.5mm headphone jack
• 3000 milliWATT amplifier
td-btn-amz
Check Price
at Amazon
Check Price
at Amazon
Check Price
at Amazon
Check Price
at Amazon
Check Price
at Amazon
editors-choice

Editor's Choice
Cooler Stereo and Ice Chest Radio – Our Top Picks
Coolest Cooler in Classic Orange
No products found.
This is probably the most popular, well-known speaker cooler on the market – it's successes with the
Kickstarter
crowd-funding program have been well-documented, with over
$13 million raised
and more than 64,000 backers.
Needless to say, it's generally a safe bet to claim that any products that've found success on the Kickstarter platform, are kick-butt products. This sweet little cooler is no exception.
It's a little on the pricey said, but this is one of the coolers that we were talking about that has a truly quality sound. The waterproof bluetooth speaker is removeable, and features dual drivers and a resonator plate – geek talk for good performance. You won't be embarrassed to blast your tunes for everyone around to hear. It's a true stereo cooler.
Surprisingly, the quality speaker is just one of the eye-catching features of the Coolest Cooler. It also boasts a 20-volt ice-crushing blender for mixing drinks, a waterproof USB charger, an LED light built into the lid, a built in bottle opener and cap-catcher, four built-in plates, a ceramic knife, a corkscrew, and a removable divider/cutting board.
Oh, and stainless steel hardware, double-wide rubberized wheels (more wheeled coolers can be found here), and a super durable frame that can support up to 600 lbs. Yeah, pretty freaking incredible. Quite possibly the most ingenious, multi-functional cooler with speakers ever thought of, let alone made.
Coolest Cooler Details
Capacity:

55 quart

Size:

24 x 19 x 17 inches

Weight:

38.4 pounds
It comes in three different colors, starting with the first most know Classic Orange:
Classic Orange
Blue Moon
Margarita Green
When the founder/CEO of Coolest Coolers was asked to describe his product in three words, he said:
"Engineered for awesome."
Ryan Grepper
We seriously couldn't agree more with the above.
Go and visit Coolest Cooler page at Amazon for details and customer reviews.
---
Tunes2Go CA-E065O KoolMAX BT Speaker Cooler With Radio
No products found.
This is another sophisticated little contraption that's oozing with neat features. It's the most expensive cooler of the bunch, but with a 350-watt max output stereo that includes four waterproof bluetooth speakers (two 6.5" Hi-Fi and two 2" tweeters), it's worthy of the price tag.
It's also unbelievably got an XLR microphone input, a ¼" instrument input, a 12-volt power plug (cigarette lighter style), two auxiliary jacks, two USB ports, and an SD memory card slot for access to your favorite Mp3's. Definitely the only waterproof cooler with radio that has a better sound system than the Coolest Cooler. Quite unreal all the tech they were able to stuff into this cooler radio (oh yeah, it's got a built in FM Radio too), while still maintaining its overall quality.
Tunes2Go CA-E065O KoolMAX Details
Capacity:

40 quart

Size:

18.5 x 26.25 x 19 inches

Weight:

31.65 lbs
The actual cooler itself is no slouch either – at 40-quarts it's designed to hold up to 48 cans or 28 bottles, and will keep ice easily for a day or more.
Available colors:
Orange
Blue
Grey
Red
A couple other notable features (they just keep on coming), include a built-in rechargeable battery that lasts for up to 16 music-playing hours, a detachable flashlight, built-in bottle openers, a telescoping handle with rugged, durable wheels, a weather-resistant iPad storage compartment, and a cell phone charging compartment. My goodness me, I think we're done.
Truly a phenomenal little performance ice chest radio that'll be the talk of your party.
---
GIWOX Waterproof Picnic Cooler Bag Insulated Cooler with Bluetooth Speaker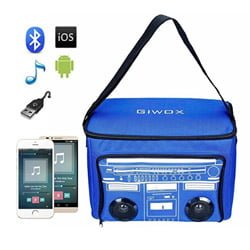 This
bluetooth speaker cooler
from GIWOX is a pretty substantial step down in quality from the Coolest Cooler and Tunes2Go coolers, but at under $50, it's a fine little ice chest with speakers with some (for the price), brow-raising features.
Tip: Check out other affordable coolers, not necessarily with speakers, right here.
It comes with two standard quality bluetooth speakers (V2.1), a charging cable, and a headphone input jack so you can hook up your phone or Mp3 player if your device doesn't have bluetooth.
Like we said, the speakers and the sound aren't the greatest in the world, but it'll certainly sound better and get louder than your cell phone speaker, and provide you and your buds with some tunes while you're lounging about.
Construction-wise, the exterior of the cooler is a quality, durable 600D polyester with an integrated, waterproof PVC inner liner. The cooler measures in at 15.25" x 10.25" x 9" – a decent intermediate size that's easy to transport, but will still hold at least a sixer of your favorite brews and some snacks.
---
Bellino Sound Cooler Stereo
This one is pretty similar to the GIWOX cooler stereo, with a durable nylon exterior, waterproof PVC inner liner, and two speakers in the zipped front compartment that plug into your phone or Mp3 player. No bluetooth, but with a price tag of around $30 or so, we had to include this fun little speaker cooler on the list just out of sheer value.
Size-wise, it'll hold up to 24 12-oz cans, with ice. In addition to the zipped speaker pocket, it's got two mesh pockets on either side of the bag, as well as a larger supplementary zipped storage compartment underneath the speaker compartment. Decent quality carrying handles and a sling make for easy and convenient transport.
Again, not the fanciest, flashiest, or best-performing speaker cooler w/ stereo out there, but an absolute steal for the price.
---
Fydelity JAMBOX Coolio Speaker Cooler
No products found.
The Fydelity JAMBOX Coolio
speaker cooler
has got style written all over it. Designed to imitate an 80's style hip-hop ghetto blaster, the fun little soft-sided cooler radio will be sure to turn some heads and garner some compliments at the beach.
It's got two built-in stereo quality speakers and a 3,000mW amplifier – seriously doesn't sound too bad. (In fact, the sound quality alone for the price tag is what made us have to put it on the list).
It doesn't have bluetooth, but with the standard 3.5mm jack, it'll connect to any Mp3 player or smartphone with a headphone plug.
The speakers aren't fully waterproof, but they're definitely capable of withstanding a little moisture. The speakers run off of four replaceable AA batteries, and the cooler itself measures in at 14" x 9.5" x 7" – plenty of room for up to 18 cans of cold beer.
---
Speaker Coolers – Bottom Line
The bottom line is, we highly recommend snagging one of these super fun coolers with speakers and radio. Whether you want an inexpensive value one or you're ready to drop some cash and treat yourself to a primo Coolest Cooler or Tunes2Go, we think a waterproof cooler stereo is exactly what you need to tweak out your ever-growing party cooler arsenal.
In the words of the Coolest Cooler CEO, engineer yourself for awesome.
» Check out all speaker coolers available at Amazon.
Last update on 2023-06-01 / Affiliate links / Images from Amazon Product Advertising API
Disclaimers
All product names, logos, and brands are property of their respective owners. All company, product and service names used in this website are for identification purposes only. Use of these names, logos, and brands does not imply endorsement.
It is our policy to make every effort to respect the copyrights of outside parties. If you believe that your copyright has been misused, please provide us with a message stating your position and we will endeavor to correct any misuse immediately.
Some of the links in this post are affiliate links. As an Amazon Associate, we earn from qualifying purchases. This means if you click on the link and purchase the item, we may receive an affiliate commission, at no extra cost to you. This helps us keep this website alive. Learn more here.