Affiliate Disclosure: Some of the links in this post may be affiliate links. As an Amazon Associate, we earn from qualifying purchases. Learn more here.
---
Welcome to yet another post, this time we bring you our own Magellan cooler review. One of the things we couldn't help but notice about Magellan is how fast it has been growing. This is quite the feat in the world of coolers because it isn't easy to break into this industry and make it big.
You will have to make a quality product that performs very well and lasts long, just like what the giants are doing in the industry. Magellan isn't a Yeti, but it is gaining a lot of traction and giving Yeti and other best coolers a run for their money.
It is soaring the skies and is, in every sense of the word, a rocket brand. All the while it comes at Walmart prices, making it extremely affordable. That's what prompted us to take our time to do this Magellan outdoor cooler review.
Magellan isn't a brand all on its own. It's not like Yeti, for example, which is an umbrella brand for hard coolers, soft coolers, and drinkware.
Magellan is part of the greater Academy brand, which is an outdoor and sports company that offers a wide range of gear for use in the outdoors. The products made by this company are for hunters, fishers, campers, and so on. Through Magellan, Academy made a foray into the world of coolers.
Their coolers are not only good but also happen to be very affordable. This article review is basically us taking a deeper look into them.
---
Magellan Coolers Lineup
Magellan has both hard coolers and soft coolers. The hard coolers are in a single product line with different sizes, 4 to be precise, while the soft cooler section has 4 different product lines. The table below gives a concise breakdown of them.
Magellan Hard Coolers
Magellan Soft-Sided Coolers
---
Magellan Outdoors Ice Box Coolers Review
---
Design and Construction
We fell in love with the design of this cooler. They really didn't pull any stops when it came to coming up with an aesthetic design that really catches the eye.
When it comes to having a premium look, the Magellan coolers are as premium as the premium can possibly get.
All of this while being insanely affordable. They may have a few shortcomings here and there, but they're definitely trying their best.
When it comes to construction, we were happy to know that Magellans, like the other premium models on the market, are rotomolded.
They are in the league of the big names in that respect, and that is something that increases our faith in the brand. A rotomolded construction means the cooler is molded in one piece, which makes it stronger, better at ice retention, and overall longer lasting than other coolers built from different pieces stuck together.
Given the price of the cooler, we love the quality it brings to the table. You have something that is employing many of the same methods employed by the other premium brands that are much more expensive.
The company behind this cooler must have gone through a lot of pains to ensure they brought quality to the customer at a great price.
The shell on the Magellan cooler is rotomolded with the addition of pressurized foam, which not only makes the mold stronger but also makes insulation much better.
---
New 2020 Models
---
Features
The features on the Magellan coolers are pretty great. While we like to think of features as serving no more than an aesthetic purpose, the truth is that they do a lot more than that. They make everything more practical, and they make the cooler easier to use and more of a convenience than a headache.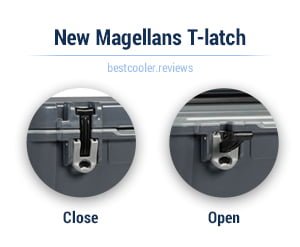 The first major feature we loved was the pair of T-Rex latches on the lid. This is a very important part of any cooler as it is one of those features that we will use the most.
If the latches are bad, then our experience of an otherwise great cooler will be ruined. If the latches are great, we may be willing to overlook the faults of the cooler.
The T-Rex latch design is quite popular in the world of coolers. We see it in the Yeti and other premium brands. Magellan decided to follow the wisdom of the tried and true and applied the same design to their own latches.
A major drawback of most T-Rex latches is that they aren't always easy to use. However, once they are in place and well locked, they are very effective in holding the lid tightly shut, and they also tend to be more resilient than other types of latches.
On the bottom of this cooler, we have the anti-skid feet. These help your experience of the Magellan hard cooler to be safer than it would otherwise be.
These feet ensure the cooler stays in place when you transport it, especially when you're driving through especially rough terrain. Whether you're hauling your cooler around in the back of your truck or in your boat, you can be safe in the knowledge that it is going to stay right where you put it.
The drain plug is another aspect of a cooler that can make a world of difference to how easy it is to use the cooler.
The drain plugs on Magellan coolers are oversized and have a hose attachment built into them. Also, the dual-drain plug functionality ensures the draining process of quick and effective and that no ice is lost in the process of draining water.
On the inside, we have a multi-purpose divider for compartmentalizing your cooler space. It also doubles as a cutting board.
There is also a wire basket on the inside where you can store your dry goods. This is a lot of value added, in our opinion, because many other premium brands, like Yeti, actually require you to purchase the wire basket separately.
The Magellan hard coolers come with bottle openers built into them, stainless steel locking plates, tie-down slots, and removable strap handles to make the carrying very easy.

---
Ice Retention
The building process of the Magellan cooler has a very important role to play in ensuring the insulation in this cooler is top notch. Rotomolding, to begin with, makes for much better insulation than other construction methods.
Another aspect of the construction that has a great bearing on insulation is the foam injection. The crust isn't enough to ensure good insulation. Pressure injected foam insulation ensures that heat is absorbed and not allowed to get to the contents of the cooler.
The cooler also has a removable gasket that does a lot to ensure the heat is kept out. The rubber gasket ensures that the cooler is airtight every time the lid is shut.
That said, Magellan coolers are capable of retaining ice up to 7 days, which is quite respectable for such a cooler, given its price
---
Available Sizes
Magellan understands that in order to be recognized in the world of coolers and gain any traction they will definitely have to offer variety when it comes to the sizes and colors of their coolers. Here we are proud to say that their starting lineup shows that they really did try their best.
At the bottom of the list, we have the Magellan Outdoors Ice Box 25, which is their smallest. It is a cooler that would be perfect for your barbeque parties, picnics, and little excursions on the weekends.
Next is the Magellan Outdoors 35 QT Rolling Cooler. This cooler has a nice suitcase-like handle as well as wheels, making it highly versatile and easy to transport. We were pleasantly surprised to see a new brand with a wheeled cooler as older brands seem to be catching on to the trend only recently.
The Magellan Outdoors Ice Box 50 is also designed for outdoor enthusiasts and is a particularly great fit for big game hunters, anglers, and others that need a large-ish box for their needs.
Finally, we have the new Magellan Outdoor 55, which has a sleeker design than its predecessor. It is the largest cooler offered by this brand and is built to offer versatility and performance while remaining remarkably light at only 23.3 pounds when light.
---
The OLD style Magellan 75 Cooler Video Review
---
Magellan vs. Yeti Tundra
So how does our hardworking little newcomer compare to industry giant Yeti? Yeti has a solid reputation in the industry and has accomplished an insane amount already.
It didn't become such a remarkable brand overnight. Instead, the people behind Yeti put in years of hard work to bring the brand where it is today.
The reputation alone is a major advantage for Yeti, seeing as Magellan is, for the most part, not as well known. Yeti also tend to have a better developed third-party market for accessories and customization. It also happens to be pricier.
Magellan has great features comparable to Yeti's features. Magellan also happens to be cheaper than Yeti with reasonable ice retention that is almost as good as Yeti's.
---
Verdict

The truth is that both of these are high-quality coolers. Yeti is Yeti and has a solid name. However, Magellan isn't exactly a disappointment either. It comes with great features, an aesthetic look that doesn't try to copy Yeti, and a low price.

If you're a die-hard Yeti fan and can afford the high price, then, by all means, get yourself a Yeti. However, if you're willing to try out a new brand and wouldn't mind saving that extra cash, then Magellan is definitely the brand for you.
---
Magellan Soft Coolers Review: Frosty Vault Series, Sport Series, Realtree Xtra Series, and other Soft Coolers
Magellan soft coolers were also made for outdoor enthusiasts who generally do not need to buy a whole hard cooler for their needs. They are also divided into different lives for people with different sets of needs.
This soft cooler was mainly made for campers who needed something to
retain ice for a reasonable amount of time
.
The design and features have also been optimized to suit this particular need. For example, there is an extra pocket on the outside where you can store all the additional things you might bring with you on your trip.
There is also a built-in bottle opener and a very comfortable shoulder strap, and padded handle for hand carrying that make carrying this soft cooler around very convenient. The material used is also very strong and capable of withstanding the harshest conditions.
---
As you might expect, this particular line was made for those who do a lot of outdoor sports and need a soft cooler to keep them company while keeping their drinks cool.
The bag includes an aluminum bottle of water with a 500ml capacity, mesh pockets on the sides, and a front pocket, all to act as storage space for extra accessories. It's also designed as a backpack to make it very easy to carry around.
---
The Realtree Xtra series is Magellan's camo soft cooler, and as such, it is excellent for hunters and hikers who just want to blend in with nature. It should also be perfect for you if you like camo and want a cool camo print soft cooler.
It also comes with a free 500ml aluminum water bottle and different carrying options, including shoulder straps and a padded carry handle. The back panel is also padded for maximum comfort while carrying the soft cooler.
Other Soft Coolers
The other coolers are general purpose soft coolers for the everyday user, but that doesn't necessarily mean they are of lower quality. Magellan ensures all of its soft coolers are among the best in their class.
---
Magellan Soft Coolers vs. Yeti Hopper
In this case, we once again have to compare the newcomer with the industry giant. Yeti have their own line of soft coolers: the Hopper.
When it comes to build quality, we were pleasantly surprised to see how well Magellan soft coolers were built. They could actually rival Yeti. They are also aesthetically pleasing and aren't trying to copy Yeti.
When it comes to performance, Yeti is slightly ahead on ice retention, but not by much. Yeti also happens to be pricier, which is an advantage for Magellan.
Ultimately, we would say that the two are both quality soft coolers and whichever you choose will serve you well. If you're a Yeti fan and can afford the price tag, then you can get yourself a Yeti. Otherwise, Magellan is a pretty good pick too.
---
Magellan Outdoors Cooler Review – The Bottom Line
And with that, we end our Magellan Outdoors cooler review. As you can see, this is definitely a brand to watch in the future. Keep it here for more news on the same.
Magellan Outdoors Cooler Rating
Ice Retention

Quality

Features

Price
Summary
Magellan makes surprisingly good hard and soft coolers. While they're not bringing too much innovation to the market, they offer most of the features you'd expect from a modern cooler, including very decent ice retention. At this price point, Magellan is a very solid contender to the expensive, premium brands.
---
Disclaimers
All product names, logos, and brands are property of their respective owners. All company, product and service names used in this website are for identification purposes only. Use of these names, logos, and brands does not imply endorsement.
It is our policy to make every effort to respect the copyrights of outside parties. If you believe that your copyright has been misused, please provide us with a message stating your position and we will endeavor to correct any misuse immediately.
Some of the links in this post are affiliate links. As an Amazon Associate, we earn from qualifying purchases. This means if you click on the link and purchase the item, we may receive an affiliate commission, at no extra cost to you. This helps us keep this website alive. Learn more here.