Affiliate Disclosure: Some of the links in this post may be affiliate links. As an Amazon Associate, we earn from qualifying purchases. Learn more here.
---
Welcome to yet another review. This time It's the Seavilis Coolers, formerly known as Milee.
Whether you're drinking a beer out on the beach, having a picnic near the mountains or enjoying a barbeque at your house with friends and family, nothing comes more in handy for enjoying some cold drinks than a cooler with the right storage capabilities.
The outside appearance may have a deciding impact on your choice when deciding which one to use to hold your beers and sodas, but there are more factors to consider for a quality ice chest, and the Milee Cooler serves to prove that.
Seavilis may not seem too different from nICE, Thermik and Vibe coolers when you first look at it, but the inside of it will show that you have a special option in front of you. You'll know all you need to about getting the right option for your next party by the end of this Seavilis Cooler review.
Seavilis / Milee Cooler Review
Sizes
The size of Seavilis' coolers doesn't vary too much from the similar products from brands like Vibe and nICE, though its options have slightly different sizes, depending on how much you plan to pack.
The Heavy Duty Wheeled Cooler 70QT stands at 17.6 inches tall, 17.2 inches wide and 33.3 inches long, while the Heavy Duty Cooler Box 20QT measures 14.3 inches high, 13.3 inches wide and 21.1 inches long.
The Heavy Duty Iceland Cooler measures 26.7 inches long, 16.6 inches wide and 16.3 inches high, and the interior measures 10.6 inches high, 11.6 inches wide and 20.2 inches long.
The whole cooler weighs 23.2 pounds, which should be an easy carry, depending on much you have inside.
---
Seavilis Coolers Line Up
---
Seavilis 20 QT
21.1L x 14.3H x 13.3D
---
Check Price
at Amazon

No products found.
Seavilis 45 QT
26.7L x 16.6H x 16.3D
---
Check Price
at Amazon

Seavilis 70 QT Wheeled
33.3L x 17.2H x 17.6D
---
Check Price
at Amazon
---
Rotomolded Construction
In case you're worried about the items in your cooler staying intact, you'll be happy to know that the Seavilis Cooler comes with a rotomolded thermoplastic construction that is capable of handling any damage from the outside.
The anti-skid feet are included to ensure a safe landing in case it falls, whether it's on soft grass or a gravel road. So, if you happen to drop the cooler or are carrying it through a brief storm, your drinks will be fine.
---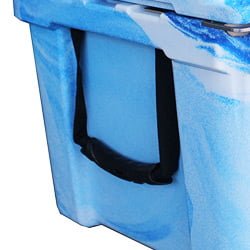 Handles
An ice chest needs the right type of handle for carrying it, whether you're doing it on your own or have someone you can trust at your side, and Milee's nylon handles not only function well at providing a firm hold of your cooler, but they feel comfortable so that you're not tempted to let go as you would with other options with handles that feel like they're rubbing against the bones in your hands.
You'll have the option of removing the handles, just in case you're carrying light one day.
---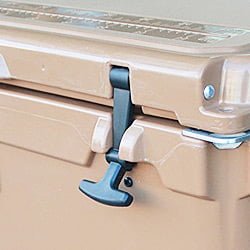 T-latch System
Keeping the items in your cooler secure is a top priority if you want to ensure that nothing falls out if you lose your grip and drop it, and Seavilis' T-latch will make sure that everything is locked and safe inside. The latch is designed to deal with the worst weather conditions, so don't worry if you have to carry it out in the rain.
Stainless steel locking plates are included to make sure that there is secure locking behind the latch. If that's not enough, bottle openers are added to the plates, in case you forgot yours or no one else at the party has one, either.
---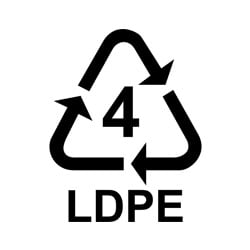 Food Grade
Having food grade LLDPE helps with extra insurance that whatever you're carrying inside will stay intact, especially with the combination of PU foam so that nothing is shaking or banging around while you and your buddy are carrying it to the party. These protective precautions will guarantee that you will open the top of the cooler and see nothing broken or cracked inside.
---
Sealing
Perhaps the biggest fear that cooler owners have is that the ice melts and all they have to offer is warm drinks. Thankfully, Seavilis serves to help you avoid such a situation with its refrigeration D-Seal. The goal is to provide a seal that is air-tight to keep ice cold, which then helps keep your drinks cold.
---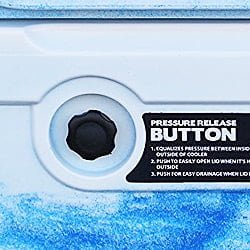 Pressure Release Button
Air pressure can sometimes make it difficult to open the cooler, especially when the pressure outside is different from the pressure inside.
Seavilis' air releasing button helps you avoid this issue by making it easier to open the cooler, in case you have a line of impatient people behind you waiting to get a drink.
---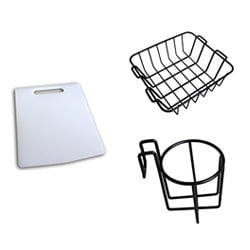 Accessories Included
An arrangement of items in your cooler doesn't seem too important when it comes to simply look for drinks or food, but some people may be in a rush and grab something that they weren't exactly hoping to enjoy.
The chopping board is available to separate space to include different items and not throw them in together at once, which makes things seem more organized and easier for other people to find drinks.
The basket and cup holder should make it even easier to separate items that vary, especially if you're trying to avoid bringing the same food and drinks that everyone else is bringing.
---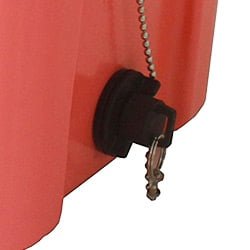 Drain Plug
It can be a pain to have to carry a cooler full of water home after a party and worry about it leaking in the car on the way home, and then having to dump it all out so that you don't get the kitchen wet.
You'll be able to avoid this with Seavilis' drain plug, which allows you to open and get all of the water out as quickly as possible, ensuring a dry car drive and a dry house.
---
Seavilis / Milee vs. Yeti
No matter the product, it can be difficult choosing between a new item that seems to save you money or one that, despite having a higher price, is recognizable and can be trusted to do the job. You may be in that predicament when choosing between coolers like Seavilis and Yeti, the former being more of an unknown brand and the latter being the complete opposite.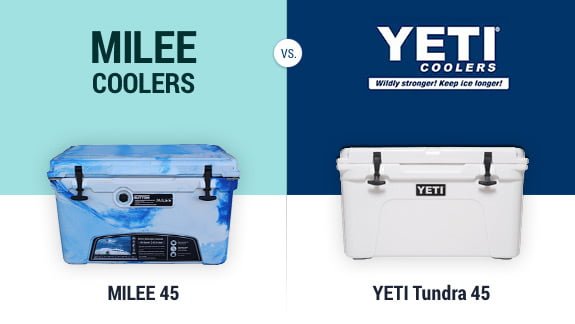 Seavilis' Cooler Box 20QT currently stands at about $119 online, and the Heavy Duty Ice Cooler 45QT will cost you a bit more at $199, making Seavilis' offerings a better bang for your buck.
The only Yeti coolers for sale in the same range is the Roadie 20 and Tank 45 at about $199. Prices go up from there, with the Tundra ice chests ranging from about ~$300 to ~$400 for the popular 35 to 65-quart models.
From here, coolers are offered at as high as $1,200, so if you plan on bringing nearly 200 cans of beer with you and can afford a container for it, go for it.
If saving money is your top priority, and if you can trust your fellow party-goers enough to bring an equally sustainable amount of drinks and food themselves (these cooler tubes can help), then stick with Milee.
The positive with high prices is that you'll have plenty of storage for drinks and food, and Yeti will have you covered in that regard.
The largest Yeti coolers (Tundra 350) will measure as long as 63 inches, as well as 23 inches high and 21 inches wide, so you'll have plenty of room if you plan on carrying a certain amount of food, or food of a certain size.
While Seavilis' size is more suitable for parties and small get-togethers, Yeti's larger ice chests are suitable for hunting and fishing as they have enough room for a variety of animals from wahoo and amberjack to elk and moose.
This also makes these coolers more suitable for different environments, including wetter ones that would be a problem if you had smaller coolers like Seavilis.
In fact, Yeti's large ice chests have been recommended by many as one of the best marine coolers, so choosing the cooler from the size or objective perspective is also right thing to do.
Where To Buy Seavilis Coolers (formerly Milee Coolers)
Amazon currently serves as the best spot if you're looking for a place to buy Seavilis Coolers for an upcoming event.
The Heavy Duty Ice Cooler and the Heavy Duty Cooler Box-20QT are currently the only models available on the website at the prices listed above, with the divider, cup holder and basket included.
In addition to being a reliable place to buy coolers, and anything else, really, Amazon grants you free shipping, make it a wise choice for saving money.
Being a Prime member will give you some extra benefits, in case you have some items you plan to get online in the future. First-hand reviews are available on the site in case you want to get other customers' opinions to ensure that you're making the right choice.
In addition, if you end up not being happy with how your cooler works or prefer a bigger or smaller alternative, Amazon will let you return it.
>> Check out Seavilis coolers at Amazon
Seavilis / Milee Ice Chests – Bottom Line
Figuring out what cooler to get all depends on what you need it for and how much you're planning to save.
Parties and similar get-togethers are perfect for what Seavilis has to offer, and its coolers are designed to make sure that whatever you put in them is safe and snug so that everyone else will be treated with drinks and food.
You won't have to spend more than $200, as long as you don't plan on going hunting or fishing. If you're looking to give unknown brands a chance, Seavilis is right up your ally.
It's a very decent rotomolded cooler that has all the features you're going to need when using it as an everyday cooler.
We hope you enjoy this Seavilis Cooler review. If so, feel free to leave a message in the comment section below and don't forget to check other related articles, such as the one covering other alternatives to Yeti.
---
Last update on 2021-07-23 / Affiliate links / Images from Amazon Product Advertising API
Disclaimers
All product names, logos, and brands are property of their respective owners. All company, product and service names used in this website are for identification purposes only. Use of these names, logos, and brands does not imply endorsement.
It is our policy to make every effort to respect the copyrights of outside parties. If you believe that your copyright has been misused, please provide us with a message stating your position and we will endeavor to correct any misuse immediately.
Some of the links in this post are affiliate links. As an Amazon Associate, we earn from qualifying purchases. This means if you click on the link and purchase the item, we may receive an affiliate commission, at no extra cost to you. This helps us keep this website alive. Learn more here.