Affiliate Disclosure: Some of the links in this post may be affiliate links. As an Amazon Associate, we earn from qualifying purchases. Learn more here.
---
Wildkin's slogan on their website is "grow up with us", and this really captures what this company is all about. They make children's products and want to grow with your child from toddler stage, all the way to pre-teens, and with some of their products even beyond.
They sell just about everything you can think of that your child might need. Of particular interest to us are their lunch boxes and lunch bags. In this post, we'll be doing a Wildkin Lunch Box Review.
These are excellent for packing your child's food when they go to school, or on a field trip, or out to a daytime picnic. They fall within our purview, since they are insulated boxes and bags, and we thought we'd have a crack at reviewing them.
So here it goes!
---
Why Using Insulated Lunchboxes and Lunch Bags Is Actually a Good Idea?
Say you're going to school, or work, and packed some hot food for your lunch. You want it to stay hot till lunchtime, which is when you'll eat it. You also want something that's not going to be too much work hauling around. A simple, portable thing to carry your lunch around in. What would you use?
Of course, a hard cooler is out of the question. They're too bulky and they have way more space than you'll need. Using a hard cooler to carry lunch for one person is a little like using a sledgehammer to kill a mosquito: Sure, it gets the job done, but is it really the most efficient way you could have done it?
What about soft coolers? Soft coolers are a great idea. However, most of them are still a little too bulky. They are typically the size of a large backpack, and they also have quite a bit of space.
Your average soft cooler has enough capacity to carry a sizeable number of beer cans and enough food for more than a few people. Soft coolers can also be quite expensive, especially the high quality ones. If a hard cooler is a sledgehammer, a soft cooler is your shoe. It's still a little too much.
What you need is something slightly smaller than your average soft cooler. You want it to have just enough capacity to carry lunch for one or two people, the right carrying method, and plenty of storage compartments for extra stuff you might want to carry, along with your food.
You also want it to have a design that is suited to food. If you're carrying a few fruits, a sandwich, and what have you, you want a space that's well suited to their arrangement inside it. You also want it insulated so it does the job of keeping your lunch as cold, or as warm as you like.
That's where lunchboxes and lunch bags come in. They're insulated to keep their contents cool or warm for just long enough that it matters. They also have enough storage compartments for your food and all the other little things you might want to carry along with it.
They're also pretty portable and, if the manufacturer has a little flair about them, they have many different color options for you to choose from. You can always find something that matches your style.
That's why Wildkin caught our eye. They met most, if not all, of these criteria.
---
Wildkin Product Reviews
Wildkin Lunch Box Review
The Wildkin Lunch Box can carry about 3.5 quarts of content. It's a nice little lunchbox that can suit both your kids and you.
It has enough side storage compartments for you to put in all the things you want apart from your food, and also the main compartment, where you can pack your lunch.
We did notice that it has space issues in the main compartment. 3.5 quarts isn't really that much, especially if you consider that you might want to add a little ice to help cool your food.
That said, there was a lot else going for it, such as the color options and the comfortable carrying method. It's also quite portable and durable.
Check all the crazy color options and current prices here at Amazon >>
Wildkin Lunch Box Features
Lead-safe, BPA-free and Phthalate-free.

Recommended for all ages

Coordinates with other Wildkin gear.

Measures 9.75 x 7 x 3.25 inches

Insulated, easy-to-clean, food-safe compartment

No products found.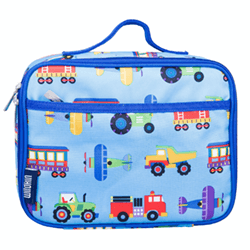 Images: wildkin.com

---
Wildkin Lunch Bag Review
The lunch bag is different from the lunch box in that the lunch bag is supposed to be more multi-purpose.
You should be able to fit your lunch box inside it as well as extra ice pack or really anything else you might want. The storage capacity is 8 quarts, which is a huge improvement on the lunchbox's 3.5 quarts.
The only major problem we had with the lunchbox and lunch bag was that they had average cooling times of 4 hours. Sure, we understand that they're not supposed to last for days, and the fact that they're so small means heat loss is going to be massive, even when they're insulated.
However, we expected at least something bordering on 12 hours for the cooling time. As these lunch boxes and lunch bags are currently designed, they don't have that much more utility beyond packing your lunch that you have to have at precise lunchtime or it will either get cold or warm, depending on what you were going for.
Another thing we didn't like about them was the fact that they aren't really leak-proof or at least water repellant. You might want to pack some wet foods into the lunch box, or even into the lunch bag. Or you might want to add some ice to aid in cooling.
What happens when it melts? If Wildkin could solve this problem it would give their product a much-needed boost.
Check all available designs and current prices at Amazon >>
Wildkin Lunch Bag Features
Made of 600 denier polyester.

Lead-safe, BPA-free and Phthalate-free.

Recommended for all ages

Coordinates with other Wildkin gear.

Measures 10 x 8.5 x 5 inches

Insulated, easy-to-clean, food-safe compartment

Folds Flat for easy storage

No products found.
---
Wildkin Two-Compartment Lunch Bag
The two-compartment lunch bag is an improvement on the original lunch bag in that it adds an extra compartment so you can store different foods separately.
It's insulated, moisture-resistant, and come complete with a microwave and dishwasher-safe container.
All these things make it look much grown up and more serious, reminiscent of typical lunch boxes for older kids and adults.
---
Wildkin Embroidered Lunch Boxes
Embroidered lunch boxes have nice and playful little embroidery on the front face to appeal to your little munchkins (or should I say wildkins?)
They're functionally similar to the regular lunchboxes but have overall cooler and more child-friendly designs.
---
Wildkin Wild Bunch Lunch Boxes
These ones are supposed to really appeal to your kids. They have nice little teddy bear faces on the front with ears sticking out from the sides.
They're also not functionally different from the regular lunchboxes; they just have an overall cooler exterior design for kids.
Just look, aren't they cute? More pictures and prices at Amazon here >>
---
https://www.youtube.com/watch?v=P_aLx_5Ut7o
https://www.youtube.com/watch?v=EX5xJmsFpmM
https://www.youtube.com/watch?v=LQxkCCdLbYo
---
Where to buy Wildkin Products?
You can buy all of these products from the Wildkin website, as well as lots of other online retailers.
However, apart from the Wildkin site, the only other place we would recommend you make your purchase from is Amazon and their own store there.
Amazon is probably the largest and safest online marketplace in the world. There you can read real reviews from other buyers, make safe purchases with money back guarantees, and enjoy other special perks like same-day delivery (for Prime members).
---
Wildkin Lunch Boxes and Bags Review – The Conclusion
And that's it for our Wildkin lunch box and bag review. As you can see, these great lunch boxes and bags would be an excellent gift for your young one.
While we don't think they would have much more utility beyond that, we still think they're a great idea and we're willing to grow with Wildkin as they improve on their product.
Check out Wildkin's full offer at Amazon >>
---
Last update on 2023-06-01 / Affiliate links / Images from Amazon Product Advertising API
Disclaimers
All product names, logos, and brands are property of their respective owners. All company, product and service names used in this website are for identification purposes only. Use of these names, logos, and brands does not imply endorsement.
It is our policy to make every effort to respect the copyrights of outside parties. If you believe that your copyright has been misused, please provide us with a message stating your position and we will endeavor to correct any misuse immediately.
Some of the links in this post are affiliate links. As an Amazon Associate, we earn from qualifying purchases. This means if you click on the link and purchase the item, we may receive an affiliate commission, at no extra cost to you. This helps us keep this website alive. Learn more here.