Affiliate Disclosure: Some of the links in this post may be affiliate links. As an Amazon Associate, we earn from qualifying purchases. Learn more here.
---
It's difficult to pick a good cooler by itself, let alone a cooler for a specific purpose. In this post, we are going to talk about rafting coolers and help you choose the best rafting cooler for your needs.
Rafting often isn't a single-day deal – trips can last a week and even more. With this in mind, rafting is very demanding when it comes to coolers.
Pretty much any cooler can be used on a raft, but some are way more suitable for rafting than others. Below, we'll discuss what makes a good rafting ice chest and showcase a few options that we think are the best ones out there.
---
Best Coolers for Rafting – Our Top Picks Compared
editors-choice

Editor's Choice

to-middle

No products found.

No products found.

No products found.

item-title
Yeti Tundra 110
Canyon Prospector 103
ENGEL ENG123
Orion 85
K2 Coolers Summit 120
RTIC 65
to-top
Made in
PH & USA
Made in
US / TH*
Made in
USA
Made in
USA
Made in
TH
Made in
China
to-top
Capacity (real qt)
96
Capacity (real qt)
103
Capacity (real qt)
108
Capacity (real qt)
85
Capacity (real qt)
120
Capacity (real qt)
65
to-top
Ice Retention
10 days**
Ice Retention
7-10 days**
Ice Retention
8-10 days**
Ice Retention
7 days***
Ice Retention
7 days**
Ice Retention
10 days**
to-top
Features:
• Roto-molded
• 3" PermaFrost
• T-Rex™ Lid Latches
• Coldlock™ Gasket
• Neverfail™ Hinge System
Features:
• Roto-molded
• Expedition sized cooler
• Front and side drain plugs
• One-piece bombproof construction
Features:
• Roto-molded
• Fits into 42-inch raft interiors
• Silicone gasket
• Bottle openers
• IGBC certification
Features:
• Roto-molded
• 6 tie-down slots
• Side Gear Tracks
• Padded and non-slip lid
• IGBC certification
Features:
• Roto-molded
• POSITRAC latches
• Rubber feets
• Anchoring points
• Rope & molded handles
Features:
• Roto-molded
• Molded tie-down slots
• Traction lid
• Non-slip feet
• Heavy-duty rope handles
td-btn-amz
Check Price
in YETI store
Check Price
at Amazon
Check Price
in ENGEL store
Check Price
at Amazon
Check Price
at Amazon
Check Price
in RTIC store
editors-choice

Editor's Choice
* Canyon Coolers are made from US-made materials but are assembled in Thailand.
** According to our test results.
*** According to the manufacturer's data.
---
What Makes The Best Rafting Cooler?
To find out the best coolers for rafting, we did a lot of scouring online, talked to manufacturers and fellow rafters. Eventually, we've chosen our top picks based on the following criteria:
The cooler must have great insulation – enough for week-long ice storage. Though everybody's rafting trips will last differently, we feel that 7 days is a good mark to aim for with rafting for most people.

Adapting the ice chest to the raft frame (Prospector).

The cooler should be compatible with raft frames, e.g. have built-in lips to be able to rest on raft frames. Tie-down slots are also a good feature to have to securely anchor the cooler to the raft.

The cooler must be durable to endure day-long trips. It should be sturdy enough to be used as a place to sit as well. Thus, rotomolded coolers are ideal for rafting.
Dry ice compatibility is a plus since dry ice provides you with more effective cooling (lower freezing point = increased ice retention). Most rotomolded coolers are compatible with dry ice.
Bear resistance is a preferable feature to have as well. It would be best if your cooler was IGBC-certified, but this isn't necessary as long as the cooler is rotomolded and supports padlocks, or can be locked with bolts and nuts. This is what IGBC requires to certify coolers as bear-resistant.
Finally, the cooler should have accessories as well, such as fish rulers, bottle openers, cup holders, dividers for organization, cutting boards, etc. These accessories aren't a must-have – rather, you should be looking for the accessories that you will be needing during your trip.
---
Rafting Cooler Reviews – Our Top 6 Picks
---
YETI Tundra 110 – Best Rafting Cooler for Ice Retention
If you have the budget for a quality cooler, then strongly consider YETI Tundra 110. This is one of the most expensive yet highest-quality rafting coolers on this top.
YETI is claimed to be specifically designed with the rafting community in mind. But to be fair, it doesn't tick quite all our boxes – this is because it doesn't have pronounced side lips that would allow it to securely fit on raft frames. You can use the corners for frame placement, but this isn't a perfect solution.
Other than that, Tundra 110 is one of the best rafting coolers you can find out there.
Tundra 110 boasts an extremely durable rotomolded construction that is "armored to the core" and is virtually indestructible. Even small details like the rubber latches or the hinge system are very tough Tundra 110 is also IGBC-certified to bear-resistant as well.
The insulation also is excellent in Tundra 110 – with its interlocking lid, freezer-grade gasket, and the (over) 2-inch thick insulation, Tundra 110 should have no issues with storing ice for a week (if packed right).
Convenience is also great in this rafting ice chest. Tundra 110 has molded handles and military-grade rope handles for convenient carrying, while the Vortex drain system is designed to ensure quick draining and leak-free food & beverage storage.
For secure raft placement, Tundra 110 has molded tie-down slots on the sides. If it also had a lip for raft placement, it would be absolutely perfect.
In terms of capacity, Tundra 110 is solid – its volume is 96 quarts, and it is also advertised to hold up to 74 cans of beer (with 2:1 ice-to-can ratio) or 90 pounds of ice.
PRO TIP: Know that the number in YETI cooler names don't resonate 1:1 with quarts. Before you buy, check out the actual YETI cooler sizes.
Note that the Tundra series has coolers with different sizes, so you could go up or down in capacity if you so desire.
Check the Tundra 110 at YETI.com >>
---
Here is the video showing all the key features of the Tundra 110 :
---
Canyon Prospector 103 Quart Cooler – Best Features For Rafters
Canyon's Prospector cooler might not be as premium as YETI Tundra 110 (both price- and feel-wise), but we do know that Canyon coolers are excellent – we've reviewed them before. Not only that, but this particular cooler has a few nice features that may make it a better choice for your rafting needs.
First and foremost, the Prospector cooler has a lip that securely fits on top of the raft frame's cross members.
Next, this cooler actually has two drain plugs – one on the side (like on most coolers) and one on the front. The front drain plug is a great feature because if you do not clearance from the side in the raft, it will allow you to easily drain the cooler.
Finally, Prospector has 6 tie-down slots, allowing for more convenience and security with anchoring.
When it comes to build quality and durability, the Prospector cooler is like YETI's Tundra 110 – it has a rotomolded body and is IGBC-certified. The insulation is excellent as well, capable of storing ice for up to 7-10 days.
The capacity of this cooler is 103 quarts – a little more than in Tundra 110. Additionally, Prospector has 2 levels for up to 4 organization trays, so you can separate up to 4 kinds of food or beverages.
All in all, the Canyon cooler is a little more feature-rich than Tundra 110 but is much cheaper – both in absolute and per-quart terms. With that, it offers excellent value at its price point.
But one thing that some of our readers may dislike about this cooler is that it's not 100% US-made. Its materials are sourced from the US, but the cooler itself is assembled overseas (Thailand). But this isn't a big problem if you only care about practicality and build quality.
Check out the Canyon Prospector at Amazon >>
---
See the video showing the Prospector's features and how it fits a raft frame:
---
Orion 85-Quart Cooler – The Premium Option
The Orion 85-quart cooler is the most expensive on our top and perhaps the most interesting one. This cooler doesn't have lips for convenient raft integration, but it has many features that other models on this list do not have.
The accessory set in the Orion cooler is the most impressive – you are getting bottle openers on each corner along with 6 tie-down slots (4 on the corners and the rest on the sides) for easy anchoring. Not only that, but this cooler has side Gear Tracks that are compatible with a wide range of Orion accessories and gear.
The top in this cooler is also interesting – it's padded and non-slip, so it could be used as a casting platform or as a comfortable sitting spot.
As a pricey cooler, this 85-quart model offers solid build quality along with 7-day and longer ice retention. Needless to say, the cooler is a rotomolded one.
It feels as durable as something like Tundra 110, and that's what you'd expect for the money. Aside from that, this cooler is certified for bear resistance by the IGBC.
Notably, Orion coolers are produced by Jackson Kayaks, so you can find a variety of boating-related gear from them that is compatible with the cooler. Jackson Kayaks make their products in the US as well, so buying from them is a good opportunity to support the domestic economy.
Check out Orion 85-qt cooler at Amazon >>
---
ENGEL ENG 123 Cooler – Fits Many Raft Frames Perfectly
The ENGEL ENG 123 is a nice option for owners of Down River Gunnison frames – we know that ENG 123 fits nicely into this frame model on a 14 feet Sotar SL Liquid raft. It also fits perfectly into 42-inch raft interiors.
The latches in the ENG 123 cooler are also notable – they are flush with the lid and end up right above the frame. This means that you won't have to lift the cooler to open the latches. The latches also double as bottle openers.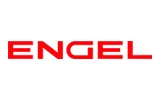 ENGEL boasts about best-in-class ice retention in this cooler too. According to ENGEL, this is in some part thanks to the silicone gasket. Unlike rubber gaskets commonly used in other coolers, this gasket is food-grade, airtight, and advertised to never lose its shape.
As for ice retention duration, ENGEL talks about up to 8-10 days – more than what our criteria demand. However, you'll need to do things right to get to these numbers – e.g. pre-chill the contents, use block ice, or avoid opening the cooler as much as possible.
Like previous rafting coolers on this top, ENGEL ENG 123 is also extremely durable thanks to its rotomolded body and has IGBC certification. The lid is grippy too and thus can be used as a casting platform.
By the way, know that capacity of this cooler is 108 quarts. Like with YETI coolers, don't confuse the numbers in the product name with quarts. You can find out more about the Engel in our full Engel Coolers' review.
---
K2 Coolers Summit 120 Cooler
The K2 Summit 120 cooler is a very nice option for an up to 14 feet rafts – from what we've been able to learn, it works with such raft sizes perfectly. Plus, it has a few features that make it very convenient while onboard.
First off, the Summit 120 cooler has lips under the lid to allow for secure frame mounting. The lips aren't as pronounced as in, say, the Canyon Prospector cooler, but they should be sufficient for safe & stable cooler transport.
Next, the latch design in this cooler is also unique. Called POSITRAC, the latches in Summit 120 are mounted on molded keepers and maintain the sealing by pulling the keepers together. The latches also appear to be durable enough not to lose their shape with heavy use.
Additionally, the latches in Summit 120 are intended to be opened from above, so if you have limited clearance, you won't have to lift the cooler to open it.
The Summit 120 cooler also has interesting small features here and there, like the rubber feet that are compatible with glide covers that allow the cooler to slide, anchoring points on the side, rope & molded handles, and a few other things.
Also, Summit 120 has the largest capacity on this list – 120 quarts.
When it comes to durability and insulation, this cooler is similar to previous ones – its rotomolded body will take quite a beating, while the pressure-injected insulation (up to 3″ thick) should have no issues with storing ice for a week.
Unfortunately, Summit 120 isn't IGBC-certified, but this isn't too big of an issue for rafting coolers, though it'd be preferable.
---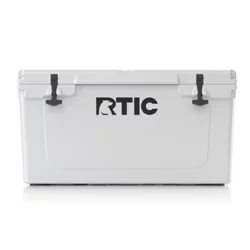 RTIC 65 Cooler
RTIC is YETI's main competitor on the market, but it has more pocket-friendly prices. RTIC coolers are made in China and are essentially clones of YETI coolers (as you can see from the very similar design), but they offer comparable quality and convenience. This applies to RTIC 65 as well.
In fact, given its similarity with YETI Tundra coolers, RTIC 65 is an excellent buy for the money.
With that said, RTIC 65 seems a little bit boring after previous coolers – it offers nothing original or interesting. It's just a lookalike YETI Tundra cooler. But again, considering what Tundra coolers have, this isn't necessarily a downside since you are getting similar features.
The rotomolded construction of the RTIC cooler will be able to take regular heavy use very easily, while the thick insulation will keep ice for up to 10 days.
For secure raft use, RTIC 65 has a little bit of a lip near the corners for frame hanging – like in the YETI cooler. The RTIC cooler also features tie-down slots for anchoring, a traction lid for casting support, marine-grade rope handles, and heavy-duty hardware.
The RTIC 65 cooler is also advertised to be bear-resistant, but it's not IGBC-certified.
What we like a lot about RTIC is that they have a clear product naming scheme – the numbers in their coolers usually show capacity in quarts. That's the case with RTIC 65 as well since its capacity is 65 quarts.
---
Best Cooler for Rafting – Final Words
Our guide will hopefully help you with finding the best cooler for rafting. Remember that you will have to accept some compromises to get the right rafting ice chest.
If you want a fully rafting-ready cooler, then you'll have to invest quite the money. But if your budget is limited, you may have to sacrifice a few conveniences to get what you can afford.
Stay cool! See you next time at Best Cooler Reviews
---
Image credits: canyoncoolers.com, www.jacksonadventures.com
---
Last update on 2022-05-20 / Affiliate links / Images from Amazon Product Advertising API
Disclaimers
All product names, logos, and brands are property of their respective owners. All company, product and service names used in this website are for identification purposes only. Use of these names, logos, and brands does not imply endorsement.
It is our policy to make every effort to respect the copyrights of outside parties. If you believe that your copyright has been misused, please provide us with a message stating your position and we will endeavor to correct any misuse immediately.
Some of the links in this post are affiliate links. As an Amazon Associate, we earn from qualifying purchases. This means if you click on the link and purchase the item, we may receive an affiliate commission, at no extra cost to you. This helps us keep this website alive. Learn more here.