Best Backpack Cooler – Find One To Fit All Of Your Needs
Icemule
Igloo
OA Gear
Orca
Picnic Time
Polar Bear
Tourit
Types
Yeti
by Greg0
Updated on 05/13/2019 with new content including new backpack cooler comparison tables and new reviews. We also re-visited our Buyer's Guide elaborating more on ice retention, design and materials.
---
Coolers can be difficult to carry, even the smaller ones. What if you didn't have to carry one around any longer? How great would that be?
Well, you don't have to, thanks to best backpack coolers out there.
You can put one on and no longer have to worry about your arms getting tired or sore from lugging around a heavy cooler.
Now, the thing about backpack coolers is that when they first came on the market, they were a bit underrepresented among many cooler brands. They, however, proved to be quite convenient for many customers.
The backpack cooler is, by its very nature, a soft cooler, and so you will probably be using it for a short while and for short trips where you don't want to carry too much luggage or get tired.
Another thing to consider is the fact that things are generally more comfortable to carry over your shoulders than in your hands. It only makes sense that the backpack cooler should be a major option when it comes to soft coolers.
As a result, cooler brands pushed really hard to innovate with backpack coolers and expand their product offerings in this niche. The result is that users today have a multitude of options to choose from.
Firstly, let's take a look at our recommendations. The form of simple tables seems appropriate here as we can quickly compare them to each other. In the following, we will go to the review of each backpack cooler and focus on their pros and cons.
---
Best Cooler Backpacks for 2019 – Performance Outdoor Picks
editors-choice

Editor's Choice

editors-choice

Editor's Choice

to-middle
item-title
Yeti Hopper Backflip
Polar Bear Coolers Backpack
Orca Pod & Podster
Tourit Backpack Cooler
IceMule Pro
to-top
Weight:
5.3 pounds
Weight:
3.5 pounds
Weight:
3.6 pounds
Weight:
4.6 pounds
Weight:
4 pounds
to-top
Features:
• Waterproof and resistant high-density fabric
• FDA-approved, UV resist
• Closed-cell rubber foam
• HYDROLOK™ Zipper
Features:
• Keep ice up 24 hours
• Anti-Microbial FDA Food-Grade TPU
• HIGH-DENSITY foam
• 1000D LUGGAGE GRADE Nylon Outer Shell
• Heavy-Duty YKK zippers
Features:
• Padded shoulder straps
• SPEC-OPS 840/210 Denier double TPU
• FDA food grade, BPA-free and anti-microbial
• German TIZIP Master Zippers
Features:
• BPA Free and FDA Approved
• Leak resistant, durable fabric
• High-Density insulation material
• Lifetime Warranty
Features:
• 1000 Denier Nylon
• Padded, ventilated backpack strap
• TriFold DriTopTM System Seal
• Ice retention up to 24 hours
• Easy to clean
- td-btn-amz

Check Price


on Amazon

Check Price


on Amazon

Check Price


on Amazon

Check Price


on Amazon

Check Price


on Amazon
---
Best Backpack Cooler – Everyday Picks
editors-choice

Editor's Choice

to-middle
item-title
Polar Bear Coolers Backpack
Picnic Time Zuma Backpack Cooler
OAGear Cooler Sports Pack
Igloo Marine Backpack Cooler
Picnic Time Turismo Cooler Backpack
to-top
Weight:
3.05 pounds
Weight:
2 pounds
Weight:
2 pounds
Weight:
1.25 pounds
Weight:
15 pounds
to-top
Features:
• Will keep ice for 24 hours in 100 degree heat
• Leak proof/sweat proof design is tough, rugged and built to last
• 1000 denier Cordura nylon
Features:
• 600D polyester
• Holds up to 20 cans at full capacity
• Shoulder straps with air mesh underside
Features:
• 600D poly, peva line
• Holds 20 cans plus ice
• Heat sealed no-leak liner
• Padded backpack straps
Features:
• MaxCold insulation
• Leak resistant, easy to clean, antimicrobial liner
• Anti-mildew, and UV protective
Features:
• Fabric/Polyester
• Non-slip extra-comfort backpack straps
• Flat zippered interior pocket
• Padded handle grip
- td-btn-amz

Check Price


on Amazon

Check Price


on Amazon

Check Price


on Amazon

Check Price


on Amazon

Check Price


on Amazon
editors-choice

Editor's Choice
---
Backpack Cooler Reviews
As you can see we are going to divide this article into two review sections.
The first section will be all about the more premium and performance backpack coolers on the market, which are for the more serious adventurers who need high performing gear for their travels and also have the budgets to match.
The next section will be about everyday backpack coolers for the user who isn't necessarily looking for next level performance or have budgetary constraints that cause them to look for something a little more affordable. In this section, we will explore the premium coolers.
---
Performance Cooler Backpacks for 2019 – Reviews
---
Yeti Hopper Backflip – Best Premium Option
If we're going to talk about premium backpack coolers, then we would be remiss if we didn't mention Yeti. Yeti, as you know, is the titan of the cooler industry and, as such, the brand is known for producing coolers of the highest quality in the market.
The Hopper Backflip 24 is their premium backpack cooler, and it does not disappoint.
The Hopper Backflip 24 comes with a capacity of 20 cans, assuming you use ice to can ratio of 2:1. That's good enough to ensure you have an ample supply of drinks for your trip, no matter where you are going.
As for the outside, the Hopper employs Yeti's DryHide shell to ensure your backpack cooler is protected from water, punctures, tears, mildew, and UV rays. The liner on the inside is also safe for your food as it has been approved by the FDA.
The insulation is closed cell rubber foam insulation, ensuring superior ice retention of up to 48 hours, while the zipper is among the toughest in the industry. The zipper is also leakproof and easy to use.
Read our detailed Yeti Hopper review or buy it on Amazon.
---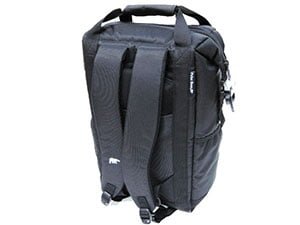 Polar Bear Cooler Backpack – Best Backpack Cooler For Versatility
Whether you are out hiking or biking, you will find the Polar Bear Cooler Backpack will fit almost all of your needs. This backpack cooler comes in at a size of 18 x 12 x 7 inches, with reported ice retention rates of 24 hours (from the manufacturer). This cooler is also sweat proof and leak proof, which means you won't have to worry about it as you wear it.
One user reported using it on several camping trips to keep his alcohol cold. Though the user mentioned it was a bit tricky, he was able to fit a case of cans in the cooler and did say it was a bit heavy which is to be expected with that much contained in it.
Another user noted the leak-proof capabilities, saying that they used it as a "washing machine" on a trip, filling it up with soap and water and clothes, then wearing it around for an hour, then draining and rinsing.
For more information, check out this post where we cover Polar Bear coolers in more detail.
Check out Polar Bear Cooler on Amazon >>

---
Orca Pod & Podster
Orca is another company that we simply cannot forget to mention when we're talking about premium cooler products. In this case, they have the Pod and the Podster coolers.
They are both backpack coolers, and they are pretty easy to spot, thanks to their unique barrel design. They are round with flat backs where they rest on your back and shoulder straps for carrying on your shoulders, as well as other straps for holding by the hand.
The Podster has a capacity of 14.25 quarts and will carry about 12 cans with 7.5 pounds of ice. It is great for short trips during the day and, due to the hard outer material, is well protected from the elements. The liner inside is approved food grade, and the closed cell foam insulation ensures ice retention going for well over 3 days.
On the other hand, we have the Pod, which is larger than the Podster with a capacity of 28.5 quarts. It will easily carry 24 cans with 15 pounds of ice. It also has the same features as the Podster, including ice retention of 3 or more days. Because of its greater capacity, it is ideal for long hiking trips that are likely to last more than a day.
Also, it comes with a camo design, which hunters will just love!
If you want to learn more about Orca Backpack coolers, take a look here because we've already reviewed them.
---
Tourit Backpack Cooler
We were pretty excited when we first reviewed Tourit as a new brand in the market, and we quickly found out that they have some great products. Their backpack cooler is one of them.
The Tourit backpack cooler is very light, and yet it is extremely strong and durable. So durable, in fact, that the company behind it are offering a lifetime warranty on every Tourit backpack cooler they sell. Isn't that just wonderful?
The fabric on the outside is quite resistant to water, punctures, tears, and UV radiation, making it ideal for camping trips, hiking trips, cycling trips, and other demanding types of adventures. It also has a large capacity, being able to hold about 31 cans with some ice to boot.
It has a strong liner and some strong insulation, enabling it to retain ice for at least 36 hours or 3 days. It also comes with plenty of pockets for all of the extra stuff you want to carry with you. There is a front pocket, 2 side pockets, a strap on the bottom and a beer opener so you don't have to worry about opening your beer.
Check out the Tourit Backpack Cooler on Amazon
---
IceMule Pro
Here is another cooler brand that is a recent player in the industry. We certainly enjoyed reviewing this cooler when we first came across it. It's just so good!
The IceMule Pro is the most premium of IceMule's soft coolers and happens to come in 3 sizes.
There is the Large, which has a capacity of 23 liters, or about 18 cans plus ice, the X-Large, which comes with a capacity of 33 liters or about 24 cans plus ice, and the XX-Large, which comes with a capacity of 40 liters, or about 36 cans plus ice.
This cooler has a bit of an interesting cylindrical shape, but that takes nothing away from the comfort it can offer, considering the fact that it has a padded, ventilated cushion for maximum comfort. It's also super compact, allowing you to squeeze all the air out through the air valve so you can roll it up for storage.
It also has a strong external layer dubbed the MuleSkin ET layer, which makes it highly durable. It also features mesh pockets to carry all the extra stuff you want to carry. As you would expect from a performance soft cooler, it is capable of retaining ice for at least 36 hours and up to 3 days. Impresive!
Find out more on Amazon here.
---
Best Everyday Backpack Cooler – Top Choice Reviews
We've combed the internet to find you the best backpack cooler. Here is what we have found:
---
Tourit Insulated Cooler Backpack
Tourit happens to be one of those companies with a versatile offering for all customer segments. They have premium products for those customers who have a little more buck to give for their bang and also everyday products for those customers who are looking for a little more bang for their buck.
The Insulated Backpack Cooler is still high quality, even despite its price tag. It comes with highly water repellant and durable material on the outside, a leak-proof liner on the inside and high-density insulation foam on the inside that guarantees the contents of your cooler will stay cold for many hours. With a capacity of 28 cans in the main storage compartment, you also don't have to worry about just how much you can carry in your cooler.
This cooler also comes with some great accessories, such as the large mesh pockets on the side and the large zipper pocket on the front. It also has a mesh divider to help you organize your things.
You can learn more on this page on amazon.zom
---
OAGear Cooler Sports Pack
Do you want something a bit sportier with drawstrings and open mesh pockets to give you easy access to items? If so, you may want to consider the OAGear Cooler Sports Pack.
This backpack cooler holds 20 cans with ice packs and comes in at 12.25 x 16.5 x 7.75 inches. Padded straps also make this backpack easier to put on and more comfortable to wear during transport.
One user liked the distribution of weight and versatility of use with this cooler. The user reported first traveling and using it as a laptop bag as the backpack does come with a laptop sleeve. Upon arriving at their destination, the user filled it up with 14 individual waters and sodas, as well as other snacks. The distribution of weight made it comfortable to wear, which was an early concern.
Other users have also mentioned using this best backpack cooler as an alternative to a lunch bag or for short trips to the park or other outings.
You can find it on Amazon right here >>
---
Igloo Outdoorsman Gizmo Backpack
Igloo is yet another brand with the ability to churn out versatile products accommodating all types of customers. The Igloo Gizmo backpack cooler certainly has a good look to it.
The design is edgy and appealing to an outdoor enthusiast. The color options are pretty cool, with sandstone/blaze red, slate blue/tan, and tank green/black.
For the price, I think adding the cool color options and giving the backpack such a cool design certainly is a plus on Igloo's part.
As for the performance, the backpack cooler still does pretty well, given the price tag. It comes with thick insulation foam on the inside to ensure you get ice retention that lasts for hours. The material on the outside is a nylon/poly blend that is quite strong and durable.
There are also plenty of extra features that make the bag worthwhile to have. It comes with a large padded back pocket for things like tablets and books, a side mesh pocket with a strap buckle to hold our bottles in place, and some of the most comfortable straps you will ever have on your back.
Check all Igloo Backpack coolers on Amazon
---
Coleman Soft Backpack Cooler – Editor's Choice
When it comes to affordable backpack coolers, we were hard pressed to find anything in the market that gave more bang for your buck than the Coleman soft backpack cooler.
This backpack cooler is extremely affordable, comes with reasonable performance, and has great extra features that make it worthwhile.
For starters, the ice retention is good enough to last you several hours. It also comes with some strong and durable materials on the outside that are capable of taking a reasonable amount of stress without falling apart.
For carrying, you've got the shoulder and waist straps, which are adjustable and make for a tight and comfortable fit on your back.
On the outside, there is a large zippered pocket where you can put anything that needs dry storage for the trip, including any electronics you might have. As for the straps and the back of the bag, they are padded to ensure maximum comfort while carrying. For the price, we think it's a great bag!
---
Picnic Time Turismo Cooler Backpack
Do you want a cooler backpack with hidden pockets, a flat zippered interior pocket and even an individual outer pocket for one bottle? If you need a cooler backpack that can double as an actual backpack, then you may want to give the Turismo a try.
At a size of 12 x 7 x 17 inches, you'll be able to fit your lunch, drinks and other items that you may want to carry, and perhaps even conceal such as a passport or important documents.
One user stated that this was indeed a replacement for his cooler and backpack. The user said they did not want a bag that would just be basic, as they wanted something that would fit all of their needs. The user said it does and has, carrying things like food, chargers, extra clothes and even a radio.
Check it on Amazon here >>
---
Other Buying Options from Amazon
---
Igloo Marine Backpack Cooler
This cooler comes in at 16 x 17 x 11 inches (available on Amazon), contains MaxCold insulation featuring 25% more foam to keep contents colder for longer periods of time and is leak resistant.
One user reported using this cooler for a wide variety of uses such as transporting frozen and refrigerated items from the store to home, on camping trips and even fishing. The user reported keeping block ice for two days. Another user reported the same, saying ice stayed frozen for 48 hours.
While there are many who enjoy the ice retention times, there were some who reported problems with the zippers and stitching on the handles. However, one user stated that Igloo has good warranties and replaced it without a problem.
---
Picnic Time Zuma Backpack Cooler
This stylish backpack will actually leave people wondering if it's a cooler or an actual backpack. It comes in a variety of colors like black, red, beige, lime and blue. At a full capacity of 20 cans, you will be able to fit quite a bit. The manufacturer stated that optimally you could fit 16 cans with room for ice packs. At a size of 19 x 8 x 11 inches you'll have more than enough room.
Check it on Amazon right here >>
Many users have applauded the ability to fit many different items in the different pockets and compartments besides cold drinks and food. One user was able to fit ipods, wallets, phones and discs for disc golf.
Another user was able to fit headphones, books and a kindle. While yet another was able to add in dry snacks, in addition to frozen water bottles and 8 sandwiches.

---
And here are even more choices:
---
Best Backpack Cooler Buying Considerations
There are many different best backpack coolers listed here, which is why we believe you will be able to find one that will suit your needs. However, before buying one, there are some things you need to keep in mind. Here are a few of them:
---
Pockets
Will you need to pack more than just food and drinks? What if you need to pack something that needs to be concealed so it won't be stolen, like a passport?
If you do, then you'll need something a bit more varied, perhaps something like the Turismo above, or even the Zuma. Take into consideration what your needs are besides packing food and drink items, before buying your backpack cooler.
---
Comfort
You or someone you know will be the one wearing this around, so think about where you'll be taking it. Will you need to have it on you for hours or days at a time? Will you need to take a lot of items in the cooler?
If this is the case, then you may want to consider a backpack cooler with a bit more padding when it comes to straps, something perhaps along the lines of the OAGear Cooler Sports Pack mentioned here.
---
Weight Distribution
Are you likely to be taking a case of cans with you or tons of food? If you will be, then another thing you need to keep in mind is a cooler that evenly distributes the weight.
A heavy backpack can be horrible for the person wearing it, which is why weight distribution should be one of your concerns. One user mentioned the weight distribution benefits found in the OAGear Cooler Sports Pack, which is another reason you may want to give it a closer look.

---
Size
Do you need to carry items for one person or several? Do you need to carry just a few items or a lot?
If you are just looking out for yourself, then picking up a backpack cooler like the Turismo should suit you just fine. If you need to carry things for others, then you may want to give another pack a try.
More on cooler sizes can be found in our dedicated guide here.
---
Use
Will you just be replacing your lunch cooler? Will you be using this best backpack cooler on your next fishing trip? Do you just need to keep food items cold on a day trip?
For more general tips go and check our Best Ice Chest Reviews & Guide.
Once you decide on what you will be using the cooler for, then you can better decide which one will best suit your needs.
---
Ice Retention
The whole point of your buying a backpack cooler in the first place is that it cools whatever its contents and keeps them that way for the duration of your trip. Ice retention is, therefore, going to become an important factor in your buying decision.
Now, depending on the kind of backpack cooler you are looking for, your expectations for what constitutes good ice retention will differ. If you're buying a premium backpack cooler, then our experience dictates that 48 hours ice retention at the very least is a good standard to live by.
Anything that has ice retention below 48 hours shouldn't even be called a performance/premium backpack cooler in the first place unless it has a wealth of features to make up for it.
If you're looking for an everyday cooler, then it's going to be a bit of a tall order to find cheap backpack coolers with anything over 24 hours ice retention. Usually, the ice retention will range between 12 hours and 24 hours.
If you can find a cheap everyday backpack cooler with 24 hours of ice retention, then you will have struck yourself a bargain. Don't let it go!
You can read more about maximizing the ice retention here, and the other smart way to improve it is to use ice packs along with the regular ice.
---
Materials, Design, and Build Quality
Another major differentiator between the best backpack coolers in the market and the worst are the materials used to make them and the way that they have been designed.
If you're going for a premium quality backpack cooler, then you want the outside to be made of the toughest nylon with a minimum of 600 TPU. At that level of toughness, you know it will be resistant to tears, punctures, and UV radiation. You also want it to be waterproof with a leakproof zipper.
As for the inside, you want an FDA approved food grade liner that is resistant to mildew and also leakproof. That way you don't have to worry about it getting ruined when you put wet things inside it.
For everyday coolers, the outer material may not be as tough as in a premium cooler, but it should still be tough enough that the backpack cooler is durable. The same goes for the liner on the inside.
When it comes to the design, it's all a matter of choice. Many manufacturers go for sporty designs, rather than sleek and muted ones, though some will go the sleek way as well. What you end up going for as far as design is concerned is entirely up to you.
---
Best Backpack Cooler – The Bottom Line
We have taken a look at the top rated backpack coolers on the market, and have given a closer look at a wide variety of ones, as we know your individual needs will vary.
There are premium backpack coolers and everyday cooler backpacks so you're bound to find a great option for your needs, no matter what those needs are.
Apart from price, be sure to take a look at extra pockets you may need, time spent carrying the cooler (comfort level), the amount of items you will need to carry (weight distribution), the ice retention, the build quality, the materials used, how many people you need to accommodate and what you will be using it for.
Once you can determine the things listed above, you can then pick out the best backpack cooler for your needs. You won't be disappointed with the top choices like Yeti Hopper, Polar Bear or Tourit, as well as everyday classics like Coleman or Igloo.
We believe that once you take a look at the best backpack cooler reviews we have listed above, that you'll surely find one to suit your needs.
---
Here you can find some cool video Polar Bear Backpack Cooler reviews: